View Poll Results

: Who's it gonna be??

David Louaseau
2
11.11%
Georges St. Pierre
2
11.11%
Matt Hughes
9
50.00%
Chuck Liddell
5
27.78%
Voters: 18. You may not vote on this poll
Ufc Ambassador
---
If Pride fighters do start comming into the UFC, then who should the UFC send to Pride????
It would be Chuck as he is the endorsement king and the poster boy.

Should be Franklin, GSP, Hughes or Tito.
Megaweight

Join Date: Apr 2006
Location: Everett, MA
Posts: 5,961
i didnt understand the question at first..if ur asking who they should sen dover to pride..send franklin to fight hendo...id like to see huges go over there, but i dont know who they would have fight him..i think he'd be too powerful for gomi..maybe sakuraba vs hughes
---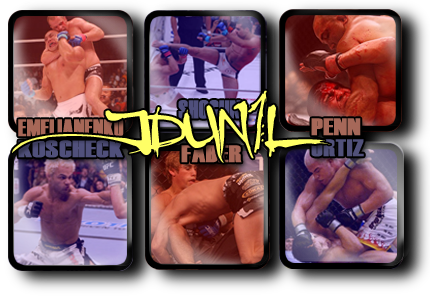 Mancrushes
1.Shogun
2.BJ
3.Fedor
4.Kos
5.GSP
Im in Porno's
This is SPARTA!
Join Date: Apr 2006
Location: Houston, Texas
Posts: 5,495
Matt Hughes should go to Pride and see how he does.
---

Matt Hughes and Chuck Liddell are poster boys and a bit over rated an would be sent over to PRIDE. I think David Loiseau would fit way better in PRIDE though due to the way he fights.
MMA Fanatic
Join Date: Jul 2006
Posts: 74
i agree, matt hughes is the best candidate... he's most qualified for pride..
Welterweight
Join Date: May 2006
Location: TN
Posts: 2,163
I agree with huges or Chuck.. great fighters. Lots of respect for opponets.. win or lose they would be good ambassadors.. Tito not a chance he needs to learn respct. not saying he is not a great fighter. he is just a punk..
I disagree, he just has this persona and he uses it to his adbantage. I like the fact he doesn't care if people like him - he is a master of getting a reaction.
It would probaly be Chuck since he has represented us there before but we got UFC originals over there right now. Like Baroni, Abbott, Kimo, Belfort I even think before UFC 61 Yves Edwards did a fight or 2 also Carlos Newton is over there so it is not like we haven't had UFC guys go over to fight Pride guys. The funny thing to me though is that most of these guys excluding Edwards (He was still on a winning streak) were on losing streaks in the UFC and have been on a tear from what I've seen and heard at Pride so I think that settles the score of who is better between Pride and UFC.
Currently Active Users Viewing This Thread: 1

(0 members and 1 guests)
Posting Rules

You may post new threads

You may post replies

You may not post attachments

You may not edit your posts

---

HTML code is Off

---