Quote:
looks like we got ourselves a legitimate grudge match here, war Silva! war Silva! I can't wait for this fight.
Me either, it's so crazy. Two guys who's strengths match up so opposite. Muay Thai vs Boxing, wrestling vs BJJ. It's going to be crazy.
I think Anderson, but you CANNOT count out Chael's heart, that guy might be the most driven fighter in the UFC.
It's cool to see Anderson speaking english too btw.
I'm curious to see how Anderson's celebrity in Brazil will be affected if he loses to Chael.
---
Think. It Ain't Illegal Yet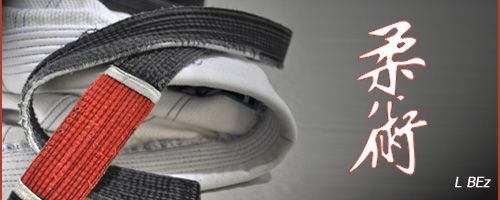 "Discipline Hurts Less Than Regret"
Heavyweight
Join Date: Apr 2007
Posts: 3,709
GSP is probably the only guy more disciplined and hard-working than Chael. Sometimes I think Chael talks so much to deflect away from how much he is training to infuriate his opponents so they don't train as well.
I wasn't hyped at all, I was just thinking to myself "What the f*ck is Silva doing?" The whole thing was weird, but that's no surprise since Silva has always been an awkward guy. Great fighter though.

As for the fight, I think Silva is going into it too emotional. He's going to do silly shit and get taken down for it. Like in the first fight where he started the second round with a flying roundhouse kick. I'm getting more and more confident in Chael as the fight gets closer.
---
Will make predictions for credits. Please, I'm so broke.
---
Last edited by AlphaDawg; 07-03-2012 at

05:58 PM

.
Im a silva fan and want silva to beat chael sonnen.

But im wondering in the vitor fight anderson seemed a bit nervous and i (like a few others) thaught that andersons plan was to intimidate vitor during the staredown to get in his head.

He knows sonnen dominated him the first fight.

What im trying to say is... i aint saying hes nervous cause of the first fight and trying to play mind games, but it may be that case.

Sonnen knows this is the highlight of his career and will define his legacy.

BTW murray and silva showed their respects during the staredown at the fight, so i gues the press conference staredown was pure hype. This is different, more personal.
Quote:
I am just interested to see whether the bad blood Silva has makes him more dangerous or if he fights with emotion and just falls apart.
See Anderson vs Lee Murray. Murray disrespected Brazil and Anderson took offence. He had a crazy stare down with him, whipped his ass for 3 rounds and handed him a Brazilian flag at the end of it.
As much as I want Chael to win to shake the division up, I'm not entirely sure it's going to happen.
Also I think Anderson's game plan will be much like it was with Maia except he will be more violent and aggressive with his striking. I honestly feel like Anderson is purposely going to try not to finish the fight with a KO, but punish him and hurt him over several rounds until a TKO or Chael quits.
Chael is going to try to take him down and beat on him for 25 minute like last time.
---
Always Supporting Fighters That Fight to Finish or be Finished

Edson Barboza
Jose Aldo
Conor McGregor
Nate Diaz
Donald Cerrone
Gabriel Gonzaga
Brandon Thatch

---
Last edited by Ryan1522; 07-03-2012 at

07:58 PM

.
Heavyweight
Join Date: Apr 2007
Posts: 3,709
I'd say it's more likely Chael gets KO'ed, TKO'ed or Anderson hurts his fists before Chael ever quits from punches. Anderson probably hits him for a while then submits with another triangle or an ankle lock from the bottom or an armbar or some kind of choke from the top.
---
Last edited by rabakill; 07-03-2012 at

08:03 PM

.
Colossal-weight
Join Date: Jan 2010
Posts: 9,844
Quote:
I think Chael has finally gotten in Anderon's head. He looks illegitimately worked up and angry, where as in the first one he was just trying to clown Chael back. This one clearly had emotion in it. I was like 80% sure Anderson was going to win this fight, but after seeing how's he's reacted and gotten so emotional, I now more 50/50.
So he didn't show much emotion but more of a uninterested tone the first fight and lost the first 4.5 rounds.
Now he is a little more fired up and you think it is a bad thing?
Somehow that logic doesn't add up. Anderson doesn't get careless whhen he is fired up. He gets focused.
If anything I would feel more confident in an Anderson win.
Amateur
Join Date: Apr 2010
Posts: 119
ok just added pics of the stare down history!!
Silva looked intense. I just hope its a good competitive fight
---
If a law is unjust, a man is not only right to disobey it, he is obligated to do so. ~ Thomas Jefferson
Sig by D.P.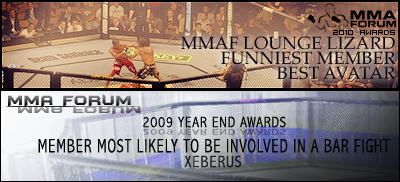 LOL @ anyone who says Chael is scared or 'bitched out'. What a load of bollocks coming from proper fools. I've said it before and I'll say it again. Both men know what's at stake. Silva's pride. Chael's career. Neither man is afraid of the other. And both are going to bring it, even more so than before. If you believe anything other than that, then you're a bit daft.

As for all of the 'Sonnen is going to get KOed or TKOed' rubbish, Chael has been hit, and he's been hit hard. Here is a man who isn't exactly known for getting put away by punches, and yet so many of you seem so certain. If Silva wins this fight by anything, I can almost guarantee that it'll be by submission.
Currently Active Users Viewing This Thread: 1

(0 members and 1 guests)
Posting Rules

You may post new threads

You may post replies

You may not post attachments

You may not edit your posts

---

HTML code is Off

---