Colossal-weight
Join Date: Jan 2010
Posts: 9,844
I can see Hendo winning purely because he isn't afriad of anyone and will stand and trade. Although I dont think he'll win. Bones is just better technically but he doesn't seem to take punches very well which can play right into Hendo's hands

But cool poster
Quote:
I can see Hendo winning purely because he isn't afriad of anyone and will stand and trade. Although I dont think he'll win. Bones is just better technically but he doesn't seem to take punches very well which can play right into Hendo's hands

But cool poster
in what illustration has bones showed he doesn't take punches very well? Recovered a power shot from machida.. recovered from a head kick from rashad.. I am confused.
---
Dominick Cruz | Jose Aldo | Donald Cerrone | Vitor Belfort | Fedor | Daniel Cormier
My first thought is that the photographer made Hendo stand on a 6-inch stool when taking his pic.
---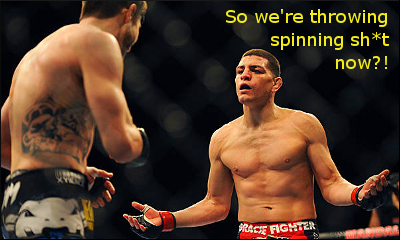 Lightweight
Join Date: Dec 2008
Posts: 1,651
Wow what a boring poster...this is one area i think UFC might want to steal some of WWEs guys, their posters are pretty awesome!

I used to really want JBJ to get smashed once so he would stop being a douche but you know what? That beard changed my mind...go JBJ!!!

Plus at least hes finally earned the right to be arrogant
I like simplistic graphics. I think this looks really good! Can't wait for the fight.
Amateur
Join Date: Oct 2008
Posts: 130
Quote:
My first thought is that the photographer made Hendo stand on a 6-inch stool when taking his pic.
This
First thing I thought when I looked at the poster was 'Is Hendo above 6ft ????'
I think marketing is equally focused on non mma/fight fans because if this is the headliner a non/not regular fan is going to look and say the little guy is going to get smashed why bother.
For a still graphic I think it is good, but I think on the hype videos ufc should play up the height/size advantage of jones and his near (technically perfect)record juxtaposing Hendo knockout power.
It was funny to me when I opened this thread because the height of Hendo and how this poster would look with full body images made me laugh and think about how images can be not altered, and yet presented in way that is not accurate.
Banned
Join Date: Aug 2010
Location: Idaho
Posts: 2,848
I like the poster.

I'm excited to see this matchup. I'm rooting for Henderson simply because I want him to own UFC gold, although I won't be disappointed if Jones wins. I think Jones will win by third or fourth round submission, but if Henderson charges out spamming H-bombs and if he connects, I'm not sure Jones can take it.

Either way it should be an awesome fight.
I'm pumped for this fight.... Yes, technically Bones should be the favourite and should win. But, can't stop cheering for Hendo, he's a mans man. What is interesting about this matchup is that Dan doesn't mind eating a few punches to unload the H bomb. He has to either be totally inside or just outside the reach of bones.
I really wouldn't be surprised if Hendo locked up Jones against the cage and Dazed Jon with a few shots before landing clean on his jaw.
I would be very happy to see Hendo on the winning side
---
R.I.P. PRIDE FC

Fedor-Shogun-Overeem-Cro Cop-Silva-Gomi-Henderson-Jackson

2014 NPFFL

Jon Jones . Travis Browne . Demian Maia. Cain Velasquez. Fabricio Werdum
Currently Active Users Viewing This Thread: 1

(0 members and 1 guests)
Posting Rules

You may post new threads

You may post replies

You may not post attachments

You may not edit your posts

---

HTML code is Off

---