View Poll Results

: Your prediction

Mike Swick
18
94.74%
DeMarques Johnson
0
0%
Draw
1
5.26%
Voters: 19. You may not vote on this poll
MMA Fanatic
Join Date: Aug 2012
Location: Northern Ireland
Posts: 42
Glad for Mike! Will that be Damarques cut now?
Yeahhhhhhh buddy! So chuffed, good on him after being out for so long!
---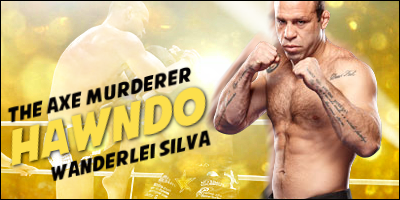 Thanks to Leakler for the sig
Perfect come back fight for Swick! Tough first round, was made to work and got some all important cage time. Beautiful finish.

Sent from my GT-I9300 using VerticalSports.Com App
---

"There are three things all wise men fear: the sea in storm, a night with no moon, and the anger of a gentle man."
Homicidal Maniac

Join Date: Apr 2007
Location: Houston, Texas
Posts: 6,193
that was a beautiful fight, welcome back mike
---
Over! 2,000,000 Views!
Eh. The knock out was great. It's crazy how much different fights are to me now since ive been training.

#1. Johnson needs to learn to throw body shots. Swick was blocking 50% of johnson's shots that could have connected but if johnson had thrown 2 to the head and then after swick covered up, gone to the body, it would have been much more proficient instead of trying to slip 3-4 hooks threw mikes cover up.

#2. Swick wasn't utilizing his footwork very well. There were a few times where he was backing into the fence or just standing still trying to counter. His counter striking would be much better if he just simply moved around more.

#3. Swick definitely watches his tape. That kick that he caught was the first kick in the fight, and he caught it. I'm sure he practiced that many times in training, including the follow up.

4#. Swick has a stifling guard. Good sub defense. BUT, that's exactly what it is, stifling. He never attacked or anything like that.. which there is nothing wrong with, I just like to see some rubber guard (stifles and allows you to attack).

5#. Maybe swick was just rocked... but his TDD was not impressive.


GREAT to see swick back, especially with a win and even more so with an impressive knock out.

I'm just worried he's not as good as i thought he was.


P.S. Swick has a nasty right cross. Probably the best part of his game. He faints the jab and leaps with the cross, they never see it coming. Beautiful.
---
Dominick Cruz | Jose Aldo | Donald Cerrone | Vitor Belfort | Fedor | Daniel Cormier
That was a great win getting Swick back just like we remembered, hope they don't cut Johnson who probably won the first.
---
Man Swick looked good.! He literally had a perfect fight coming from a 2 and a half year lay off. There was very little else he could have done to get rid of the octagon rust. He even fought with an EYE injury which he couldnt see out off. When GSP fought with a Eye injury we all saw how much it affected his striking against Jake Shields. Its incredibly hard to measure distance with 1 eye.

His stand up looked sharp and fierce. Then his eye got hurt and he still looked very crisp. He got roughed up on the ground but managed to fight through it. Second round came and now his first round after being off for 2 and half years is in the past and in the second he looked even better. The speed with which he caught the kick and then threw a punch of his own was incredible. Now that he got his first fight out of the way i cant wait to see what the future holds for him.
---
I wonder if he practiced that. Rather than go for the shot ala Anderson Silva vs The Sandman...he opted to push him down with his right arm then swing for the KO. I thought that was very interesting.

Both Swick and Machida should win KOTN of the night. Both took incredible timing to land.
---
Marcus Aurelius: Tell me again, Maximus, why are we here?
Maximus: For the glory of the
Empire, sire.
Baked, not fried... the healthy choice.
Currently Active Users Viewing This Thread: 1

(0 members and 1 guests)
Posting Rules

You may post new threads

You may post replies

You may not post attachments

You may not edit your posts

---

HTML code is Off

---