JDS facing Cain december 29 plus signing a Corinthians deal.
---
'I just learned that I must now face Velasquez December 29. Not signed, but is forwarded. I think we have to follow the ranking. Currently, Velasquez is well, is the second. I should be fighting Overeen, but he suffered some penalties and I think he don't deserve to fight for the belt just yet. No matter who is going to be. I'm ready.'
Quote:
Fiquei sabendo agora que devo enfrentar o Velasquez dia 29 de dezembro. Não assinei, mas está encaminhado. Acho que tem que seguir o ranking. No momento, o Velasquez está bem, é o segundo. Tinha o Overeem que eu poderia lutar, mas ele sofreu algumas penalidades e acho que não merece lutar mais pelo cinturão. Não importa contra quem vai ser. Estou preparado.
'My motivation to come to the Corinthians is the support given by the Corinthians supporters. Such a big club is providing to help another MMA athlete and leveraging the sport. I think this is an excellent initiative and I am very happy. This is the team me and my family always root for. I was never very good playing ball, I am wooden leg (local term for a bad footballer). I enjoyed hitting faults though. At school I played quarterback and was never good at it.'
Quote:
Já sou mais um (no banco de loucos) há muito tempo. Minha motivação de vir para o Corinthians é esse apoio. Um clube tão grande se dispondo a ajudar mais um atleta do MMA e alavancando o esporte. Acho uma iniciativa excelente e estou muito feliz. Sempre foi meu time do coração e de toda a minha família. Eu nunca fui muito bom de bola, sou perna de pau. Eu gostava de bater faltas. Na escola eu jogava de quarto zagueiro e só dava canelada nos outros.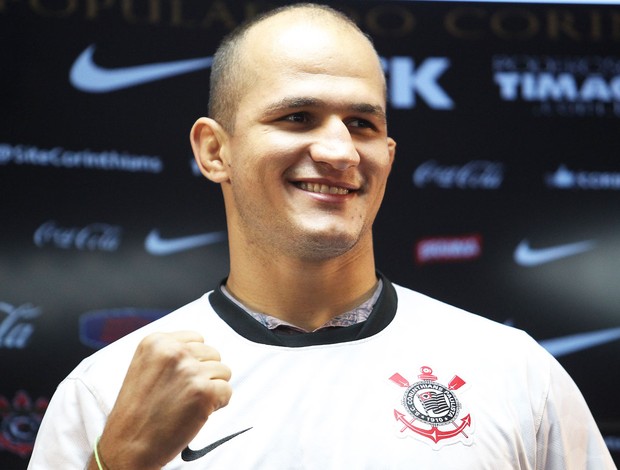 source
Sooo we got our headline for the last card of the year? me like it
Congrats to JDS, he's a true sportsman, and deserves every penny paid.
Hope you KO Cain this time, not TKO him
---
Fedor Emelianenko:
The one who doesn't fall, doesn't stand up
Fedor Emelianenko
|
Anderson Silva
|
Carlos Condit
|
Frankie Edgar
|
Khabib Nurmagomedov
Don't know anything about Corinthians other than it's a soccer team but if it means Junior is getting more money than I'm all for it.
---
2013 VIP FFL Champion
THE DRAGON RIDES AGAIN - 12/20/14
Machida - Alves - Cruz - JDS - Weidman - Condit - Pettis - Edgar - Cowboy - Dodson - Okami
I presume he means halfback unless he is talking about gridiron. Also I don't really get these club deals I noticed chealsea did one with sauber, so I presume they must be getting something out of it.
Not really the fight I think most of us were hoping for. I really hope Overeem at least gets a tune up fight so we don't have to wait until next spring to see him fight.
---
mad props: Toxic
Welterweight
Join Date: Jul 2008
Posts: 2,230
It's a joke of a fight, but I'm happy for JDS on his club deal. MMA is honestly bigger in Brazil than it is in the US at this point, those guys are getting mad sponsorships and media coverage.
Featherweight
Join Date: Apr 2012
Posts: 1,444
Quote:
I presume he means halfback unless he is talking about gridiron. Also I don't really get these club deals I noticed chealsea did one with sauber, so I presume they must be getting something out of it.
It's pretty obvious this was translated with the help of an online translation tool. JDS didn't actually say he played quarterback, he was speaking Portuguese.
Cain is on thin ice here, he's looking at HW purgatory,

Junior is on top of the world, great to see, he deserves it. Best representative for MMA right now? I think he is.
---

Join Date: Jul 2012
Location: Glasgow
Posts: 16,154
How can this be a joke of a fight? Overeem is the obvious better opponent, but he IS coming off of a suspension for using banned substances. Of all of JDS' opponents, the only one people thought could beat him is Cain. Alright, he stopped him early, but there was so many questions that Cain never got to ask. Is JDS THAT good off of his back? We just seen Cain absolutley destroy a dude that beat Fedor.

I don't see anyone at HW, with the exception of JDS and Overeem, even challenging Cain. He seems to me like he will tear through any opponent that is put in front of him.
---
Flyweight
Join Date: Apr 2010
Posts: 260
since his TKO of Cain, you can tell he doesn't think much of Cain. But Cain is out for blood in their next fight and his fight vs Bigfoot was impressive though i'm aware he isn't in Cain's league.

be a much better fight this time around though! can't wait.
Currently Active Users Viewing This Thread: 1

(0 members and 1 guests)
Posting Rules

You may post new threads

You may post replies

You may not post attachments

You may not edit your posts

---

HTML code is Off

---