Rory MacDonald: Iíll probably end up killing him
---
Quote:
It appears Strikeforce bantamweight champ Ronda Rousey and UFC welterweight Rory MacDonald share more in common than a love of locking horns inside the ring and status as two of the sportís brightest young stars. Like Rousey, MacDonald recently addressed an adversary and toed the line of acceptable trash-talk if not crossed it completely.
The 23-year old MacDonaldís misstep came after being asked about comments B.J. Penn made this past week referring to his reason for withdrawing from a scheduled scrap on September 22 at UFC 152. In Pennís eyes, ďAresĒ used a cut he sustained in training as an excuse to avoid a likely loss in front of his hometown fans.
The assertion clearly didnít sit well with MacDonald, as he made clear in an interview with SportsNet where he said, ďThatís just a bunch of bullsh*t, cause not only do I know Iím gonna win but Iíll probably end up killing him in the process.Ē
Talk about death is understandably considered extremely taboo in a sport where life and death stakes are literally at play.
Prompted to elaborate on his emotional state, MacDonald attempted to remain calm while explaining how excited he was about fighting Penn in Toronto.
ďIím so disappointed I didnít get to fight on September 22. Not only cause it was in Canada, but everything was going perfect Ė my mental side of things, my physical abilities. Everything was on point. I never felt so good,Ē MacDonald stated.
ďHe canít rile me up. I just think heís a joker. Heís trying to get attentionÖhe can do what he wants. I just want him to accept the fight for December,Ē he concluded on the matter, also revealing Penn still hadnít signed on the dotted line for a meeting at UFC on FOX 5 as reported.
Fiveouncesofpain
Join Date: Oct 2009
Location: UK... Where the sun never shines.
Posts: 11,558
Would love BJ to tap Rory out!
---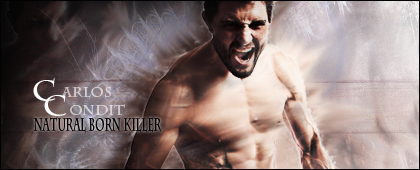 2012 FFL WINNER
CPL RECORDS
UFC 56-32-3 Strikeforce 10-4
A kid got riled up... that's not shocker. However, that kind of talk really needs to be kept in check no matter what the situation is. Rory should really be more respectful of one of the men who paved the way for him to have a career as a mixed martial artist... even if BJ isn't always the most respectful guy himself, there is such a thing as taking the high road.
lol.

If anyone's leaving in a body bag, it's you sonny boy.
---
2013 VIP FFL Champion
THE DRAGON RIDES AGAIN - 12/20/14
Machida - Alves - Cruz - JDS - Weidman - Condit - Pettis - Edgar - Cowboy - Dodson - Okami

Join Date: Mar 2010
Location: NC.
Posts: 9,815
Quote:
A kid got riled up... that's not shocker.
Gee whiz you think?
I'm trying to estimate because there is no way I could accurately count how many times I've said "I'll kill that fill in the blank"
Now that Tito has retired he should open a school to teach interview and media techniques.
---
I'd like to think their is a bit of a line between

"C'mon team lets go out and kill those guys"

and

"I'm going to come into your house in the middle of the night stab you in the face with a knife and bury you in a shallow grave with your dog"

Ronda and Mir closer to the dog, Rory not so much.

Also we are going to have a lot of sad BJ fans when they realize that all of his boxing, his balance, and his submissions mean nothing when you spend more time in the air than on the mat.
That she if she got an armbar she was gonna rip it off, if she got a choke was gonna choke Kaufman till she died and if it ended by knockout she'd punch her face into the mat. Also said Kaufman is relying on the athletic commission hiring competent refs, as if they don't she's wouldn't get out alive.
---
Proudly Supporting
Dan Hardy
Conor McGregor
Michael Bisping
Donald Cerrone
Chael Sonnen
Demetrious Johnson
Joe Lauzon
Nick Diaz

Currently Active Users Viewing This Thread: 1

(0 members and 1 guests)
Posting Rules

You may post new threads

You may post replies

You may not post attachments

You may not edit your posts

---

HTML code is Off

---