MMA Fanatic
Join Date: Aug 2012
Posts: 4
Questions about Chael Sonnen
---
Okay this is my first post i signed up today
Some people say he cheated using trt but Chael claims he needed the trt so i was wondering. Do you think he cheated using it what's your opinion an with the money laundering case he claims that it was kind of a mistake he said this in one of his interviews. Could you tell me some things about these cases with the money laundering case do you think he tried to cheat them or steal money.
Join Date: Oct 2009
Location: UK... Where the sun never shines.
Posts: 11,553
TRT is cheating in my eyes, whether you have low levels of testosterone or not.


Can't really comment on the money laundering thing as I don't know a great deal about it.
Join Date: Jun 2009
Posts: 20,849
This is debated time and time again, so you are going to get different answers from everyone. I am kind of neutral. More of a case by case thing for me.


Sent from my iPhone using VerticalSports
---
Yes, he was certainly cheating using testosterone. It's an indictment of the athletic commissions that he can still get approved to use testosterone now.

If he had been undergoing twice weekly shots of testosterone cypionate, he would have had his urine samples flagged for an elevated T:E ratio for every fight he had in the years he was supposedly undergoing TRT. The fact that he didn't makes it clear that he was cycling testosterone, not undergoing legitimate therapy.

For the real estate thing, he didn't profit directly, but his family did. The lenders were hurt, so it wasn't a victimless crime. It's insulting to everyone's intelligence for him to claim he didn't know it was illegal. And this wasn't an isolated case, his plea covered something like six of these transactions.
---
Some people think that they can convey either a philosophy on life or a complex political statement using a signature on the internet. I'm not one of them.

I can speak from personal experience that at the age of 31 I have testosterone levels of a 60 year old man. I'm undergoing treatments to bring/hold my levels within the normal range so I can live my life like any normal 31 year old. I never did steroids, or any supplement for that matter. For arguements sakes if someone were to have the same issue and be in a professional sport I think they should be entitled to keep their levels within the normal range as many people don't have to deal with that issue.

Now you have a grey area where people decide to abuse the treatments and throw their levels way out of wack and are cheating on purpose. I'm not in support of going way out of the normal limits and abusing the system. Unfortunately a lot of athletes are always looking for that competetive edge and will try and bend the rules as much as possible to gain that edge. I think you need to interpret what TRT use in life and sports means to you and make your own decision. Clearly someone that wants to maintain a normal lifestyle should be able to take part in a program like this if they chose to go down that path in my opinion.
---
Check out the new MMA Forum app for the Android
Except that Chael's doctor said quite explicitly that he does not have primary hypogonadism (the main cause for TRT treatment) and that he may have secondary hypogonadism. Not confirmed by testing. And his doctor has been censored for prescribing medication without cause before to the point that the medical board of his state has forbidden him to prescribe medication to anyone he has not personally examined.

So does Chael need TRT? Not according to his doctor but he received the TUE anyway.
---
That is not dead which can eternal lie and withs strange aeons even death may die.
Yes he cheated. TRT is a loophole in MMA, it's an embarrassment to the sport that so many healthy buffed fighters in their 30s get this stuff allowed.
As if that wasn't bad enough, Chaels own doector said he didn't have testosteron levels under the normal value AND he managed to screw up the paperwork, so he was actually using his TRT illegaly in the first Silva fight, hence the ban afterwards.
---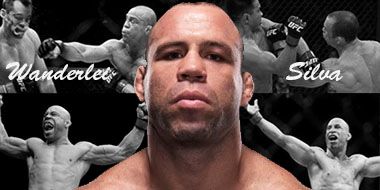 Currently Active Users Viewing This Thread: 1

(0 members and 1 guests)
Posting Rules

You may post new threads

You may post replies

You may not post attachments

You may not edit your posts

---

HTML code is Off

---