Quote:
lol Jones can really make me sick with his comments but there is some amount of truth to what he's saying here.

Hendo doesn't really have anything that Rampage or Rashad are missing. Well Hendo does have a better chin than Rashad but he's also slower and has worse cardio and worse offensive wrestling.

I see Hendo as extremely similar to Rampage, and I think the fight will look similar to that fight as well, with Jones dominating a few rounds only to tap Hendo out in say the third or fourth.
I'm leaning towards this as well. Although i consider Hendo to be more dangerous than Page and Evans.
They really aren't similar. Jones is way off base.
---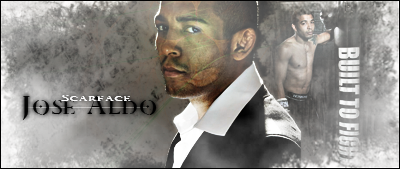 The lone wolf...

As Rodney Dangerfield says..."I get no respect!"

I worked in a pet store and people would ask how big I would get.

My wife was afraid of the dark... then she saw me naked and now she's afraid of the light.

One year they asked me to be poster boy - for birth control.

With me, nothing goes right. My psychiatrist said my wife and I should have sex every night. Now, we'll never see each other!

A girl phoned me the other day and said... 'Come on over, there's nobody home.' I went over. Nobody was home.

I get no respect. The way my luck is running, if I was a politician I would be honest.
---
Marcus Aurelius: Tell me again, Maximus, why are we here?
Maximus: For the glory of the
Empire, sire.
Baked, not fried... the healthy choice.
Quote:
In a way Dan is nothing new for Jones.

This will be his 3rd fight in a row against an opponent who should/could be fighting at MW while he could easily fight HWs.

very impressive.
Yeah lets just ignore the five guys he whupped right before that, who probably cut more weight than Bones. Haters gonna hate.
In a way Jones is nothing new for Dan either. Just like most of Dan's opponents, Jones is also NOT a 40 year old cheat pumped full of horse testosterone
MMA Fanatic
Join Date: Jun 2011
Posts: 95
Quote:
Jones is right, and he is going to break Henderson and send his old ass into retirement very soon.
I hope you're going to be there and sit close enough to catch Jon's mouthguard after the H-bomb lands flush on his chin.
I'm actually getting excited for this match. I'm a sucker for bad blood fights. Even though I'm certain Jones will dismantle Henderson I'll be putting a little bit of $$ down on Hendo.

You never know he might land that TRT-H bomb.
Here's a thought...

What if Jones...Survives the H-Bomb? (O.o) :O
As SM33 said, the two aren't comparable.
If Rashad can do this though, so can Hendo.
Dan Henderson will get in Bones' face and take a shot to give one like he always has.
As I said before, Bones doesn't have the one shot KO power to keep Hendo from entering within punching range.
Either Bones demonstrates a great chin and wins a UD, he GnPs Hendo to oblivion or Hendo KOs him. They are the only three situations likely.
Bones really should wrestle here.
---

Not at ******* all. Yea sure, on paper they're both wrestlers with boxing but that doesn't make them the same. I can't even remember the last time Hendo got a double leg.
---
Will make predictions for credits. Please, I'm so broke.
Currently Active Users Viewing This Thread: 1

(0 members and 1 guests)
Posting Rules

You may post new threads

You may post replies

You may not post attachments

You may not edit your posts

---

HTML code is Off

---