Banned
Join Date: Jun 2012
Location: Manchestoorrrrrrr
Posts: 1,469
Aldo is such a terrible match up for Frankie. I don't think this is a good move for him in the long run. Benson Henderson isn't the guy to hold the LW belt for years to come, I don't see him getting by Nate Diaz.

He has a decent speed advantage at LW, but let's see how that converts once he drops down to a lighter weight class.

He has major trouble with kickers and Jose Aldo is an elite, hell, perhaps one of the best low kickers in MMA today.

He's faster than Edgar, a better striker and has some really slick TDD.

If he even gets a shot at Aldo (Zombie ftw), I can see Jose murdering him.
That's probably the only reason Edgar was so adamant about fighting at 155 to begin with.

It's not that he didn't want to cut weight, it's just that 145lb happens to have a P4P monster that he's probably not going to get past.
---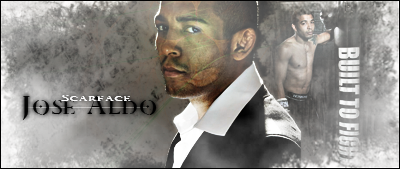 Quote:
He has both been shafted and the benefactor of judging.

When you are a fighter, notorius for not finishing fights and ending in close decision, you will live by the sword and die by the sword. Some of the wins, he didn't deserve, some of the loses he didn't deserve.

All in all, in the end, he was the champ for a while, defended his belt, and eventually lost it. He has nothing to complain about.

Yes, we can focus on and complain about just the last fight and only the last fight in a bubble. But what about the first BJ fight? Most people didn't think he did enough to take the belt at that point. Which would have ended his run right there.
And the first Henderson fight, was close, but definitely in favor of Bendo and that should have been it. He got a second chance to win a fight he already lost, and yeah, he may have gotten ripped off that second time. But, if he wasn't the beneficiary of controversal judging, he would have even had that chance in the first place.

So as a whole, Edgar should feel "Whole" as a LW fighter and LW Champ. In the end "He won the belt" - "held the belt" - "He even defended the belt" - "Then lost the belt". With him, the problem is, all those things happened, but not in that order. But in the end, that's what happened. Which is pretty normal and enough to be proud of.

Let me put it this way:

FE vs BJ I - He didn't win the belt - But got it anyway.
FE vs BJ II - He didn't defend the belt - But actually won it for the first time.
GM vs FE II - He defended The belt via a Draw.
GM vs FE III - He Defended The belt via a KO
BH vs FE I - He lost the Belt - But was given a rematch anyway.
BH vs FE II - He actually won the belt - But lost it like he should have, because he didn't actually win BH vs FE I. And normally wouldn't have gotten a second chance anyway.

So in the end, it all works out, just not in the normal order.
Nice breakdown! Think we all pretty much agree here. Edgar reminded me of Tyson Griffin. I never thought he would become champion actually with that style. If BJ trained the way he did against Diego and kept his conditioning up to par he should/would have won. Just like against Hughes II he had him in a submission. Time ran out and in the next round he expended all his energy and got TKOed. Actualy same against GSP I.
I'd like to see DC vs Edgar eventually.
---
Marcus Aurelius: Tell me again, Maximus, why are we here?
Maximus: For the glory of the
Empire, sire.
Baked, not fried... the healthy choice.
MMA Fanatic
Join Date: Jun 2012
Posts: 3
This is my first post but this needs to be said Frankie is the worst and most boring fighter ever to walk into the cage throwing 2 punches a round and then running hoping for a decision glad he lost wont have to put up with him headlining for a while anyway and when we do aldo will destroy him

Join Date: Jul 2012
Location: Glasgow
Posts: 16,112
I felt that Bendo quite clearly on the first one (in a close fight), and I edged him in the second one. I don't believe he's being shafted because I was biased towards him in both fights. Perhaps if I was slightly more impartial, I'd also have called the second one to Bendo considering how much damage he was doing with his kicks.

Now, he builds himself back up. Although I'd love to see the fight with Aldo. I'd like to see it at LW. Edgar has always took pride in the challenge of LW and I want him to stay there and continue to take it on head first. There are a lot of great fights for him considering that it is such a deep divison.

Diego Sanchez:- Would be a good fight. Sanchez is coming off a loss, but he can realy rise to the occasion and make an amazing fight. Edgar likes to keep it standing and wants a boxing war, while Sanchez is very talented at grappling. Both have skills in the other's area too, so wherever this fight goes I see it being entertaining.

Sam Stout:- This is really just one for the fans. Even though Stout is a good kickboxer with nice combinations, it's quite hard to see how he takes this fight. Regardless, both men can take hard shots and both like to use a lot of combinations and keep it standing, so a war would be unavoidable.

Clay Guida:- After the horrible performance against Gray, Guida might be feeling like the fans want to see the old Guida return and not the stratagist. He would look for a lot of strikes, a great pace and relentless takedown attempts which makes for a great fight with Frankie.

Melvin Guillard:- The KO win would be a good boost to a future run at the LW title again for Frankie.

The options are endless. After a fight with one of these guys happens, we could see him fight the loser of Cerrone/Pettis, another amazing fight. Perhaps Aldo will move up by then and we could see that fight happen. Then you have a 4th with Maynard to completley cap off their rivalry. The whole division is so stacked that anyone except Nate and Bendo are great opponents.
---
Featherweight
Join Date: Aug 2009
Posts: 1,297
I don't think Frankie was shafted, I think it's just bad karma from his decision making. I think Frankie had a lot of resentment from all the back to back defenses he had to do and never quite felt like the champ. The fact that he asked for a title rematch is what really sets this off, just because you had to do it doesn't mean Bendo has to. It would have been a much better career move for him to accept the Bendo loss and take a match or two to get his head together. Now he has to drop down in weight because he's shit out of luck when it comes to a title shot for about 1-2 years in the LW division.

Frankie's a good guy, but he takes a lot of things personally and holds a lot of resentment because of it. Do I think he wanted to drop down in weight? Absolutely not, I do not believe he changed divisions with the mindset he needs to succeed. Does that mean he wont succeed? Absolutely not, Frankie is one of those guys who also gets a big confidence boost when things aren't going his way and never gives up; he perseveres.

I think we haven't seen the last from Edgar, but if he wants to stay relevant he really needs to change his attitude. I wish Edgar the best, and he's won me over as a fan because he has a lot of qualities I would like to embody, but at the same time those qualities seem to come with some faults and I think if he focused on them he can be a great champion. His losses to Bendo will only haunt him if he lets them, both decisions were razor thin, and Bendo has to deal with the stigma of defeating the champ the way he did twice; Frankie should be happy.
---
Last edited by ptw; 08-22-2012 at

09:09 AM

.
Currently Active Users Viewing This Thread: 1

(0 members and 1 guests)
Posting Rules

You may post new threads

You may post replies

You may not post attachments

You may not edit your posts

---

HTML code is Off

---