im sure more than half of the guys on the cast (even if they dont win) will be in the UFC again....as they do with EVERY season of TUF.....I'm not really gonna complain too much about it, i mean its free fights were getting to watch right? lol
I think it's a great format, this time we get to see fighters who have lost the plot a little and need a boost get a second chance and raise their profile. For them it's an amazing opportunity.
BTW can we have this thread in the Ultimate Fighter forum?
Megaweight

Join Date: Apr 2006
Location: Everett, MA
Posts: 5,961
id rather see upcoming younger guys but i still think there could be some good fights..i dont care what none of u guys say about cote cuz hes a tuff guy, same thing with jorge rivera..and does ne one know if nick diaz is reall gonna be in the show..if he is thats retarded, he young and real good, he just lost close matches to some tuff guys
---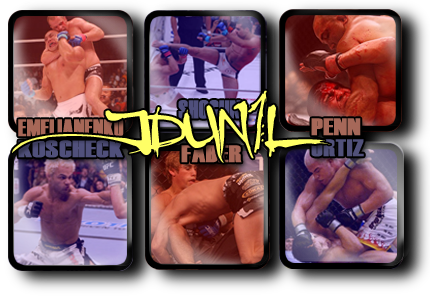 Mancrushes
1.Shogun
2.BJ
3.Fedor
4.Kos
5.GSP
Im in Porno's
Welterweight
Join Date: May 2006
Location: TN
Posts: 2,163
I can agree brining in lesser cailber fighters.. the vet coaches might be able to make them better and fix thier weaknesses its an all around win for everyone if you ask me.
Diaz was originally on the lineup then not when it was finalised. Not sure if he was injured, dropped or just pulled out.
MMA Fanatic
Join Date: Jul 2006
Posts: 16
Quote:
Originally Posted by teampunishment.50web
I think they know where there is talent, but not everyone tries out or agrees to appear that they might want on the show.

At least they opened auditions in the UK for TUF3, maybe they should consider going further afield again for TUF5?
Rumor is that TUF5 will be all European. Dana wants to focus on the expansion of the UFC overseas. TUF5 will be part of that focus.
My guess is that Pride and UFC are on a collision course toward a merger in a few years.
---
Last edited by LawFitz; 07-13-2006 at

04:52 PM

.
MMA Fanatic
Join Date: May 2006
Posts: 81
TUF3 had a ***** like Noah in it. If that guy ended up in as a potential UF then they need a new way to find true fighters. Not to mention those two guys that turned down a chance to come back. TUF4 wiil have hungry fighters. The coaches could be better though

BTW, TUF needs some nasty little guys from Vietnam or some poor country for the lightweight contract. He'd pratically fight to the death. A really sick idea, but would yeild a good fight.
I really like the format. You have a bunch of guys who are hungry and want back into the big show. There are some guys with alot of skill in there too. All of the fights should be pretty good because these guys know what they are doing. I think it is going to be great.
---
Q: He(Wanderlei Silva) said he's really looking forward to fight you in the finals.

A: (Mirko CroCop) Thats his problem.
Currently Active Users Viewing This Thread: 1

(0 members and 1 guests)
Posting Rules

You may post new threads

You may post replies

You may not post attachments

You may not edit your posts

---

HTML code is Off

---