Jorgen Kruth Retires Three Weeks Before UFC On FUEL TV 5
---
Quote:
You think what Jon Jones did was bad, wait until you hear what Jorgen Kruth did.
The Swedish Thai boxer, who was set to fight Fabio Maldonado at UFC on FUEL TV 5 on Sep. 29 in Nottingham, England, has apparently decided to retire just three weeks ahead of the bout, leaving the Brazilian Maldonado without an opponent.
Swedish magazine Expressen broke the news today, and it was translated by our friends at Studio MMA.
ďI have been thinking for a long time. However I feel itís time now,Ē Kruth told Expressen. ďI neither have the motivation or focus and my body doesnít respond anymore. Iím not getting the results that I want. Iím not in the top level to compete anymore and feel it doesnít work anymore. If I donít reach my best then I donít want to compete anymore, I will retire now while Iím up there.Ē
The 38-year-old Kruth had a long career in kickboxing, going 71-14-2 in the sport. However, he transitioned to MMA in 2009 and went 5-0, prompting the UFC to call for his services. He was set to fight Cyrille Diabate at UFC on FUEL TV 2 this past April in his native Sweden, but was forced to pull out with an injury. Apparently his body is just too beat up now, but it would have been nice for his opponent Maldonado had he made his decision a few weeks ago so a suitable replacement opponent could be found.
Itís unclear at this time if Maldonado will still get a fight or if the boxing specialist will be pulled from the event entirely.
http://blogs.thescore.com/mma/2012/0...-on-fuel-tv-5/
Hope Maldonado gets a replacement opponent!
---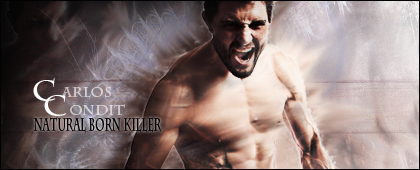 2012 FFL WINNER
CPL RECORDS
UFC 56-32-3 Strikeforce 10-4

Join Date: Jul 2012
Location: Glasgow
Posts: 16,156
The timing is the bad thing, but I don't feel he done something THAT bad. He was undefeated in MMA, so he obviously didn't really have any fear of the fight and was en route to probably his biggest payday. He obviously just wasn't feeling any of the training and knew that going in he wouldnt have any focus or attention in the fight. Maldonado isn't the kind of guy you go in with without a full training camp since he will rip into you with body shots, and someone without being fully conditioned is getting put away.

Kruth probably should have done this weeks ago, but again he didn't want to pull out before fully going over his decision. The UFC just calls you and tells you "You're fighting Fabio on UFC X". He probably said "Eh, alright". Tried his best to get into the training, failed and ended it.

Agree though, Maldonado hopefully will get a good opponent. He's a tough fighter and I'm a big fan of his striking skills.
---
Wow! That's the first time I ever heard of a fighter retiring before a fight even began. He's obviously injured and knows his body has been pushed to the limit. A 5-0 record after having an incredible kickboxing career is a great way to go. Too bad he never got a chance to test the big leagues.

A fight aginst Cyrile would have been a wicked kick boxing fest!
---
Marcus Aurelius: Tell me again, Maximus, why are we here?
Maximus: For the glory of the
Empire, sire.
Baked, not fried... the healthy choice.
This move is almost as ludicrous as Hendo reveling his injury 1 week before the fight.
---
McCall, Faber, Aldo, Nate, Nick, Lyoto, TBD, Hunt
Forever hanging in Anderson Silva nuts
Couldn't he have waited until after the fight?
---
Rookie Hammer Squad 2015
Frankie Edgar - Dominick Cruz - Jorge Masvidal - Cat Zingano - Holly Holm
Cyrille diabate has filled in. Him vs Maldonado should be entertaining!
---
Quote:
Couldn't he have waited until after the fight?
I agree with this. I too find it very disrespectful to pull out of a fight 3 weeks before the bout when you already signed a contract. He's basically turning his back on his team, training partners and managers who all helped him train, the promotion who invested time and money and the fans.
I can obviously respect the fact he can't fight anymore and is calling it quits, but not before fighting after you signed the dotted line. Just bizarre on so many levels.
---
1. BJ "The Prodigy" Penn
2. Dan "Hollywood" Henderson
3. George "Rush" St Pierre

Join Date: Apr 2010
Location: Gods country
Posts: 4,524
The guy has almost a hundred professional fights and had to pull out of his last one with injury at 38 years of age. I doubt he gives much of a shit about respecting his opponent or going into a fight unprepared to receive a beating.

He also gave his opponent 3 weeks notice that he would be unable to make it. The guy's done and he knows it would be my guess.
I'm glad he knows when to retire. Disrespectful to retire right before a fight but at least he gave a three weeks notice, which is more than enough time to find a replacement.
Currently Active Users Viewing This Thread: 1

(0 members and 1 guests)
Posting Rules

You may post new threads

You may post replies

You may not post attachments

You may not edit your posts

---

HTML code is Off

---