View Poll Results

: Your prediction

Phil Davis
15
71.43%
Wagner Prado
6
28.57%
Draw
0
0%
Voters: 21. You may not vote on this poll
***OFFICIAL*** Phil Davis vs. Wagner Prado Thread
---
Light Heavyweight bout: 205 pounds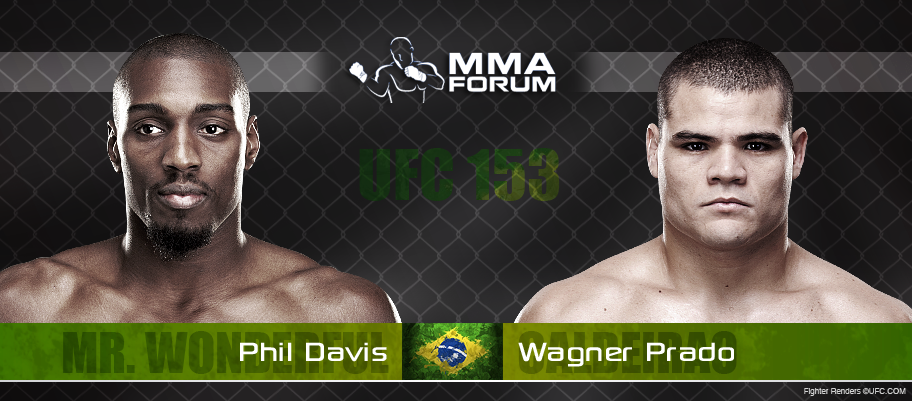 ---
---
Last edited by Budhisten; 10-10-2012 at

08:32 AM

.
Join Date: Jun 2009
Posts: 20,856
I think Davis will get the win even thought the last fight was a little meh.
---
I think Davis tasted Prado in the first fight and will be looking for a takedown ASAP. I think he'll be impatient and get knocked out.
---
Featherweight
Join Date: Apr 2012
Posts: 1,444
Wagner is going to sleep.
I think Phil wanted out of that first fight, but I still think he'll out grapple him and sub him.
---
2013 VIP FFL Champion
THE DRAGON RIDES AGAIN - 12/20/14
Machida - Alves - Cruz - JDS - Weidman - Condit - Pettis - Edgar - Cowboy - Dodson - Okami
Colossal-weight
Join Date: Jan 2010
Posts: 9,844
Quote:
Originally Posted by
TheLyotoLegion
View Post
I think Phil wanted out of that first fight, but I still think he'll out grapple him and sub him.
I agree with this besides the sub. I think he will take him down over and over. Prado will probably get tired.
Phil's sub skills are a tad overrated.
Prado has to feel more at home with it being his 2nd time doing this in the UFC and it is now in Brazil.
MMA Fanatic
Join Date: Sep 2011
Posts: 60
tough first(now second) fight for Prado. I think Davis might be a bit too much for him grapple wise.

Join Date: Apr 2010
Location: Following The Path To Jesus Set By His Disciple Vitor Belfort
Posts: 5,111
Welterweight
Join Date: Jul 2008
Posts: 2,229
Wow i can't believe Phil Davis is STILL being overhyped. Prado will finish him and hopefully kill the bandwagon once and for all. What did you all see in their first fight that makes you so confident of Phil Davis? All i saw was a hungry, vicious beast going after a timid, frightened rabbit.
It was a little annoying how people seemed to think Davis got lucky in their first fight. The fight lasted about what, 30 seconds? I think we've all learned in MMA that the first 30 seconds of a fight usually doesn't give us a solid idea on the outcome. You know, unless the fight only lasts about 30 seconds. =P It takes a lot of fighters a few minutes to gain composure and display their rhythm.

Davis was right, there was plenty of time for wrestling, and just because he didn't look very good for half of a minute, it didn't mean that the fight was going to go Prado's way. Davis looked extremely uncomfortable on the feet, but he wasn't hurt or anything, who knows how Prado would have dealt with his wrestling once he decided to start using it. I'm not saying Davis would have won or lost, but it was all pure speculation on how the fight would have went. Sonnen saying "If you're a Davis fan, it's good that the fight ended when it did." or whatever wasn't exactly true in my opinion, and I'm a Sonnen fan. Too much to speculate on to give an accurate statement on how the fight would have went if it didn't end when it did. It was just too early in the fight and I don't think it should be over thought. I'm not arguing in either guys favor. Prado was looking better, but he was looking better just a few seconds into the fight so .. That doesn't tell me very much.

That being said, I think Davis will probably win this, but I don't know enough about Prado to really give a good prediction here. I haven't listened to the hype of Davis much. I think he's a decent fighter and all with good wrestling and athleticism, but he's got a lot of holes in his game. Prado is a mystery to me and that can be dangerous when making a fight prediction. He could surprise me.
---
Psalm 30:5 "For his anger endureth but a moment; in his favour is life: weeping may endure for a night, but joy cometh in the morning."

Top 3 Favorite Fighters
1. Chuck "The Iceman" Liddell
2. Glover Teixeira
3. Demian Maia
---
Last edited by Stapler; 10-10-2012 at

04:25 PM

.
Currently Active Users Viewing This Thread: 1

(0 members and 1 guests)
Posting Rules

You may post new threads

You may post replies

You may not post attachments

You may not edit your posts

---

HTML code is Off

---