Mayhem on MMA Hour
---


This was HARD to watch.
---
Saw it as well... That dude needs some HELP but I don't think he realizes or wants it...

Going off like that on Ariel (Or any reporter for that matter) is unacceptable and just plain sad.

I hope someone makes him see sense soon :/
---
That was just sad to watch. He needs help really bad.
---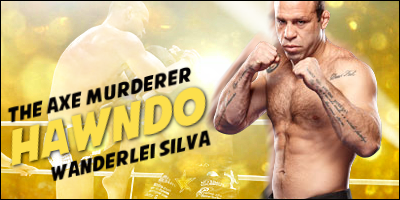 Thanks to Leakler for the sig
Wow..... Man he has some serious issues.
---
Top 10 Favorite Active Fighters
Anderson Silva
Jon Jones
Anthony Pettis
Pat Barry
Matt Mitrione
Gunnar Nelson
Mark Hunt
Carlos Condit
Chris Weidman
Rory MacDonald
His jaw being clenched like that is pretty much textbook drug use too (wow, when did I get so conservative?
). Ariel owned the shit out of him a few times...like always haha.
"You look exactly the same as Mayhem"
"You should see me naked"
"I'd rather not"
First time I've seen Ariel get pissed off aswell. You could tell that he was starting to hate Mayhem, but I guess that's part of the job dealing with pro fighters and stuff.
---
That was awkward...

Not sure if he was trying to be character or really is ****ed up.

Either way, he needs someone he trusts to have a sit down with him and get told some home truths.
Colossal-weight
Join Date: Jan 2010
Posts: 9,844
I usually don't bash people with apparent mental disease.

But Mayhem is a dick. Ariel booked him. Ariel had to of talked to him beforehand. He must have been semi normal and responding to Mayhem the fighter who is promoting a movie.

He books him and he comes on with this stupid character. Notice how he still tries to promote the shit out of his movie. I feel he likes to get all the attention from being so ridiculous now that he is no longer and MMA fighter.

He may have issues, but he is a dick on purpose to add to it.
Also weird that one would fly from California to New York just to do that?

Sad
---
Sorry Kevin James, but this dude doesnt deserve my cinema money. TO 1 CHANNEL!
---
This dude needs help.
---
2013 VIP FFL Champion
THE DRAGON RIDES AGAIN - 12/20/14
Machida - Alves - Cruz - JDS - Weidman - Condit - Pettis - Edgar - Cowboy - Dodson - Okami
Currently Active Users Viewing This Thread: 1

(0 members and 1 guests)
Posting Rules

You may post new threads

You may post replies

You may not post attachments

You may not edit your posts

---

HTML code is Off

---