Should Bonnar Take Silva Down?
---
I know he's known for standing and brawling but Anderson is not a brawler, he's a precision knock out artist and can evade a brawl if he wants to. Would Bonnars best mode of attack be to take Silva down and use his size to GnP and work a submission? He's a BJJ Black Belt and 7 of his 14 wins have come via submission. I think Andersons speed would be too much for Stephen standing.
If his gameplan is anything other then dragging Silva down and beating him up he doesn't stand a chance.
---
Sig credit: MC
~ Lifetime Membership sponsored by RustyRenegade ~
Bantamweight
Join Date: Mar 2009
Location: Ottawa
Posts: 937
Actually no, he shouldn't.

Bonnar has nothing but a lottery ticket in this fight. On the ground, Silva might actually be careful, he will never submit Silva. Anderson will just work to stand up and make sure he doesn't get in any really bad positions.

Bonnar has next to no chance on the feet, but at least he could win with a Hail Mary shot, I think he has even less chance of a Hail Mary sub.
He should...But I really don't think he can take him down... Anderson is faster and has really good TDD... Plus Bonnar is not a good wrestler by any means...
****, I don't know, the more I think about this fight, the more it seems like Bonnar is going to have to get lucky. I mean, if he takes it to the mat, he could try for a sub, at least he could avoid getting matrix KO'd like Griffin.
---
D. Cerrone | R. Souza | F. Werdum | R. MacDonald | M. McDonald | D. Maia | J. Mein | C. Condit
M. Coenen | S. Kaufman | A. Davis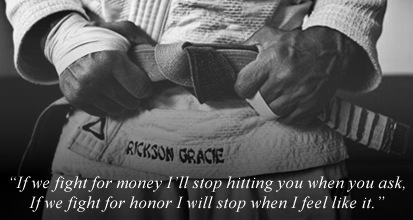 Join Date: Jul 2012
Location: Glasgow
Posts: 16,154
Bonnar doesnt get the chance to, and loses the possibility for an epic fight if he does. No way he should. He has a punchers chance on the feet but NO chance on the ground. Chael Sonnen is the best at that style in the world, and when Silva adapted he didn't have any real success with it. Bonnar needs to go toe to toe and go out like a legend, either way.
---
I think Bonnar does fine on the ground against Silva. I'd consider it a stalemate. The only time I give Anderson an advantage on the ground is if he stuns Bonnar and follows him down.

Standing I think Bonnar can win a decision if he avoids the finish.

Most of this comes down to whether Anderson would rather play with his food or eat it.

Join Date: Jul 2012
Location: Glasgow
Posts: 16,154
If Bonnar gets Anderson down and takes a full guard (which is hard to see happening), Anderson will easily tie him up. As I said, Anderson's BJJ improved a lot in the second Sonnen fight and he managed to keep Sonnen in place and stifle all of his work, which no one before has been able to do. If he can do that with Sonnen, he will easily do it with Bonnar. Stephan is an alright grappler, but that's not going to be enough here. He needs a war, and he gets to decide wether it happens or not.
---
Currently Active Users Viewing This Thread: 1

(0 members and 1 guests)
Posting Rules

You may post new threads

You may post replies

You may not post attachments

You may not edit your posts

---

HTML code is Off

---