Georges St-Pierre: ""I hope Condit focuses on targeting my knee, it's not a weak link
---
Quote:
Georges St-Pierre's highly anticipated return to the octagon is only weeks away and few are more excited for the return of "GSP" than the man himself.

By the time St-Pierre steps in cage to do battle with Carlos Condit for the unified welterweight championship at UFC 154 on Nov. 17, it will have been 19-months since the French-Canadian last competed in mixed martial arts. With the longest layoff of his over 10-year career nearly behind him, St-Pierre is thrilled he will soon be back to doing what he knows best.

"A year and a half away from fighting, I'm very excited. I'm back stronger and better than ever." St-Pierre said in a UFC 154 pre-fight interview with UFC.com.

"The hardest part about being out for so long is being inactive, to be unable to do what you like to do for a living."

The recovery process has been a long one for the 30-year-old, but now that he is at 100 percent it's time to get back to business.

The welterweight division has evolved quite a bit since St-Pierre last competed and the top dog in the 170-pound weight class during St-Pierre's absence has been Condit, a man who was not even in the discussion for title contenders the last time St-Pierre fought.

Condit presents a very real threat to St-Pierre due to his combination of slick striking, knockout power, and dangerous submissions. The Montreal native knows what Condit brings to the table and while "The Natural Born Killer" may be the most threatening fighter St-Pierre has ever faced, "Rush" says he is not afraid of Condit in any capacity.

"The most dangerous thing that Condit has is capacity of adaptation – he can adapt to any opponent that he fights, that's why he's so good. Very skilled, but he's also very smart."

"I'm not afraid of Carlos Condit."

It is clear St-Pierre has a lot of respect for both the mental and physical talents of his opponent. In fact, St-Pierre believes Condit is so wise that he will attempt to target his surgically reconstructed left knee.

While a thought like that lingering in the back of any fighters head could be viewed as worrisome, St-Pierre is actually encouraging Condit to try and attack his knee because it is as strong as its ever been.

"I hope Condit focuses on targeting my knee, it's not a weak link anymore. There's nothing that I can't do that I was able to do (before the knee injury)."

St-Pierre has fought at the highest level of the sport for years now. He has competed in more big fights than anyone can count, but St-Pierre believes Nov. 17 at the Bell Centre in Montreal will mark the biggest test of his 24-fight career.

Even though St-Pierre has had to overcome a lot just to compete at UFC 154, he has even more to overcome in order to be successful on the night of the fight.

It may not be easy, but at the end of the day St-Pierre only has one goal: walk away from UFC 154 with the unified welterweight championship around his waist.

"This will be the biggest challenge of my whole career," St-Pierre said. "I have to fight the toughest opponent I ever fought, I have to come back from a long layoff, a big inactive period of time."

"I will leave with the belt, there's no doubt in my mind."
I'm certainly interested. Not everyday you hear GSP say this is the most important fight of his career
In all honesty, good to have you back GSP!
Lightweight

Join Date: Mar 2008
Posts: 1,655
Does Condit really have slick striking?
Kicks to the knee seems to be the logical option, but hopefully he's had a full recovery and no excuses come out close to, or after, the fight.
Quote:
Does Condit really have slick striking?
I'm not sure slick is the best term to describe his striking, but I do think it's very diverse. He throws punches, elbows, several types of kicks, knees, spinning elbows and backfists but mixes it up well and is quite unpredictable.
---
Join Date: Oct 2009
Location: UK... Where the sun never shines.
Posts: 11,557
I like Condit but he is gonna get smoked.
Even though he doesn't fight like Anderson I still enjoy his fights. It's actually very strategical.

Round 1 - strike, clinch
Round 2 - takedowns, gnp
Round 3 - strike + takedowns
Round 4 - All strikes
Round 5 - mix all

It confuses his opponents. He's a blue collar worker that has the capability to finish, but he opts to grind his way to victory. A more exciting version than Fitch nonetheless.

His rematch against Serra was his most important fight. This is his second imo.
---
Marcus Aurelius: Tell me again, Maximus, why are we here?
Maximus: For the glory of the
Empire, sire.
Baked, not fried... the healthy choice.
MMA Fanatic
Join Date: Oct 2012
Posts: 15
A lot of people are talking about Condit's strategy to go after GSP's knee. If GSP's even close to what he was before the injury, all the talk is irrelevant. Condit doesn't have good takedown defense, and GSP is going to take him down at will. I expect this fight to look a lot like GSP v Dan Hardy did.
Bantamweight
Join Date: Mar 2009
Location: Ottawa
Posts: 937
Quote:
Originally Posted by
davedomination
View Post
A lot of people are talking about Condit's strategy to go after GSP's knee. If GSP's even close to what he was before the injury, all the talk is irrelevant. Condit doesn't have good takedown defense, and GSP is going to take him down at will. I expect this fight to look a lot like GSP v Dan Hardy did.
I don't know if it will be that bad, but it's certainly true that there is no reason to think GSP won't take Condit down. Condit has more ability to get up and threaten from his back than Hardy did. Of course, it won't be enough, GSP has the best top control in MMA, if he wants to keep Condit down, he probably will.
I'm also getting pretty weary of hearing GSP say that 'my toughest opponent' line
EVERY
time he fights. You want to respect your opponent, ok, I get it, but seriously, every time? Enough with that already.
I think there's something to the knee. Fighters ALWAYS threaten/dare their opponents to do what they know is their weak link. Bisping was afraid of Sonnen's takedowns so he said he'd tap him out if he tried to take him down. Overeem said the same thing about Lesnar. The list goes on and on. Fighters always pretend they have their bases covered with their weaknesses when they really don't.
---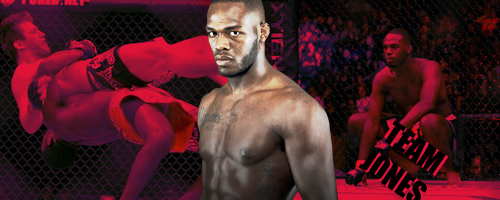 GSP comes out, takes Condit down, lays on him for 5 rounds. Game over

Can't wait
---
Big Thanks to KryOnicle for the sig!
Fav Fighters

HW: Frank Mir
LH: Lil Nog
MW: Bisping
WW: Hardy
LW: Ross Pearson
Currently Active Users Viewing This Thread: 1

(0 members and 1 guests)
Posting Rules

You may post new threads

You may post replies

You may not post attachments

You may not edit your posts

---

HTML code is Off

---