MMA Fanatic
Join Date: Jun 2006
Posts: 11
i think they should have a tournament of hall o' famers!
.....
---
Royce Gracie and Ken Shamrock were inducted in to the Hall of Fame on the same night. Dan Severn was inducted in later. Randy Couture was inducted on June 24th. David "Tank" Abbot does not deserve to be in the UFC H.O.F. He wasted his career drinking beer and not training. He had an impact on the negative outlook of the UFC by critics. The fighters in the HOF are the only ones who should be in it now, and they're all deserving. Matt Hughes should have his place in there in maybe 10 years if he holds on to his title for at least 2 or 3 more years. If Frank Shamrock was willing to accept an inductee in the Hall of Fame, he would deserve it. But Frank Shamrock and the UFC management are on terrible terms.
Megaweight

Join Date: Apr 2006
Location: Everett, MA
Posts: 5,961
tank is a bum and definatley doesnt deserve to be in the hall....name one good fighter he ever beat..noone hes a friggin bum ..no way should he be in b4 randy..randy was a great champion in 2 weight classes against the elite of the sport
---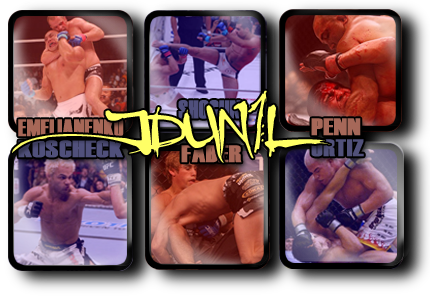 Mancrushes
1.Shogun
2.BJ
3.Fedor
4.Kos
5.GSP
Im in Porno's
MMA Fanatic
Join Date: Jul 2006
Posts: 3
Quote:
Originally Posted by putmeonhold
Can anyone explain why Cotoure was inducted into the UFC hall of fame 4 months after his retirement while Royce Gracie wasn't inducted untill like 7 years after his last UFC fight in 1996 ( I think ).

P.S. I don't think the hall of fame is crap, just think Royce should've been the FIRST one inducted
Well how long have they had a Hall of Fame? Something tells me it didn't exist when Royce stopped fighting.
The next person to make it should be Oleg Taktarov.
Outta My Head
Join Date: May 2006
Location: Paramount, CA
Posts: 1,220
I could swear that I sw the PPV where they inducted Frye, Coleman and Taktarov. However, since we know that Dana White has a habit of not acknowledging anything outside of the UFC, he may not be choosing to list anyone else.

I could have sweared that he held a ceremony on the PPV when BJ beat Hughes... I'm going to have to do some digging around.
---
It doesn't matter if you agree or disagree
... As long as I don't bore you and I spark a moment of thought,
my goal is achieved
.
Queng leon queng tigre ecu tacacut, queca pa? - Pampangan Mandarigma Motto

Currently Active Users Viewing This Thread: 1

(0 members and 1 guests)
Posting Rules

You may post new threads

You may post replies

You may not post attachments

You may not edit your posts

---

HTML code is Off

---