Banned
Join Date: Jun 2012
Location: Manchestoorrrrrrr
Posts: 1,469
Quote:
Actually, we've had a tester in the Octagon already with Brock. Apparently gorillas are 10x as strong as an average man which is insane considering they only eat veggies and fruits.
Answer:
A healthy man can bench his own weight, the average being around 185 lbs. A gorilla, highland silverback, the biggest of the gorillas, is said to be between 12 and 20 times stronger than a man. Just multiply 185 by those figures and it will give a ball park figure of what a gorilla can do if taught to bench press.
On the animal channel, it stated that a large male silverback gorilla has the strength to press over 4600 pounds.
http://wiki.answers.com/Q/How_much_w...la_bench_press
So, the gorilla probably will just rip the arm off. I've visualized this scenario time and time again; leapard, bear, gorilla, tiger, lion, etc. I'd probably go for the RNC hold. Can't out muscle an animal unless you poke it's eye out, but considering you want to fight fair...lolz...RNC is the way to go.
Oh and since this is a Ronda thread. I'll say Ronda "might" be able to pull off an armbar on a a baby chimp or orangutan.
Quote:
Clearly you need to D'arce or anaconda roll and avoid the legs.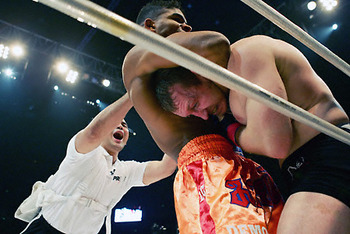 Reems Guillotine is pretty nasty.
---
Marcus Aurelius: Tell me again, Maximus, why are we here?
Maximus: For the glory of the
Empire, sire.
Baked, not fried... the healthy choice.
Quote:
Yeah because we know the strongest and fastest guy who can jump the highest always wins in MMA. This is the guy championing MMA skills on the one hand, while lampooning HWs on the other. Right, Jon Jones doesn't need to have raw athleticism because he's a smart fighter who knows how to use his body (see Stefan Struve). His best attribute is that he 'studies' just like Anderson Silva studies.

MMA is one of the sports where intelligence and technique overcome pure athleticism more so than most sports.



The point is exactly to show that you can't quantify everything and that men and women's physiology is different. I guarantee more women will be able to pull off rubber guard than men, this is one area where women's MMA could be different and go in a different direction, but it doesn't count because they don't have penises.


Megumi has arguably more relevant MMA skills than many of the fighters at UFC 1. By what you've said in this thread you value skill over size, so which is it?

Kimo would only beat Megumi based on size and power. So is he more deserving of being watched than her?

Are gorilla fights better to watch than human fights?
This is true. Now if women didn't also have excruciatingly awful technique as well, you might have a point.
Also I never said Kimo was more entertaining than Fuji, just that Fuji wouldn't win UFC 1 which someone laughably suggested. I'd watch a Liz Carmouche or Sarah Kafuman fight before I watched the likes of Tank Abbot fight, but that doesn't mean that they both aren't the lowest common denominator in terms of representations of mixed martial arts.
And no there's obviously very little appeal in watching animals fight.
This strawman is quite a headscratcher.
The argument that we should only watch HWs because they would beat every other weight*which isn't even true by the way) mentioned by our resident oh so intelligent poster Sideways is equally made of straw.
Especially considering I've already pointed that the technique and athleticism is all relative.
IE: Emphasis on speed and mind numbing explosiveness at weights like 145. Emphasis on size/strength at 205. Emphasis on speed/power at HW, etc.
I'm pretty sure 90 percent of this forum would say Jose Aldo is more entertaining to watch than the average HW, personally I find him much more entertaining than the like of Junior Dos Santos, who I find just throws haymakers all the time with little diversity because he overwhelms people with his handspeed and timing. Aldo just does sick things in the cage that most men couldn't even attempt.
---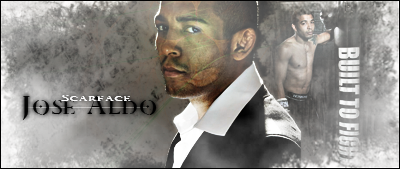 Id rather watch women's MMA regardless of the weightclass, than the men's flyweight division. Any day of the week.
---
What this discussion boils down to is

Is the Womens MMA division entertaining??? If you are entertained by it chances are you are going to want to watch it. If you are not entertained by it chances are you are not going to watch it. No amount of "Im going to logic you into you giving WMMA a chance" is going to change anything.
Currently Active Users Viewing This Thread: 1

(0 members and 1 guests)
Posting Rules

You may post new threads

You may post replies

You may not post attachments

You may not edit your posts

---

HTML code is Off

---