Matt Hughes certain Georges St-Pierre will beat Anderson Silva if they fight
---
Quote:
If pound-for-pound great Georges St-Pierre gets by Carlos Condit this weekend at UFC 154 the heat will be turned up on talk pertaining to a possible super-fight between GSP and middleweight champion Anderson Silva. Both Silva and UFC President Dana White have been pushing for the potential pairing in recent months, while St-Pierre has remained 100% focused on the task at hand rather than moving up for a shot at "The Spider".
One of the arguments against a showdown between St-Pierre and Silva, regardless of how "Rush" performs next weekend, has surrounded the size difference between the two. Silva is taller and heavier than St-Pierre, occasionally fighting at 205 pounds as he did last month in a win over Stephan Bonnar. However, UFC Hall of Famer Matt Hughes doesn't think Silva's physical prowess will make much of a difference if the bout does ever take place, and actually feels as though St-Pierre is somewhat of a lock to emerge victorious.
"I really believe if GSP and Silva fight Georges will have his hand raised," said Hughes in an interview with BJPenn.com. "GSP is not a great wrestler, but he transitions so well from striking to wrestling that he will be on Silva's legs before Anderson even knows what's going on. I believe Georges is that quick and I don't think Silva will be able to do a whole lot with Georges on top of him."
"Georges is going to be in great shape. He always is, and I don't think Silva would be able to use his weight advantage on GSP to try and tire him out. If anyone will get tired I think it will be Silva because he's not going to be in the positions he wants to be in," Hughes continued in his assessment. "Georges will put him in some bad situations and I think GSP will do well in the fight and walk away the winner."
Silva's trouble with stopping takedowns and getting up off of his back have most notably been on display in clashes with Chael Sonnen, nearly costing him the middleweight belt back in 2010 as well. Of course, the crafty Brazilian went on to win both bouts against Sonnen, making for an interesting scenario if he does ever square off with St-Pierre.
Fiveouncesofpain
This is definitely a scenario I could see happening. I think it's not neccessarily him being especially skilled at one discipline, but his transitions that make him such a dangerous and explosive force. If GSP wins, the way Hughes breaks it down is how I see him winning.
I want to see post acl surgery GSP before I agree with Hughes.
---
100% agree with Hughes. I've been saying this for years. GSP has the wrestling and sub defense to beat Anderson. Regardless of the size difference (I know Silva fans claim it's not big... but it is)
I see what Matt Hughes is saying, and I could see the fight going that way. Being the Silva is easily the most accurate fighter he would have ever faced, even in the midst of emposing his gameplan, he still has to survive many punches to the face. And that's where the problem lies for George IMO.
Colossal-weight
Join Date: Jan 2010
Posts: 9,844
Anderson would time something. If GSP gets him down, Anderson is awesome at tying you up. He would tie GSP up. GSP would have 5 rounds to try and get TDs without getting caught, because we all know he isn't finishing Anderson.

Enough people are picking GSP...so lets see it. Must not be unfair.

Anderson spent a lot of his time in the last year training for a wrestler. Sure Sonnen didn't have as good BJJ, but he was stronger than GSP. I believe ANderson would be fully prepared to deal with GSP. GSP is a solid striker, but if he chose to make a couple exchanges with Anderson he would get caught. Anderson would walk through anything GSP put out there.

Hardy, Alves, Fitch, Condit none of those guys have as good of a guard as Anderson does. And obviously none compare to the striker Anderson is.

Anderson would put fear in GSP's head when he is trying to shoot.
---
Last edited by jonnyg4508; 11-12-2012 at

09:58 AM

.
I still think many people underestimate the size difference and that Silva is simply to big.
---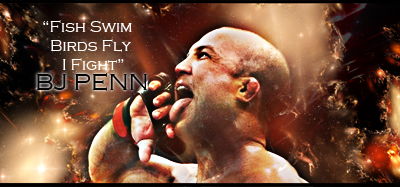 "If you get hit and it hurts hit him back you not knocked out yet."-Joe Doerksen
The Toxic Terrors (FFL)
Demetrious Johnson*Eduardo Dantas*Emanuel Newton*Will Brooks*Michael Page
Megaweight
Join Date: Mar 2007
Posts: 5,499
Quote:
I still think many people underestimate the size difference and that Silva is simply to big.
The one benefit that GSP has right now is Soarres is asking for a catchweight of 177. That would be a rough cut for Silva and should make him either have a horrible gas tank or have to think it out a little for the fight.
Still Silva would be huge compared to GSP.
A middleweight champion who moonlights at light-heavyweight and destroys his competition should be looking to fight the champ in that division; not the welterweight division.

If GSP were to beat him, then what? Would people want him to fight Jones?

Champions should just defend their belts and the promoter should do a better job of finding them contenders that can actually threaten the champions. Champions shouldn't have to go looking for challenges.
He's looking around and he doesn't see a challenge that's why GSP is on his radar. I'm certain the LHW title holder will come to pass if the price is right as well.

All eyes on Rush this Saturday!
---
Marcus Aurelius: Tell me again, Maximus, why are we here?
Maximus: For the glory of the
Empire, sire.
Baked, not fried... the healthy choice.
Currently Active Users Viewing This Thread: 1

(0 members and 1 guests)
Posting Rules

You may post new threads

You may post replies

You may not post attachments

You may not edit your posts

---

HTML code is Off

---