Quote:
If my father were my mother, I would have two mothers
This is exactly why I love everything Vitor belfort say's.
I think the Brazillians are gonna start there own language soon, Vitor's english isn't as good as Wandlish but its pretty good.
---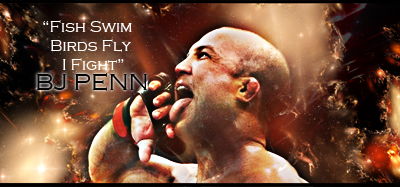 "If you get hit and it hurts hit him back you not knocked out yet."-Joe Doerksen
The Toxic Terrors (FFL)
Demetrious Johnson*Eduardo Dantas*Emanuel Newton*Will Brooks*Michael Page
This thread is full of win.
---
"Let them see that their words can cut you, and you'll never be free of the mockery. If they want to give you a name, take it, make it your own. Then they can't hurt you with it anymore." - Tyrion Lannister
This thread makes me want to rep every poster in it, but then again, I'm lazy. But that quote is priceless.

Can't wait till the UFC gets big enough where random quotes like these make it on south park and family guy skits lol.
---
1. BJ "The Prodigy" Penn
2. Dan "Hollywood" Henderson
3. George "Rush" St Pierre
I'm not writing off Bisping.

He is a bad mamma jamma.

Belfort is like brazilian shakespeare with these analogies.

It'll be the immovable object versus the unstoppable force and I wouldn't want to be caught between them.
Still doesn't top "Create your own atmosphere."
---
2013 VIP FFL Champion
THE DRAGON RIDES AGAIN - 12/20/14
Machida - Alves - Cruz - JDS - Weidman - Condit - Pettis - Edgar - Cowboy - Dodson - Okami
If my brother was my sister then i would have a sister.

So there... f*** you Dana White!
---
maybe he's in favor of gay marriage?

Sideways -> I had to tell you at one point, your sig is one more thing we have in common. Bejita's one badass mo'fo' best cartoon character ever created. AND he nailed bulma!
You're not terribly important to me

Join Date: Jul 2010
Location: Sell me this pen
Posts: 15,507
ahh that crafty old salt vitor, he's quick on his feet isn't he

Join Date: Apr 2010
Location: Following The Path To Jesus Set By His Disciple Vitor Belfort
Posts: 5,111
Oh SNAP! Owns is back.
---
Currently Active Users Viewing This Thread: 1

(0 members and 1 guests)
Posting Rules

You may post new threads

You may post replies

You may not post attachments

You may not edit your posts

---

HTML code is Off

---