Join Date: Jun 2009
Posts: 20,898
Roy Nelson Believes Fight Could've Been Different Against Junior Dos Santos
---
Quote:

Roy "Big Country" Nelson is no stranger to making headlines. Nelson is routinely one of the more outspoken fighters in the game today, and has no qualms about making his opinion known. It's a trait that's annoyed Dana White to no end, but helps make Nelson one of the more popular fighters in the sport.

Nelson shared some of his insight with Steph Daniels of BloodyElbow.com in a recent interview. The former Ultimate Fighter winner sounded off a number of topics, including his bout with UFC heavyweight champion Junior dos Santos.

"I think even back then, if I'd had two extra rounds, it could have been a different fight."

Although dos Santos did appear to tire as the rounds wore on, that was more due to the fact that he threw everything he could at Nelson for 15 minutes. Granted, while Nelson is always one punch away from a victory, that punch likely never would've landed given how bad of a beating JDS was putting on him at the time.

A vicious beating is what some MMA fans were expecting when Colton Smith and Mike Ricci met one another to decide the winner of the most recent season of TUF. Although Ricci is a natural lightweight, he was predicted to walk through Smith en route to winning another achievement for the Tristar gym.

Instead of Ricci dominating, Smith used a solid game plan to control every round en route to winning an unanimous decision. Although Smith was a Team Nelson fighter, Nelson wasn't impressed by the performance.

"I think at the end of the day, when you're in TUF, it's a game show. The goal is to win, so if Colton Smith had the ugliest fight, but won the show, like he did, they have to give him a contract, because that's the rules. He won the show, and after that, he can fight any which way he wants. They can't take it away from him, because it's a game show. He had a game plan, and he executed it. He went out there and rode a guy's back for three rounds. I think they thought Mike Ricci was gonna win, otherwise GSP wouldn't have gotten on a plane and come out to be in his corner, but Colton beat him up."

Nelson fought Matt Mitrione in the main event of that card, but was originally scheduled to face his opposing coach Shane Carwin. Nelson attempted to get both Carwin and Mitrione to agree to VADA testing, but neither man agreed.

Carwin cited an article on VADA's website that appeared to be very bias against Carwin as his main reason for not agreeing to the test. Mitrione, taking the fight on short notice, said he needed to focus his camp on proportions for the fight, not drug testing.

Nelson isn't buying what their selling.

"...it has nothing to do with calling people out or accusing them of anything. It has to do with cleaning up the sport. I want to help keep the sport as pure as possible.

"I think a lot of people get confused. When I say 'get sponsored', I mean on both sides, both fighters. I've basically taken all your freaking excuses out. 'Oh, it's gonna cost me money.' Nope. I've taken that out. 'Oh, I don't have time.' Nope. They come to you. You shouldn't have excuses. It's a yes or no question. You either think you're clean, or you're not."

Nelson also stated that he believes he has another 10 years of fighting ahead of him. I'm sure White is relishing in the chance to work with "Big Country" for another decade.
http://bleacherreport.com/articles/1...ior-dos-santos
Agree with him big time on the testing. Not so much on his chances against Dos Santos.
---
Quote:
Carwin cited an article on VADA's website that appeared to be very bias against Carwin as his main reason for not agreeing to the test. Mitrione, taking the fight on short notice, said he needed to focus his camp on proportions for the fight, not drug testing.
Yeah, sure guys. Sure.
I never believe Nelson when he talks about cleaning up the sport. He hangs out with some of the shadiest people in the business.
Join Date: Oct 2009
Location: UK... Where the sun never shines.
Posts: 11,557
Oh roy...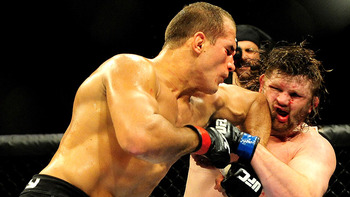 Agree with him on the testing though.
Hopefully more fighters jump on the VADA testing and actually call their opponents out on it if these refuse.
I dont know if id want to take a drug test that the other fighter is pushing on me. Id be annoyed by that and say no out of principal. I feel like he is my opponent and im not going to do something just because he wants me to. (My stubbornness gets the best of me sometimes)

That said if my boss asked me to agree with the Vada testing then i wouldnt mind. Or if it was a "Fight isnt going to happen unless i take the test" scenario.

But if both people signed the contract and then my opponent started throwing out the "Hey go get tested" comments. I probably would just reply with a simple short insult.


Oh and if they had 2 more rounds its likely Nelsons chin would have separated itself from Nelsons head and got out of there. Maybe it would have flipped Nelson the bird on its way out.
---
Nelson would need a lucky punch, or some way of taking the fight to the ground... not likely though, even if he ever manages to get another title shot..
Junior would have just cruised, he battered him that night.
---
2013 VIP FFL Champion
THE DRAGON RIDES AGAIN - 12/20/14
Machida - Alves - Cruz - JDS - Weidman - Condit - Pettis - Edgar - Cowboy - Dodson - Okami
... moving along...

I'll give Meathead the benefit of the doubt because he was taking the fight on short notice. There was no time to get illegal things out of his system in time for fight night so I'll just believe he was clean.

So I guess this is where I claim that everyone in this sport who's not doing VADA testing is a cheater... so...

Yeah, everyone's on the juice except for BJ and Rory.
---
Rookie Hammer Squad 2015
Frankie Edgar - Dominick Cruz - Jorge Masvidal - Cat Zingano - Holly Holm
Currently Active Users Viewing This Thread: 1

(0 members and 1 guests)
Posting Rules

You may post new threads

You may post replies

You may not post attachments

You may not edit your posts

---

HTML code is Off

---