-
UFC
(
http://www.mmaforum.com/ufc/
)
| | |
| --- | --- |
| Budhisten | 01-11-2013 08:03 AM |
---
***OFFICIAL*** Gabriel Gonzaga vs. Ben Rothwell thread

Heavyweight bout: 265 pounds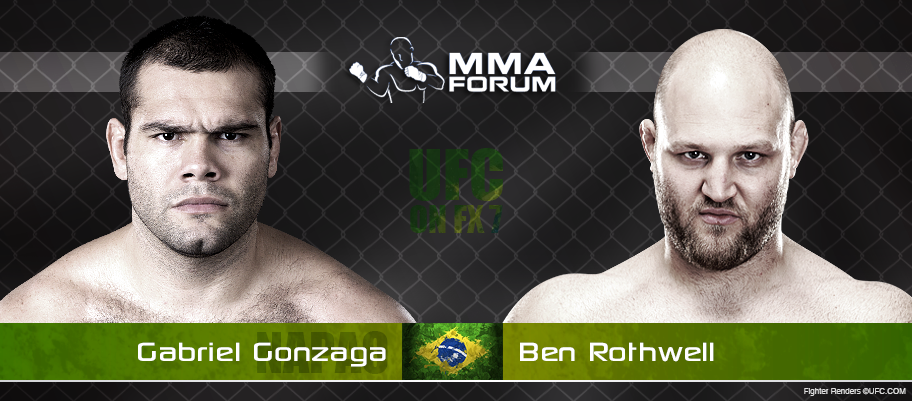 | | |
| --- | --- |
| ClydebankBlitz | 01-11-2013 01:05 PM |
---
Gonzaga only really manages to take people down by overpowering them, and Rothwell is only really taken down with speed and sharpness (like how Cain took him down), so I think this is a bad fight for Gonzaga. Gonzaga might be able to land a decent shot, but Rothwell is a warrior when in trouble and he just swings and puts people in trouble even when he's the one hurt. I think Rothwell will have a big decision win here in a slow and bad fight for the heavyweight division.
---
Gonzaga by decision.

No, I have no argument to back it up. Doesn't matter anyway, my instincts will not go wrong in this one.
| | |
| --- | --- |
| HitOrGetHit | 01-11-2013 02:12 PM |
---
I am leaning towards Gonzaga as well.
---
Could care less about either fighter but Rothwell.
| | |
| --- | --- |
| K R Y | 01-12-2013 06:12 AM |
---
Rothwell's face in that pic cracks me up.

I hope Gonzaga takes it. He has the talent to go far in the division but he's not the smartest fighter and seems to hold back a lot (see Schaub fight)
| | |
| --- | --- |
| El Bresko | 01-12-2013 06:27 AM |
---
This fight is really hard to call..
---
Rothwell is one of the toughest fighters on the UFC roster and has some decent skills himself. I don't see him getting finished.
Gonzaga has the skills to be a top ten in the division but can't seem to get it together between his ears.

I still say Gonzaga takes a 29-28.
| | |
| --- | --- |
| luckbox | 01-12-2013 06:12 PM |
---
They both look like they should be locked in a mental ward.
| | |
| --- | --- |
| No_Mercy | 01-13-2013 01:44 AM |
---
Ben Rothwell reminds me of "Mankind." Initially I thought Gonzaga would win then I remembered how much punishment Rothwell can take...A LOT. This is going to be funny...I think Gonzaga will gas out from hammering Rothwell and Big Ben will get the come from behind victory TKO in the third.
All times are GMT -4. The time now is

08:10 PM

.
Powered by vBulletin Version 3.6.8 , Copyright ©2000 - 2013, Jelsoft Enterprises Ltd.
SEO by vBSEO 3.3.2