Join Date: Jan 2013
Location: Canada's East Coast
Posts: 1,487
Quote:
Rampage will be back Saturday when he KOs Glover like he did Chuck
Dreaming again? Wahhhmpage is gone. Glover will dominate him.
Sent from my HTC Ruby using VerticalSports.Com App
---
The poster formerly known as Cowgirl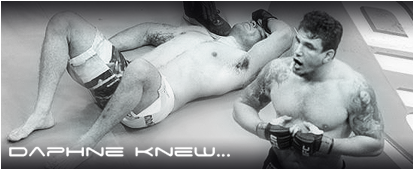 Thanks to Killz for the great sig!

Quote:
Rampage will be back Saturday when he KOs Glover like he did Chuck
Hey hey, let's not go there. I think you're an alright poster, don't make me hate you.
I'm alright with either outcome. I wouldn't mind Rampage going out on a win against a very good fighter in Glover, but I wouldn't mind Glover avenging Chuck's loss as well and furthering himself in the rankings even more.
---
Psalm 30:5 "For his anger endureth but a moment; in his favour is life: weeping may endure for a night, but joy cometh in the morning."

Top 3 Favorite Fighters
1. Chuck "The Iceman" Liddell
2. Glover Teixeira
3. Demian Maia
Amateur
Join Date: Jan 2013
Posts: 130
I'm curious as to see how much damage Glover can take after he got wobbly legs from 1 hook from a battered Maldonado.
BTW is Maldanado the terminator? How did he take so much damage and still keep going?
Sent from my iPhone using
Verticalsports.com Free App
Featherweight
Join Date: Apr 2012
Posts: 1,444
Quote:
Haha, not literally obviously. But what are his biggest wins?
A fair question, and it's true that he has no impressive names on his resume, but the two guys the UFC put in front of him so far were never even in it, and that includes the surprise hook Maldonado caught him with.
And quite frankly, at this point in his career I'm not sure Page is better than either of them.
used to be a big Rampage fan, nowadays not so much.
---

Fedor, Mir, Lytle, Serra, Hendo, Chuck, Minowaman, Maynard, Forrest, Hunt
Pickett, Cerrone, Matt Brown, Bisping, Weidman, Barnett, Lawler


I'm not really a fan, but I am also not going to write Rampage off - he still has KO power. Glover's stand up is good but I guarantee he will want to take this fight to the ground.
---
Last edited by kc1983; 01-22-2013 at

11:55 AM

.
I'm rooting for Rampage but I expect him to lose a UD.
Back when he was actually Rampage, talking hilarious shit to Rashad I'd be on this bandwagon, but not anymore. Sick of Rampage bitching about the UFC. Just hope Glover smashes him, so that he's not got any bargaining power, and is almost entirely irrelevant.
---
Proudly Supporting
Dan Hardy
Conor McGregor
Michael Bisping
Donald Cerrone
Chael Sonnen
Demetrious Johnson
Joe Lauzon
Nick Diaz

Currently Active Users Viewing This Thread: 1

(0 members and 1 guests)
Posting Rules

You may post new threads

You may post replies

You may not post attachments

You may not edit your posts

---

HTML code is Off

---