Bantamweight
Join Date: Oct 2012
Location: Canada, West Coast
Posts: 864
Rampage Jackson says Jon Jones' oblique kick should be banned from UFC
---
Rampage Jackson says Jon Jones' oblique kick should be banned from UFC competition
By Jesse Holland on Jan 22, 11:40a 152
After doing the dance with UFC light heavyweight kingpin Jon Jones, former opponent, Rampage Jackson, knows the dangers of the champ's oblique kick, which he believes should be called the "illegal kick." here's why.
Ever give one of your buddies a dead-leg? Funny, right? Now do the same thing, only from the other side. Not so funny.
Ultimate Fighting Championship (UFC) Light Heavyweight Champion Jon Jones uses a push-kick to the knee, the "oblique kick," as a way to keep his opponents in range. Too far for them, but just right for him and his 147-inch reach.
There's only one problem.
Past opponents like Quinton Jackson are unhappy with the technique, which unsurprisingly carries the potential for serious injury to the knee, one of the most fragile parts of the body when exposed to the rigors of mixed martial arts (MMA) training and competition.
"Rampage" explains to ESPN:
Quote:
"It should be called the illegal kick. It should be banned and it shows a lot about the fighter's character that he would throw it. How would he like it if somebody threw it at him and stopped him working for a year? I thought it was an illegal move. I think spinning elbows should be illegal too because they land on the back of the head. But I appreciate a good fight, a good scrap, I just wonder which rule fighters will bend next."
http://www.mmamania.com/2013/1/22/15...banned-ufc-mma
Nope. Ban Jones ridiculous eye-poking range-keeping shit.
---
2013 VIP FFL Champion
THE DRAGON RIDES AGAIN - 12/20/14
Machida - Alves - Cruz - JDS - Weidman - Condit - Pettis - Edgar - Cowboy - Dodson - Okami
Quote:
Originally Posted by
TheLyotoLegion
View Post
Exactly.
Breaking news: Rampage is a whiney blowhard.
.
I completely agree Rampage here. Attempting to hyper extend someones knee could be career ending. Knees are serious, serious business for athletes. They even made a rule in the NFL now you can't hit Quarterbacks in the knee. That's the money maker right there and those are career ending injuries.
It's not the same as a knee bar where you can tap out. This is a strike that happens instantly.
EDIT: This should NOT be legal.
Is Rampage ever going to do another interesting interview? So bored of his bitching. Where's Rashad to call him out on his shit when you actually need him?

As for the kick, it probably is dangerous, but I think guys should find a way to defend against it instead of moaning about it.
---
Proudly Supporting
Dan Hardy
Conor McGregor
Michael Bisping
Donald Cerrone
Demetrious Johnson
Joe Lauzon
Nick Diaz

He's upset that Bader didn't stand with him. Now he's upset Bones is throwing push kicks and elbows. He's upset that he heard Glover was practicing his clinching. He would literally complain about anything other than standing and trading normal punches for 100% of the fight.
---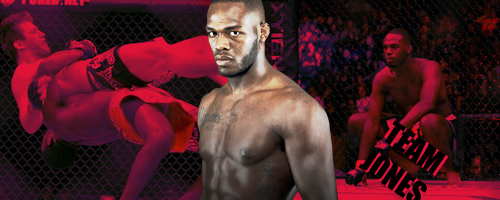 Page is right.
also agree with the "I have my fingers extended to poke your eyes if you come near me" comment up there.
Jones is a biatch!
---
Lyoto Machida, former UFC LHW hamp
Future UFC MW Champ
Benavidez, Barao, Aldo, Nate, Nick, Lyoto, TBD, JDS
Forever hanging in Anderson Silva nuts
Flyweight
Join Date: May 2010
Location: Chicago
Posts: 212
Agreed - it should fall into the same category as "Small Joint Manipulation" for thaty same reason – there's no opportunity to tap before snap…

However, I do wish that Jackson could make a point without sounding like a whiney beach. He makes a good point, but I almost don't care because of his bitching and moaning.

The last time that Jackson said anything worth listening to was in the post fight interview of him vs. Jones... He should go back and watch that interview again, while he's at it, review the end of the fight and pay particular attention to his own eyes immediately after the referee ends the fight... he looked like a terrified school kid who wants his mommy to make the big bad boy stop picking on him...

Thank goodness after this weekend he's done in the UFC
Welterweight
Join Date: Jul 2008
Posts: 2,229
As much as I hate Rampage, I agree that kicks to the knee like that should be illegal. It puts you at serious risk of knee injury which could end a career, and while effective it's just a messed up technique like fish-hooking.
Currently Active Users Viewing This Thread: 1

(0 members and 1 guests)
Posting Rules

You may post new threads

You may post replies

You may not post attachments

You may not edit your posts

---

HTML code is Off

---