View Poll Results

: Your prediction

Jon Fitch
26
53.06%
Demian Maia
23
46.94%
Draw
0
0%
Voters: 49. You may not vote on this poll
***OFFICIAL*** Jon Fitch vs. Demian Maia Thread
---
Welterweight bout: 170 pounds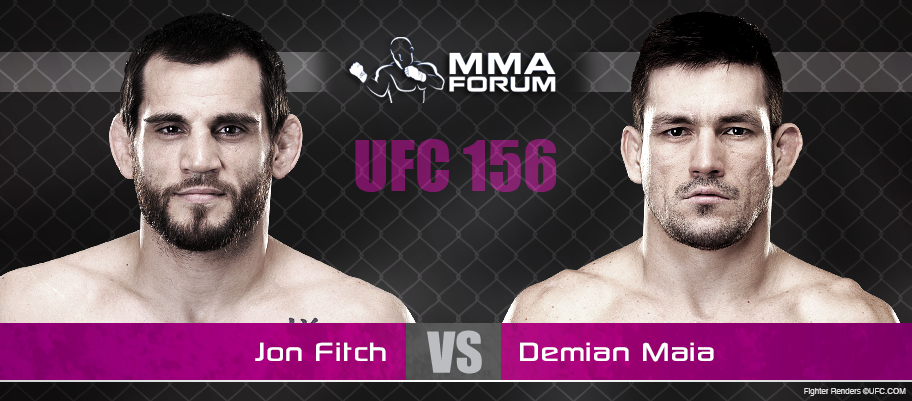 ---
Really looking forward to this fight, they say if you play with fire you get burned and that saying could come into play with Fitch's amazing submission defense vs. the very good submission offense of Maia.

What might be the key is the cardio, Maia's never gone deep at 170 and we all know Fitch won't tire so Fitch should probably try and get Maia down and try and tire him out or force him up against the cage and work from there and dish out another third round beating like he did against BJ and Erick.
---
2013 VIP FFL Champion
THE DRAGON RIDES AGAIN - 12/20/14
Machida - Alves - Cruz - JDS - Weidman - Condit - Pettis - Edgar - Cowboy - Dodson - Okami
Colossal-weight
Join Date: Jan 2010
Posts: 9,844
I have Fitch winning. Not that excited for this for the fact that it will probably turn into a crappy kickboxing fight. Wonder if Maia could pull out a win via striking? Probably not.

Join Date: Apr 2010
Location: Following The Path To Jesus Set By His Disciple Vitor Belfort
Posts: 5,111
Weirdly i am more excited for this then the Main.


Please don't become a kickboxing match.
---
Welterweight
Join Date: Jul 2008
Posts: 2,231
I don't expect this to be an exciting fight, but I am curious to see what happens. I have Fitch winning by doing just enough to control the action and impose his will as a grappler without being submitted. If this was at middleweight I think Maia would win though.
So excited for this fight. Fitch has CRAAAZY submission defense but we are talking about Maia here. I can't wait!
---
Anderson Silva ♔
Aldo - Dos Anjos - Mayday - Weidman - Machida - Jones
Megaweight
Join Date: Mar 2007
Posts: 5,499
I am picking Fitch, I know big surprise.
I have never been a John Fitch fan, but after his fight at UFC 153 where he fought his ass off and left his soul in the octagon against Erick Silva, I finally warmed up to him. I hope he does the same in this fight and simply goes for it from bell to bell.

Maia has a chance to sub him but I see this fight going in Fitch's favor.
---
1. BJ "The Prodigy" Penn
2. Dan "Hollywood" Henderson
3. George "Rush" St Pierre
I just hope the Maia that knows he can grapple shows up, and not the maia that thinks he can kickbox.
As grappling goes, Maia is waaaaay more technical and versatile and he will be the one pressing for the take down. If the fight is to be standing, that will be Fitch's choice, if Maia can't take him down, what I doubt he can't 'cause he grabs you like an octopus.
Interesting fight for Fitch as his best asset may not be a good move against Maia.
Wrestling vs BJJ classic. I will join the choir for the grappling war over the sh!tty kickboxing match.
Currently Active Users Viewing This Thread: 1

(0 members and 1 guests)
Posting Rules

You may post new threads

You may post replies

You may not post attachments

You may not edit your posts

---

HTML code is Off

---