View Poll Results

: Your prediction

Jose Aldo (c)
38
57.58%
Frankie Edgar
27
40.91%
Draw
1
1.52%
Voters: 66. You may not vote on this poll
Quote:
To be fair, Jack can only go off of the past fights. After this fight I bet his analysis changes. Aldo has clearly been working it with how accurate he is landing it.
The thing is that the past fights I've watch from Aldo shows that he's always had a GREAT jab. He always keeps his right hand up right at his ear and he leans into it and makes it reeeeal long. He looks like a fencer when he uses it. He chooses to use it to keep opponents at bay and as a means to stop their momentum. Not as a combination tool as Jack seems to want to see.
Rogan already pushing the cardio narrative.

Give it a rest Rogan.


Aldo looks marvelous.
---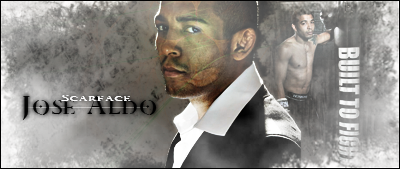 You're not terribly important to me

Join Date: Jul 2010
Location: Sell me this pen
Posts: 15,507
aldo looking good lets see how he's adjusted his weight for a cardio battle
---
Jim Norton
Nick Dipaolo
Dave Attell
Dave Chappelle
Bill Burr
Joey Diaz
Colin Quinn
Bob Kelly
Rich Vos
Patrice O'Neal
Louis CK
Megaweight
Join Date: Mar 2007
Posts: 5,499
"You gotta check the kick"

Can you even check that thing? Does it matter? It is mid thigh and thrown with bad intentions.
I've got the first two rounds for Aldo.
Fight started and I had to go for work. Going to be late. Sigh, will be depending on you guys for updates!

Sent from my GT-I9100 using VerticalSports.Com App
---
Anderson Silva ♔
Aldo - Dos Anjos - Mayday - Weidman - Machida - Jones
Quote:
That second kick really hurt Frankie. The first one was kind of checked but that second one was brutal. Aldo's jab is like a sniper's shot, I don't know why Jack Slack says he doesn't have a jab.

Edit: why is Edgar throwing spinning side kicks? So dumb.
It was a crafty move actually. Aldo was moving so he felt he could land it as Aldo was walking towards that direction. You have to study it closely to see.
This is very high level fight. Two style strikers who respect each other.
---
Marcus Aurelius: Tell me again, Maximus, why are we here?
Maximus: For the glory of the
Empire, sire.
Baked, not fried... the healthy choice.
Megaweight
Join Date: Mar 2007
Posts: 5,499
I am amazed Edgar is still awake after that kick!
Flyweight
Join Date: Mar 2010
Posts: 290
man aldo is a beast

i just cant see what frankie can do to win this
Join Date: Jun 2009
Posts: 20,897
Currently Active Users Viewing This Thread: 1

(0 members and 1 guests)
Posting Rules

You may post new threads

You may post replies

You may not post attachments

You may not edit your posts

---

HTML code is Off

---