Belfort thinks he deserve a rematch with Jon Jones or Anderson Silva.
---
Quote:
VITOR BELFORT FEELS HE DESERVES A REMATCH WITH JON JONES OR ANDERSON SILVA
Vitor Belfort (22-10 MMA, 11-6 UFC) wants another shot at light heavyweight champ Jon Jones, but he also thinks he's made a pretty good argument for rematching Anderson Silva.
"I deserve the rematch, so that's the fight I'm looking for," Belfort said. "If not him, I'm looking to get to be a contender of my division. Nobody made a statement with that, and I think the way I beat (Michael) Bisping takes me very close to the contender shot."
Belfort, who spoke to reporters during a media gathering in support of UFC 156, recently denied Bisping another golden opportunity when he earned a second-round TKO this past month at UFC on FX 7. It was the second the British middleweight failed to capitalize on a title eliminator, and because he was cast as the most logical contender prior to the bout, Belfort's victory had all the more impact on the middleweight division.
Now the question is what's next for "The Phenom." Prior to beating Bisping, he lost to Jones at UFC 152, and two years ago, he was viciously knocked out by Silva.
That leaves him somewhat in the lurch. Although he's been linked to a bout with former Strikeforce champ Luke Rockhold, he indicated the fight was far from a done deal.
"I'll accept any fight, but I need to know where this fight is going to take me," Belfort said.
If he has his say, he'd rather go to light-heavyweight. He wants a chance to beat Jones after nearly pulling off the upset of the decade this past September, when he was installed as a contender after multiple opponents turned down the champ. A heavy underdog, he shocked the world when he popped Jone's right elbow with an armbar in the first round of the fight.
Belfort faded in later rounds and submitted in the fourth, but he the believes his near-submission is a much better argument for a rematch than the circumstances that put Chael Sonnen in the No. 1 contender spot.
"I'll be ready, and I have my people negotiating," he said. "But I want Jon Jones. I want his left arm."
The question is whether he'll get it. Belfort blasted Sonnen for getting the opportunity to fight Jones, as he did following his win over Bisping when he screamed at UFC executives to switch them.
Belfort likened the two-time middleweight title contender to a circus clown, saying Sonnen was shamed by Silva when they fought at UFC 148. Sonnen, he implied, had talked his way into the title shot, while he said yes to a fight that was offered.
"People are picking fights," Belfort said. "I don't agree with that. I believe in sport, you earn it."
Ultimately, though, both were given the opportunity by the UFC, who serves as the final voice in matchmaking. That's why Belfort is going to wait to see what the promotion has to say before he campaigns any further. Wherever he goes, he wants the fight to have big implications.
"If I need to pick a fight, I will pick guys that have the title," he said. "People in the division that I can conquer. I'm not scared of anybody."
In his mind, fighters who beat the best opponents should get the best opportunities.
"If I'm in the 185 division, I beat the second guy, I earned that place," Belfort said. "That's how I think, but that's not how it is."
So Belfort plans to enjoy a two-day vacation and not worry about it. His managers will be doing the talking for him in the coming days.
Source:
http://www.mmajunkie.com/news/2013/0...medium=twitter
I just dislike Belfort, plain and simple. With the way things are going, I won't be surprised if he does get the title shot at Jones. However, he talks about earning title shots then he goes on to say he deserves a shot a Jon Jones? Dude, you had an undeserved title fight with Jones, lost, beat a MIDDLEWEIGHT in Bisping, and you say you deserve another crack at the LIGHT HEAVYWEIGHT champion? Thats not how you "earn" a title shot man.
No interest in seeing Silva vs Belfort again. Beat another contender in Lombard/Rockhold before that happens.
---
Anderson Silva ♔
Aldo - Dos Anjos - Mayday - Weidman - Machida - Jones
Another good win, and it'll be hard to deny that he does deserve another shot at Anderson.

Jon Jones, well... the UFC brass opened that door when they started giving MWs shots at the LHW champion.
Hm.... seems like someone replaced his testosterone injections with spunk.
---
2013 VIP FFL Champion
THE DRAGON RIDES AGAIN - 12/20/14
Machida - Alves - Cruz - JDS - Weidman - Condit - Pettis - Edgar - Cowboy - Dodson - Okami
Vitor V Teixeira would be fun...
---

Why does he keep campaigning for Bones? I blame that on his management. He needs to realize he was a last resort option, and just because he pulled out a good submission doesn't hide the fact that he got otherwise manhandled for about 20 minutes, and it's a rematch nobody wants to see.

Middleweight sucks on the other hand, and Brazil would be interested in Silva/Belfort 2. And it's more marketable because you can say how one mistake costed Belfort his chance last time.
---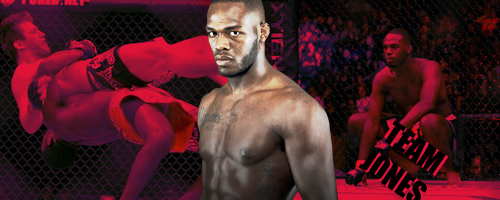 Featherweight
Join Date: Aug 2009
Posts: 1,297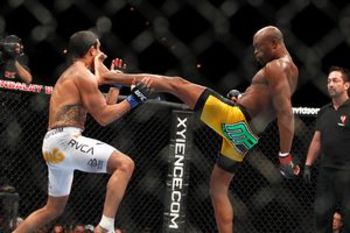 You gotta do more than beat Bisping to make up for this loss Vitor.
He gave Bones a few headaches. He should stay at LHW and fight Teixeira then if he wins he can fight Bones again.
---

Vitor has always been one of my favorites fighters, however when he goes against Anderson my pick goes with the GOAT. So I'd much rather see Vitor back up at LHW. I picked him to upset the LHW title holder, but of course not by submission. He did pretty good considering he pulled guard and allowed the LHW take the most dominant position with those slashing elbows. Now why didn't Overeem utilize those on that big melon. Wrist control, then maneuver out of it and slash em GSP style.

Otherwise Luke vs Vitor. Vitor vs winner of Lombard/Yushin.

OR Vitor vs Weidman. Weidman wins then he deserves the title shot.

Another fun match up that may never happen now is Vitor vs Rampage.
---
Marcus Aurelius: Tell me again, Maximus, why are we here?
Maximus: For the glory of the
Empire, sire.
Baked, not fried... the healthy choice.
Quote: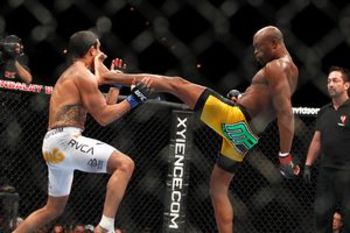 You gotta do more than beat Bisping to make up for this loss Vitor.
He put Jones on the shelf for six months, he's crushed the cans put in front of him and he beat Bisping when Bisping had so much momentum.
I think Anderson kicked some sense into Vitor or losened his balls because the Vitor Belfort of 2012/2013 maybe the best Vitor ever.
When everyone is ducking Jones and Silva Vitor's calling them out I love it and respect it and hope he keeps doing it.
Currently Active Users Viewing This Thread: 1

(0 members and 1 guests)
Posting Rules

You may post new threads

You may post replies

You may not post attachments

You may not edit your posts

---

HTML code is Off

---