View Poll Results

: Your predictions

Lavar Johnson VS
11
73.33%
Brendan Schaub
2
13.33%
Mike Chiesa VS
12
80.00%
Anton Kuivanen
2
13.33%
Court McGee VS
9
60.00%
Josh Neer
3
20.00%
Caros Fodor VS
4
26.67%
Sam Stout
11
73.33%
Dennis Bermudez VS
13
86.67%
Matt Grice
0
0%
Brock Jardine VS
6
40.00%
Kenny Robertson
5
33.33%
Neil Magny VS
5
33.33%
Jon Manley
6
40.00%
Multiple Choice Poll. Voters: 15. You may not vote on this poll
***OFFICIAL*** UFC 157 Prelims Thread
---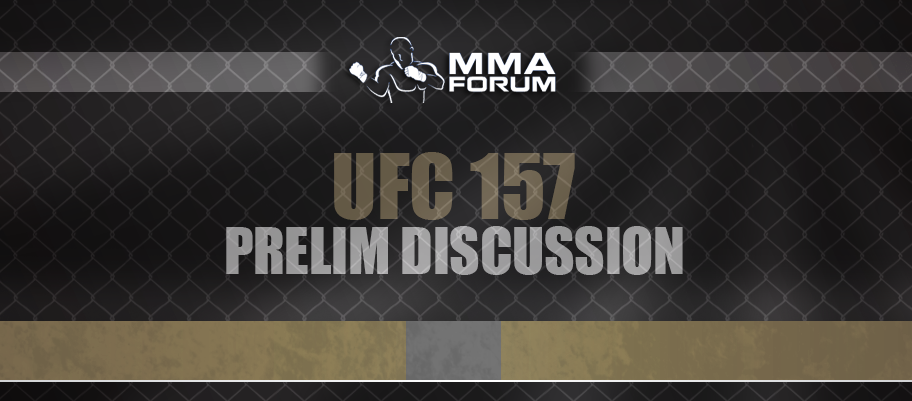 Preliminary card - FX (Facebook for international viewers)
Lavar Johnson vs. Brendan Schaub
Mike Chiesa vs. Anton Kuivanen
Court McGee vs. Josh Neer
Caros Fodor vs. Sam Stout
Preliminary card - Facebook or UFC.tv
Dennis Bermudez vs. Matt Grice
Brock Jardine vs. Kenny Robertson
Neil Magny vs. Jon Manley
Watch prelim fights live on Youtube:
http://www.youtube.com/watch?v=9dpvkbCgm0k
---
Caros Fodor, Sam Stout, and Anton Kuivanen on FX while Bermudez is on Facebook?!
---
2013 VIP FFL Champion
THE DRAGON RIDES AGAIN - 12/20/14
Machida - Alves - Cruz - JDS - Weidman - Condit - Pettis - Edgar - Cowboy - Dodson - Okami
Lavar is going to knock Schaub out... I'm gonna be in attendace for this one!
---
_RIVALS TOP 10

ANDERSON "THE SPIDER" SILVA
JAKE SHIELDS
NICK DIAZ
EDDIE ALVAREZ
JUNIOR "CIGANO" DOS SANTOS
GILBERT MELENDEZ
MAMED "THE CANNIBAL" KHALIDOV
HECTOR "SHANGO" LOMBARD
CAIN VELASQUEZ
GEGARD "THE DREAM CATCHER" MOUSASI

Join Date: Oct 2009
Location: UK... Where the sun never shines.
Posts: 11,553
Im hoping for a highlight reel KO of Schaub.
If that happens I'll laugh my ass off.
You're not terribly important to me

Join Date: Jul 2010
Location: Sell me this pen
Posts: 15,483
im hoping for a lavar omoplata
---
Jim Norton
Nick Dipaolo
Dave Attell
Dave Chappelle
Bill Burr
Joey Diaz
Colin Quinn
Bob Kelly
Rich Vos
Patrice O'Neal
Louis CK
Wait, did Court realize he's in the wrong weight class and FINALLY drop down to 170? That's good to see.

I'm not sure how I feel about this fight. I picked Neer to win because it seems like McGee is the same fighter he was when he was on TUF. He hasn't really shown improvements since then. I like the guy, he's been through a lot and he's apart of the pit, but he hasn't impressed me since he won TUF. Neer is a veteran of the sport and won't make this easy for him. Hopefully, McGee looks better at this weight class because I want to see the guy improve and reserve his spot on the UFC roster.

Glad to see Chiesa back in action. It showed how much heart he had on his season of TUF when learning about his father but still winning the tournament despite that. I think most people would have wanted to leave after that, but he kept going strong knowing it's what his father would have wanted and he won it all. Such a feel good story and I found myself cheering for him throughout every one of his fights. I think he should win this fight against Anton comfortably.

Lavar should knock out Schaub early. Schaub has a very suspect chin, and Lavar is one of the hardest hitting heavyweights in the UFC. He may not be the best striker, but his brick hands make up for it. Schaub better play defensively for a while in my opinion.
---
Psalm 30:5 "For his anger endureth but a moment; in his favour is life: weeping may endure for a night, but joy cometh in the morning."

Top 3 Favorite Fighters
1. Chuck "The Iceman" Liddell
2. Glover Teixeira
3. Demian Maia
Flyweight
Join Date: Sep 2011
Posts: 456
Quote:
Schaub has a very suspect chin,
Is it even suspect at this point? :P
Have you guys ever seen them set up something like this for fans outside before the prelims? Almost like a football pregame out there in Anaheim...
Kind of a big pic:
The only ppv shows I've been to just had a big crowd outside the doors with nothing to do but wait for them to open up. Glad, Bud's OP has the link to watch these fights on youtube so we don't have to rely on facebook's sometimes good/sometimes shaky streams.
---
Taking Villefort.
---
2013 VIP FFL Champion
THE DRAGON RIDES AGAIN - 12/20/14
Machida - Alves - Cruz - JDS - Weidman - Condit - Pettis - Edgar - Cowboy - Dodson - Okami
Currently Active Users Viewing This Thread: 1

(0 members and 1 guests)
Posting Rules

You may post new threads

You may post replies

You may not post attachments

You may not edit your posts

---

HTML code is Off

---