Questionable judging
---
Any one recall Joe Rogan saying that the judges are APPOINTED to the UFC by the Nevada State Athletic Comission?? I believe it was at the Ultimate Fight Night Live Spike TV 06/28/06. Anyway, if that's true, then I guess that's why there are so many bad decisions in the UFC, the 2 most recent being

1) Forrest Griffin vs. Stephan Bonner
2) Diego Sanchez vs. John Alessio
Megaweight

Join Date: Apr 2006
Location: Everett, MA
Posts: 5,961
i dont believe those two fights were bad decisions..forrest pushed the pace of that fight thats why he one, and alessio didnt win because he did nothing u cant win just by stopping takedowns, and he got dominated in that 3rd round..after the 1st round it was like allesio was just trying to get outta there, he figured he won the 1st round so all he had to do was not get caught the rest of the fight and that mentality cost him the fight
---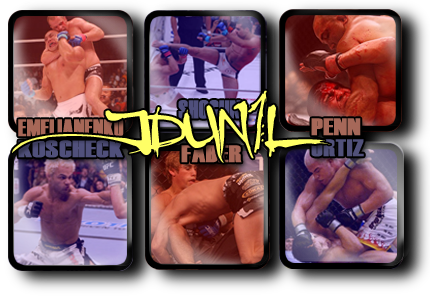 Mancrushes
1.Shogun
2.BJ
3.Fedor
4.Kos
5.GSP
Im in Porno's
I agree with the thread starter that those 2 fights should have gone the other way. Bonnar never really got rocked too bad during the fight, and Forrest I feel got hit w/ more shots. Alessio dominated Diego that entire fight, up until the last 2 minutes of the 3rd round. I guess when you're sitting on a guys back not doing anything that merits a win
Another BS call was Bonnar vs The Dean of Mean Keith Jardine, The Dean clearly won that fight
I think the fighters get what they deserve when they don't get the KO or the submission. Especially in fights like Sylvia vs AA II. It would have been sweet for the judges to screw that one up and give it to AA. I guess what ticks me off is fighters being all defensive and trying "not to lose". Forest might be the exception. He can't seem to get knocked out or knock anybody out. He needs to go 5 rounds with someone.
---
THEBOZ
"DULCE ET DECORUM EST PRO PATRIA MORI"
What about ortiz vs shamrock 2? I think it was too quick to call it.
Megaweight

Join Date: Apr 2006
Location: Everett, MA
Posts: 5,961
the bonnar vs forrest fight coulda went either way imo...but i gotta disagree with u guys on diegos fight..alessio did nothing after the 1st round, he clearly lost round 3, and round 2 coulda went either way..alessio didnt deserve that fight, diego didnt either but i cant say alessio was robbed cuz he didnt earn a win all he did was run away
---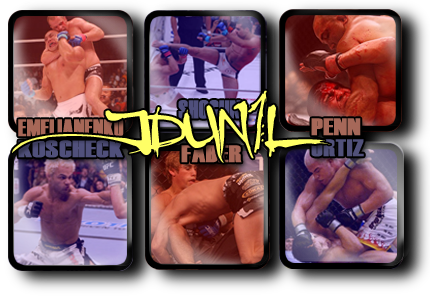 Mancrushes
1.Shogun
2.BJ
3.Fedor
4.Kos
5.GSP
Im in Porno's
Bantamweight
Join Date: Jun 2006
Location: greenville sc
Posts: 561
The judges deserve some credit here guys. It is very hard to call fights like that. Lets face it some fights are just not that exciting, some guys are scared to lose, but for good reason, if you lose too much thats it. No more UFC for you. thats a scary thought for these guys.
MMA Fanatic
Join Date: Jul 2006
Posts: 6
I like the Pride system of judging the entire match, not round by round. I truly enjoy the 10 minute first, allows more time to see who is in the best shape, and gives more incentive to end it quickly...10 minutes is a REALLY long time to fight, so you wanna end it as quick as possible.

Also would love to see no decisions in title fights...tap-out, KO or TKO only. I relaize it won't happen, but it would be great to see.
Currently Active Users Viewing This Thread: 1

(0 members and 1 guests)
Posting Rules

You may post new threads

You may post replies

You may not post attachments

You may not edit your posts

---

HTML code is Off

---