I totally think this fight could be a classic. What I see happening is GSP generally dominating position. He will very most likely win the fight. But Diaz will be doing a lot of fighting back, of that I have no doubt. It wont be boring. far from it. It'll be exciting form start to finish. I don't care who wins... but it certainty has some serious potential for entertainment.

In my opinion, of course.
I struggle with the notion that this might be a classic, although I, like many, hope for it (if for no other reason than we like close, hard fought battles). In a departure from what we've all come to expect from GSP in recent years, I'll go out on a limb and predict that GSP will actually finish this fight. No small feat, of course, but there it is.
I don't think GSP trains with Jackson at all anymore and is exclusively training at Tristar. I could be wrong though. I agree with how you think the fight's gonna go.
Quote:
I suspect this will really depend on whether GSP/Jackson feel threatened by Diaz's BJJ.
If they do, GSP could be hesitant to take the fight to the mat (a la GSP/Shields), and we could possibly see more of a stand-up battle, with a few TD's sprinkled in by GSP for flavour.

In all honestly, that's how I see this going. If they do go to the mat, I don't think GSP will mess around down there- he'll score his points, then they'll be up as soon as he feels in any way threatened.

GSP via stronger grappling along the cage, good leg kicks, and TD's when necessary.

.
---
2013 VIP FFL Champion
THE DRAGON RIDES AGAIN - 12/20/14
Machida - Alves - Cruz - JDS - Weidman - Condit - Pettis - Edgar - Cowboy - Dodson - Okami
I don't see why not.
---
Rookie Hammer Squad 2015
Frankie Edgar - Dominick Cruz - Jorge Masvidal - Cat Zingano - Holly Holm
Banned
Join Date: Jun 2012
Location: Manchestoorrrrrrr
Posts: 1,469
Quote:
I think it'll be too one sided to go down as a classic.


I think it'll be a classic in as much as Penn vs Sanchez was.
I agree, I also think Diaz will beat GSP just as badly as Penn did to Sanchez
Seriously though it's going to be very interesting to see how GSP reacts to Diaz taunting him in the octagon. What if Diaz bitch slaps GSP like he did to Condit? Say what you will about GSP, but he isn't the most mentally strong fighter out there, if Diaz starts flipping him off INSIDE the octagon, I'm not sure how he's going to react to it. People can bring up Koscheck, Penn, Hardy and all of the other guys who trashed talked GSP throughout his career, but none of those men had the balls to show GSP the finger during the fight, inside a locked cage. Diaz will do exactly that.
It's also one of the main reasons that Diaz/Andy is a dream fight of mine. How will Anderson Silva react to Diaz actually taunting him inside the cage? Can you imagine that, it would make for some brilliant entertainment.
I think it will be good. GSP is a 10 to 1 Favorite IMO. But with that being said Diaz is still very dangerous on the ground if it goes their. I could very easily see Nick submitting GSP.

On the feet I think GSP will beat up Nick's legs and circle and jab him to death.
---
SMOOTH

Join Date: Mar 2010
Location: NC.
Posts: 9,815
I don't know what y'alls definition of classic is but I don't see how it can miss.
it may even look like a beatdown at times but everything can change in a heart beat
---
This will look pretty similar to Nate Diaz vs Bendo. GSP is going to totally control this fight from start to finish. It wont even be sort of competitive. Diaz doesnt have big power, so his chances of catching GSP with a big shot are pretty small and I really dont see him pulling out the sub either. Its not surprising to see that GSP wanted this fight, its an easy match up for him. Diaz is way overhyped and brings nothing to the table that will threaten GSP in this fight.
Quote:
This is surely whats going to happen. I wonder is Diaz going to be even training hard to avoid the fight going to the floor, or is he going to be so confident in his Jits that he thinks he can prevent GSP doing heavy damage on the ground?
Great wrestslers have been unable to stop GSP's TD's Diaz has a 0% chance. Diaz knows he will be on his back and I doubt he would be stupid enough to wast time trying to avoid it. He also won't be looking to prevent GSP from doing damage cause that is stalling, he needs to give GSP the opportunity to do damage if he is gonna have any chance of being effective from his back.
Quote:
Sonnen silva first fight is an interesting one to compare for this. Sonnens wrestling was so good the jits guy couldnt do anything really on the ground until the last round. In GSP's case though he does a lot more damage from the top then Sonnen. Personally I dont think Jits is going to be that affective against GSP because once he lands a few elbows to the skull Diaz's jits will be a bit withered.
I agree, the guard is virtually dead and GSP is not Sonnen, GSP is a BJJ black belt in his own right who has spent time training with both Renzo Gracie and Roger Gracie.
Personally I think the interestsing part of this fight is that we will get to see GSP open up because Diaz won't look to just tie him up and hold on for dear life.
---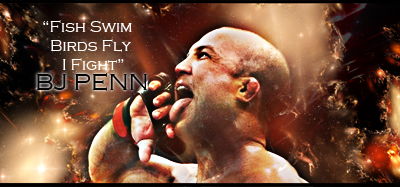 "If you get hit and it hurts hit him back you not knocked out yet."-Joe Doerksen
The Toxic Terrors (FFL)
Demetrious Johnson*Eduardo Dantas*Emanuel Newton*Will Brooks*Michael Page
Currently Active Users Viewing This Thread: 1

(0 members and 1 guests)
Posting Rules

You may post new threads

You may post replies

You may not post attachments

You may not edit your posts

---

HTML code is Off

---