View Poll Results

: Fav PPV

UFC 57: Liddell vs Couture 3
2
10.53%
UFC 58: USA vs. Canada
12
63.16%
UFC 59: Reality Check
3
15.79%
UFC 60: Hughes vs. Gracie
2
10.53%
UFC 61: Bitter Rivals
1
5.26%
Multiple Choice Poll. Voters: 19. You may not vote on this poll
"Minotauro" Nogueira
Join Date: Apr 2006
Location: Canada
Posts: 496
Favourite UFC PPV From 2006
---
My favourite would have to be either UFC 59 or UFC 58. UFC 57 looks really good but I didn't have the chance to order it back in feb. The worst one so far this year is UFC 61.

So what is yours?
UFC 58, Nate Marquardt .vs. Joe Doerkson, Spencer Fisher .vs. Sam Stout, BJ Penn .vs. Georges St. Pierre, Rich Franklin .vs. David Loiseau, it was pure genious making this PPV. The main event wasn't enjoyable but all the other fights were awesome. I was also dissapointed on how Mark Hominick beat Yves Edwards but it was still a crazy PPV. They should make one of their PPVs called "Everyone .vs. Brazil", or "USA .vs. Brazil" that would be awesome.
I am going to have to go with ufc 58 as well. That was a very good show and it had a lot of good fighters.
---
Q: He(Wanderlei Silva) said he's really looking forward to fight you in the finals.

A: (Mirko CroCop) Thats his problem.
i've earned my stripes

Join Date: Jul 2006
Posts: 5,989
I voted UFC 58. We got to see an all-out war between GSP and B.J., which was worth the price alone - not to mention "Ace" was in action....so for me it was awesome to watch.
---
i'm a monster
i'm a maven
i know this world is changin'
never gave in
never gave up
i'm the only thing i'm afraid of
I liked 60 the most just because of the Lightweight Fights. They were freakin AWSOME.
---
What is it that is going to be on your mind when you're on your death bed? Will it be the tedious years of 9 to 5, or the memory of some great acheivement. Maybe a moment you stood in glory to the applause of millions.
-Evan Tanner
UFC 58 and 57 were by far the best. But UFC 63 and 64 will be better since rumors have made them sound awesome. I was waiting for a PPV to come out with the idea of two countries fighting each other like UFC 58.
MMA Fanatic
Join Date: Jul 2006
Location: Canada
Posts: 5
Quote:
Originally Posted by cro.cop123
I am going to have to go with ufc 58 as well. That was a very good show and it had a lot of good fighters.
yeh that was the best
Megaweight

Join Date: Apr 2006
Location: Everett, MA
Posts: 5,961
58 was good but my fav was 59 just because the tito and forrest fight had me going crazy...sick fight..and syliva arlovski was shocking too, right when i thought sylvia was done he puts aa to sleep two sick main events..i love ace but in 58 the crow never challenged him, so thats why i cant pick it as the best
---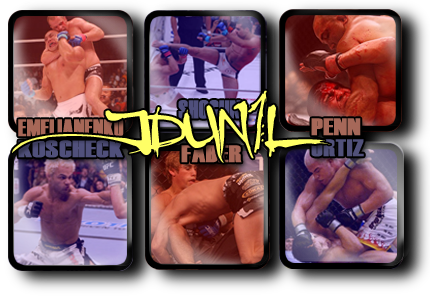 Mancrushes
1.Shogun
2.BJ
3.Fedor
4.Kos
5.GSP
Im in Porno's
UFC 58 has been the best PPV in a long time I'm still waiting for Brazil to take on U.S.A. UFC 57 and 59 were good. UFC 60 was a bit dissapointing watching Alessio versus Sanchez and Gracie get beat up.
Currently Active Users Viewing This Thread: 1

(0 members and 1 guests)
Posting Rules

You may post new threads

You may post replies

You may not post attachments

You may not edit your posts

---

HTML code is Off

---