Renan Barao out with an injury
---
Quote:
Renan Barao Possibly Out of UFC 161 Interim Title Defense
Renan Barao Possibly Out of UFC 161 Interim Title Defense


Due to injury…

According to mmajunkie.com, UFC interim bantamweight champion Renan Barao (30-1 MMA, 5-0 UFC) is likely out of his UFC 161 title bout with Eddie Wineland due to a foot injury. While UFC officials have not confirmed that he will miss the event; they did mention that Barao will "probably" be unavailable for the event.
This has to be the first time we've had two champions in one division both out with injuries.
Book that Faber/Wineland interim of an interim title fight!


Join Date: Jan 2013
Location: Canada's East Coast
Posts: 1,487
---
The poster formerly known as Cowgirl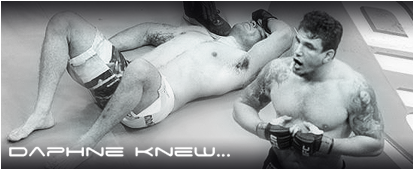 Thanks to Killz for the great sig!

Wrap the foot and stop being such a pansy. Fighters are bloody prima donnas these days. Unless he's got bone sticking out, suck it up.
I'm pretty sure Wineland has the chances of winning as a one legged man in an ass-kicking contest.

And if I had my way that's exactly what we would see.
Quote:
The hell did you even say?
Cmon' Cop sound it out you can do it. English a little too hard for ya?
---
"MMA and Muay Thai are similar in a few aspects, such as the fact that their is no traditional belting system - only a list of people you never want to have to fight." - Kenny Florian
Interim-interim Title time?
---
Proudly Supporting
Dan Hardy
Conor McGregor
Michael Bisping
Donald Cerrone
Chael Sonnen
Demetrious Johnson
Joe Lauzon
Nick Diaz

You're not terribly important to me

Join Date: Jul 2010
Location: Sell me this pen
Posts: 15,507
miguel torres via KO
---
Jim Norton
Nick Dipaolo
Dave Attell
Dave Chappelle
Bill Burr
Joey Diaz
Colin Quinn
Bob Kelly
Rich Vos
Patrice O'Neal
Louis CK
Looks like the Bantamweight title is cursed.
---
Rookie Hammer Squad 2015
Frankie Edgar - Dominick Cruz - Jorge Masvidal - Cat Zingano - Holly Holm
You're not terribly important to me

Join Date: Jul 2010
Location: Sell me this pen
Posts: 15,507
well I hate the bantamweight division anyways it's terribly boring and lacks depth
---
Jim Norton
Nick Dipaolo
Dave Attell
Dave Chappelle
Bill Burr
Joey Diaz
Colin Quinn
Bob Kelly
Rich Vos
Patrice O'Neal
Louis CK
Currently Active Users Viewing This Thread: 1

(0 members and 1 guests)
Posting Rules

You may post new threads

You may post replies

You may not post attachments

You may not edit your posts

---

HTML code is Off

---