Megaweight

Join Date: Apr 2006
Location: Everett, MA
Posts: 5,961
most vicious submission of all time??
---
Theres Been A Bunch..but I Like Mir's On Slvia, And Fedor's On Fujita..alot Of U Guys Might Not Agree Wit The Fedor One, But The Way He Pounces On Fujita Like A Tiger On A Zebra Or Sumthing Lol..it Was Seriously Fast And He Sunk That Choke In Real Deep..fujita Was Purple!
---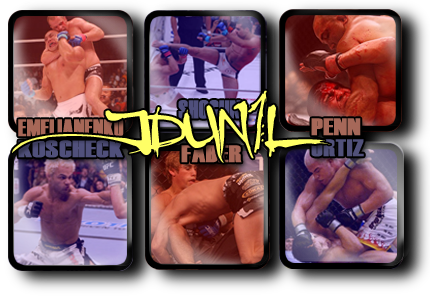 Mancrushes
1.Shogun
2.BJ
3.Fedor
4.Kos
5.GSP
Im in Porno's
I would say my fav would be when Mir Brke Tims arm. DAmn the looked so painful. IT seemed like it didnt even fase Big Tim
Mir Sylvia....that was SICK
how about the ryan gracie kimura on shungo oyama. He broke his arm, yanked a little more, then kicked him on the way off. just brutal
---
Last edited by Tap-outNow; 07-26-2006 at

03:03 PM

.
Ken shamrock had a pretty brutal heel hook on some guy way back when...The guy was screaming.
---
Q: He(Wanderlei Silva) said he's really looking forward to fight you in the finals.

A: (Mirko CroCop) Thats his problem.
MMA Fanatic
Join Date: Jun 2006
Posts: 76
Mir breaking that piece of shit tim sylvia's arm . . . . .
i've earned my stripes

Join Date: Jul 2006
Posts: 5,989
I'd have to say Mir snapping Sylvia's forearm. That armbar was wrenched DEEP. Damn. Big Tim is a tough MF'er though...it didn't even phase him.
---
i'm a monster
i'm a maven
i know this world is changin'
never gave in
never gave up
i'm the only thing i'm afraid of
Either Mir Sylvia or i think that ken shamrock heel hook/ankle lock was NAISTY!
---
What is it that is going to be on your mind when you're on your death bed? Will it be the tedious years of 9 to 5, or the memory of some great acheivement. Maybe a moment you stood in glory to the applause of millions.
-Evan Tanner
Outta My Head
Join Date: May 2006
Location: Paramount, CA
Posts: 1,220
I personally liked Sakuraba's Kimura on Renzo Gracie. He's just calmly keeping control of Renzo's arm at the end of the bout when BANG! He explosively spins into the Kimura and drops into side control on top of Renzo. Right afterwards, he starts yelling to the ref to stop the match. After the ref stops it, and Sakuraba lets go, Renzo's arm is twisted up in this ugly, unnatural position. When I saw that, I started jumping up and down like an organ grinder's monkey. It's shows the start of the kimura at 1 min 43 seconds in this
video
and the finish at 2 min 55 seconds.
---
It doesn't matter if you agree or disagree
... As long as I don't bore you and I spark a moment of thought,
my goal is achieved
.
Queng leon queng tigre ecu tacacut, queca pa? - Pampangan Mandarigma Motto

Currently Active Users Viewing This Thread: 1

(0 members and 1 guests)
Posting Rules

You may post new threads

You may post replies

You may not post attachments

You may not edit your posts

---

HTML code is Off

---