View Poll Results

: Your prediction

Gilbert Melendez
18
75.00%
Diego Sanchez
6
25.00%
Draw
0
0%
Voters: 24. You may not vote on this poll
Colossal-weight
Join Date: Jan 2010
Posts: 9,844
Quote:
After seeing all of these posts, I would actually laugh so hard if Diego did pull off a win here. There would be an infestation of crows, that's for sure.
He could win by all means. We have seen him lose a fight yet awarded the win more than once. I'm not saying Diego can't take home a decision. I'm just saying he can't beat Melendez in a fight. Diego is one of the only guys to get points for getting punched in the face. Or maybe it is the wild punches he lands on air. Judges like both techniques a lot.
As long as Diego is busted up he will win. That's all there is to it. That is the recurring pattern.
---
Marcus Aurelius: Tell me again, Maximus, why are we here?
Maximus: For the glory of the
Empire, sire.
Baked, not fried... the healthy choice.
This will be a monster upset if Snachez wins. I think it would take another controversial decision for Diego to get the nod.
---
I like MMA less because of this forum
Never been a Diego fan, but you truly can't count him out of any fight. Gilbert clearly is a better overall fighter, and will most likely win this fight, but Diego will make it interesting like he always does.
---
If the Diego from his first run at 155 shows up the fight will be interesting. At that point it becomes a question of whether Melendez can slow the pace or Sanchez pick it up since I really don't see Sanchez having any real advantages in this fight outside of the fact he has shown an ability to push the pace. Now while I have said that I see Melendez having the advantage in practically every aspect of this fight I don't see him having a really strong advantage over what we have seen Sanchez capable of in any aspect either.
If Diego shows up at his best he has a shot especially if he can make it ugly something he has a knack for and something Melendez has got caught letting himself into as well. I think that the oddss are out of line here as I see Melendez around a 2 to 1 favorite. The smart money is on Sanchez but at the same time expect Melendez to take it.
---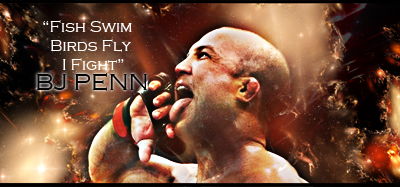 "If you get hit and it hurts hit him back you not knocked out yet."-Joe Doerksen
The Toxic Terrors (FFL)
Demetrious Johnson*Eduardo Dantas*Emanuel Newton*Will Brooks*Michael Page
Pulling for Sanchez here. I don't know how he'll do it though. May his god will it.
---
Will make predictions for credits. Please, I'm so broke.
Gil will beat the **** out of him for the entire fight and then 2 judges will score it for Diego because you can't spell windmill without win.
El Nino with a dominant UD
---

The thing with Diego is. He's really not that good. He looks EXACTLY THE SAME as he was in TUF. How crazy is that. In fact he was better then because he was ripped and had super cardio. He did beat Nick Diaz after all.

Diego at 155 lost a lot of muscle mass. But his striking is almost rudimentary. Guard high, moves quickly, but moves forward or backwards with his his head high always getting tagged when he does his right jab, left cross takedown routine. He does that over and over.

Having said that...Diego fights purely on HEART. That's his strength. If it were a five rounder I'd probably go with Diego w/ a split cuz Gilbert would just get tired of tagging him then Diego with a busted up face would land takedowns in the fourth and fifth...roflz.

I would very much like to see another Diego vs Guida type of fight tonight though. Just real messy...scrambling...knees, punches, elbows, etc. That would be a great warm up leading to the MAIN EVENT!
---
Marcus Aurelius: Tell me again, Maximus, why are we here?
Maximus: For the glory of the
Empire, sire.
Baked, not fried... the healthy choice.
Colossal-weight
Join Date: Jan 2010
Posts: 9,844
Gil probably has more cardio than Diego at this point.
Currently Active Users Viewing This Thread: 1

(0 members and 1 guests)
Posting Rules

You may post new threads

You may post replies

You may not post attachments

You may not edit your posts

---

HTML code is Off

---