Jones vs Teixiera headlines Superbowl UFC 169 PPV, Overeem vs Mir moved to UFC 169 fr
---
title should read:
Jones vs Teixiera headlines Superbowl UFC 169 PPV, Overeem vs Mir moved to UFC 169 from UFC 167
Alistair Overeem vs. Frank Mir shifted to UFC 169, Jon Jones vs. Glover Teixeira set as main event
Quote:
Alistair Overeem vs. Frank Mir shifted to UFC 169, Jon Jones vs. Glover Teixeira set as main event

By Shaun Al-Shatti  @shaunalshatti on Oct 3 2013, 7:59p

One card's loss is another card's gain, as a heavyweight collision between Frank Mir and Alistair Overeem, initially scheduled for UFC 167, has been moved to Zuffa's Super Bowl weekend event, UFC 169.

Additionally, light heavyweight champion Jon Jones will attempt to make the seventh consecutive defense of his title when UFC's No. 1 ranked pound-for-pound fighter takes on Glover Teixeira in the night's main event.

UFC 169 is slated to take place Feb. 1, 2014 at the Prudential Center in Newark, NJ. Newsday first reported the bookings, which were then confirmed by UFC officials.

According to Newsday, Mir and Overeem were removed from the UFC 167 card to allow Mir further time to recover from his August 31 knockout loss to Josh Barnett.

"While there was no indication whatsoever that Mir wouldn't be fully, medically cleared in time to compete on November 16th, UFC officials and Nevada Commission representatives believed that a short postponement would allow both athletes more time to train for the bout," the UFC said in a statement to Newsday.

As a result of the switch, UFC President Dana White told MMAFighting.com's Ariel Helwani that a preliminary bout between Josh Koscheck and Tyron Woodley will replace Mir vs. Overeem on UFC 167's pay-per-view lineup.

Both Mir (16-8) and Overeem (36-13, 1 NC) are in dire need of a win, as the two heavyweights have lost a combined five consecutive contests, four of which ended via knockouts.

Jones (19-1), on the other hand, returns to action after barely clawing past his latest and most harrowing challenge, a electric five-round war against Alexander Gustafsson. By his own request, he'll now face Teixeira (22-2), a seasoned slugger with a perfect 5-0 record inside the UFC, including four finishes.

Teixeira, 33, is undefeated since suffering a 2005 decision loss to Ed Herman in what would be the Brazilian's fourth professional fight.
Gonna be a big one...
---
I like MMA less because of this forum
Sweet. I'll go if I get free tickets again like to Bones-Sonnen. Good main event, and I'll be happy for a big (at least on paper for name value, even though they've been sucking lately) co-main event.

I'm guessing Dana originally hinted it could be Schaub vs Overeem (since he said something may have came up for Schaub), but I'm guessing they balked at it and decided to just push this further?
---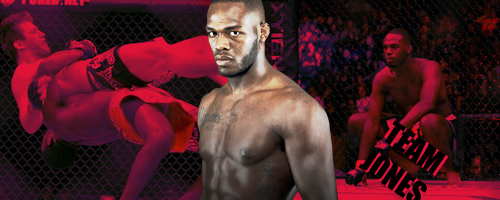 Currently Active Users Viewing This Thread: 1

(0 members and 1 guests)
Posting Rules

You may post new threads

You may post replies

You may not post attachments

You may not edit your posts

---

HTML code is Off

---