The next Heavyweight Titleshot?
---
After Tim and Jeff get it on, who deserves the next title shot?
with how bad the HW division is, I'd say you have a pretty fair shot to fight whoever is the champ lol but in all seriousness, you know in the end its gonna be Arlovski/Sylvia 4 haha
I knew that'd be the first response. I'd rather see AA again, but not against Tim. As soon as Tim and Jeff fight, I wonder who's next?

Hmm, we need some new blood.
did you expect me to say Marcio Pe De Pano Cruz or something? Arlovski is still the best fighter in the HW division. The HW division is GARBAGEEEE and they need new talent, or Mir to get in shape again and get back into the title picture
That someone would mention Arlovski. LOL

I agree about him being the best.


MIR needs to lay down the Burger King!
yeah he does, he could be very good again if he cut alot of that fat lol.....I mean, Ricco Rodriguez is HUGE and he busted Ron Watermans face up....so I guess fat asses can still throw leather.....hey maybe Ricco will come back haha
Megaweight

Join Date: Apr 2006
Location: Everett, MA
Posts: 5,961
i think aa should fight brandon vera to see who gets the next title shot..man the heavyweight didvision is pretty weak, its got a few good fighters but its very thin..
---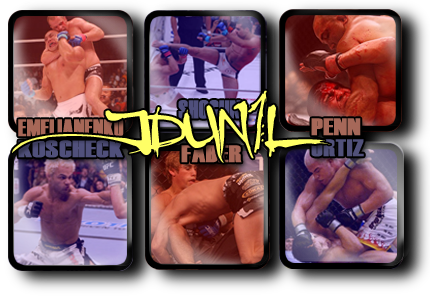 Mancrushes
1.Shogun
2.BJ
3.Fedor
4.Kos
5.GSP
Im in Porno's
MMA Fanatic
Join Date: Jun 2006
Location: Dayton OH
Posts: 19
I think AA should fight the winner of the Vera/Mir fight, who most likely would be vera
Quote:
Originally Posted by bekind
I think AA should fight the winner of the Vera/Mir fight, who most likely would be vera
they are fighting? When?
UFC needs some PRIDE heavyweights who recently left such as Heath Herring, Ron Waterman, or Ricco Rodriguez. But they won't. The heavyweight division is crap and their are not even ten heavyweights in the UFC alone. I think after Jeff Monson there could be the winner of Brandon Vera/Frank Mir fighting for the title which will probably be Vera. Then if Arlovski beats lets say someone like Scherner or Cruz then he will be second in line. UFCs heavyweight division is really terrible. Why isn't it the same as in 2001 where Pedro Rizzo, Kevin Randleman, Semmy Schildt, Randy Couture, Josh Barnett, Ricco Rodriguez, Ian Freeman, Pete Williams, and Frank Mir. I guess three quarters of them went to the business which is now the best, PRIDE.
Currently Active Users Viewing This Thread: 1

(0 members and 1 guests)
Posting Rules

You may post new threads

You may post replies

You may not post attachments

You may not edit your posts

---

HTML code is Off

---