Amatuer
Join Date: Jul 2006
Posts: 123
Brandon Vera, Frank Mir To Fight?
---
Brandon "The Truth" Vera confirmed through his official website that he will fight Frank Mir at UFC 65.

Earlier web reports claimed that Vera listed the fight as confirmed for UFC 62, but as of press time, it clearly says "UFC 65" on brandonvera.com.

The November UFC 65 card is certainly beginning to take shape, with Chuck Liddell vs. Wanderlei Silva and Tim Sylvia vs. Jeff Monson both tentatively scheduled for the show.
now i feel like a douchebag for not reading this post before i asked about the mir/vera fight haha
I eat babies
Join Date: Jul 2006
Location: Troy, Ohio
Posts: 7,647
I hope Frank gets his shit together and starts taking this seriously. He has a lot of fans out there and he has the potential to be one of the best ever. Him and BJ both need to stay in shape and stop looking so soft. I'd like for Frank to be the champ again get that goon Sylvia out of there. Also Brandon Vera needs a real opponent for once.
Frank Mir better become built like he used to be and burn off that terrible gut and fat on him and turn to who he used to be-the man that broke Tims arm, the man that almost broke Tanks leg. If he does take this fight seriously he has a chance. But for now I say hes screwed and Vera should win in the first round by TKO if Mir comes back as a fat slob like last time.
i hope Frank Mir reads this also. Im one of his fans, i know hes been thru a boatload of dramas, but he looked freakin terrible last time. He like BJ Penn needs to get seriously fit and take the belts back. To go into a UFC fight in that shape, its amazing he won. Right now i cant see Vera losing to FM, but who knows he has a few months to get his stuff together.
Amatuer
Join Date: Jul 2006
Posts: 123
I just hope Mir will get his sh*t together, and beats the hell out of Vera.
I personally think Mir has too much experience for Verra and will find a way to win this fight no matter what , its not for a while , so Mir has time to recover , increase his cardio and do all the little shit he needs to do to win this fight...


****Waits for the rush to come and spit out some stupid pointless shit****
Megaweight

Join Date: Apr 2006
Location: Everett, MA
Posts: 5,961
I Dont See Vera Submitting A Guy Like Mir And I Dont See Him Knocking Him Out Either Look For This To Be A Close Fight And It Should Go The Distance
---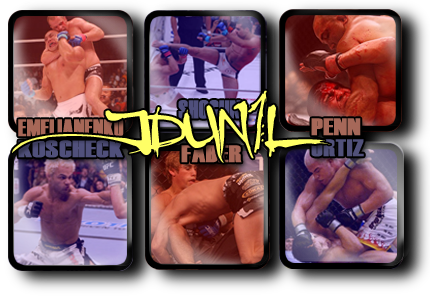 Mancrushes
1.Shogun
2.BJ
3.Fedor
4.Kos
5.GSP
Im in Porno's
After his match at Bitter Rivals he did say he was going to lay off the junk food and work hard to get in shape. If Mir does what he says he might beat Vera.
Flyweight
Join Date: Jun 2006
Posts: 222
If Mir doesn't gas out he will probably win this fight.
Currently Active Users Viewing This Thread: 1

(0 members and 1 guests)
Posting Rules

You may post new threads

You may post replies

You may not post attachments

You may not edit your posts

---

HTML code is Off

---