Ugh, there are so many divisions and titles now. Not that this was the straw to break the camel's back (no pun intended), but it's just getting almost laughable over the past few years. It's impossible for casual fans to follow all these divisions and what not, let alone learn the fighters.
---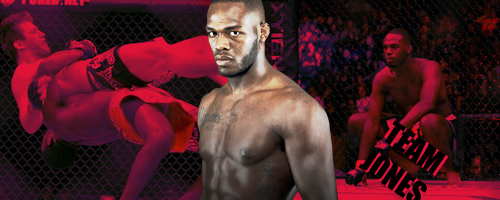 The UFC needed a mens division more than it needed a second woman's division, they need to fill the woman's division they have now before they should make another...
---
sakurabushidokan.homestead.com
Called it!
---
Rookie Hammer Squad 2015
Frankie Edgar - Dominick Cruz - Jorge Masvidal - Cat Zingano - Holly Holm
She is. Such a tasty little morsel. I'd like to get a little rear naked going with her.
10 lbs is a lot to gain for such a small girl though.
She probably gained it easily when she was pregnant! lol
---
The Emoticon Guy

Join Date: May 2008
Posts: 11,383
So you're saying to get on TUF Waterson should get pregnant???!!!!
KANTO!!!!!
Scandalous suggestions from other members aside...I know one fan that'll be ecstatic Bec Hyatt is on TUF-
Interesting news, WSOF have let Ariel Helwani know that they are open to releasing her from her contract...hmmmmmm.
I'll be watching for the eye candy alone.

Felice Herrig and Paige Van Zant = BOI-OI-OI-OI-OI-OI-ING!!
Quote:
There was a time when UFC President Dana White vowed that women would never fight in the UFC's Octagon. My, how times have changed. Ronda Rousey and the bantamweight ladies have made their mark in the UFC in the time since, ladies have shared an Ultimate Fighter house with the men, and now, in an unprecedented move, 115-pound females will get a TUF house all to themselves, with the competition's winner taking home a UFC title belt.

The female strawweights won't begin filming The Ultimate Fighter 20 until May 2014 and the season's coaches have not even been announced yet, but the UFC has already announced the acquisition of 11 fighters from Invicta who will take part in the competition. Here, we'll take a look at those 11 fighters and also look at some of the ladies who could emerge to take the remaining five slots, which will go to fighters selected from the UFC tryouts that will be held in 2014.

The Cast…So Far
Carla Esparza (9-2)
Redondo Beach, Calif.
Age: 26
Height: 5-foot-1
Twitter: @CarlaEsparza1
Carla Esparza enters the TUF 20 strawweight title tournament as the favorite due to her current standing as Invicta's strawweight champion. The "Cookie Monster" scored TKO victories in her first two Invicta appearances to secure a spot in the fight to determine the promotion's inaugural strawweight champion. The two-time college All-American wrestler used her wrestling skills to grind out a unanimous decision victory over TUF castmate Bec Hyatt en route to claiming gold. She was to defend the belt at Invicta FC 6 against Ayaka Hamasaki, but was forced out with a knee injury. Then, at Invicta FC 7, she was again slated to defend her belt, but her opponent, TUF castmate Claudia Gadelha, suffered a bacterial infection the night prior to the fight and was forced to withdraw. In addition to a wrestling background at Menlo College, the Team Oyama fighter has also spent time training in Brazilian Jiu-Jitsu under the tutelage of Rener, Ryron, and Ralek Gracie. She sports a balanced record of three wins each by knockout, submission and decision, including decision wins over Nina Ansaroff and TUF castmate Felice Herrig and a submission victory over Lacey Schuckman. Esparza, who made her pro debut in 2010, has fought under the Bellator banner, where she suffered her only two losses versus Megumi Fujii and Jessica Aguilar.


Claudia Gadelha (11-0)
Mossoro, Rio Grande do Norte, Brazil
Age: 25
Height: 5-foot-3
Twitter: @ClaudiaGadelha_
Claudia Gadelha has been a perennial contender for Invicta's strawweight title, but injuries, including a broken nose and a bacterial infection, have prevented her from getting her crack at the gold. She's had other injuries that have kept her out of action for prolonged amounts of time, and this could be the biggest impediment to her success in the UFC. The Brazilian has the advantage of training alongside the likes of Jose Aldo and Renan Barao at Nova Uniao. She's also the youngest black belt in the camp's history. She is a three-time BJJ World champion and seven-time Brazilian Nationals champion. Gadelha has been fighting professionally since 2008 and holds wins over Kalindra Faria, Hérica Tibúrcio and Ayaka Hamasaki. Her win over Hamasaki accounted for her only Invicta appearance. She has finished six opponents via submission, including five by way of armbars, but her two most recent finishes came via TKO.


Joanne Calderwood (8-0)
Glasgow, Scotland
Age: 26
Height: 5-foot-6
Twitter: @badmofo_jojo
Whereas Esparza represents wrestling and Gadelha represents Brazilian Jiu-Jitsu, Joanne Calderwood will be the elite Muay Thai fighter among the cast of TUF 20. The Scottish fighter started training in Muay Thai at the age of 13 and currently holds a long list of Muay Thai and kickboxing championships. She is 19-2 as a kickboxer and undefeated in her MMA career. She made her pro debut in February 2012 and has racked up eight wins, including three TKOs and a knockout. The Dinky Ninjas Fight Team product has notched wins over such notable names as Lena Ovchynnikova, Ashley Cummins, Sally Krumdiack and Katja Kankaanpaa. Calderwood made four appearances under the Invicta banner, the most recent of which was her victory over Kankaanpaa on Dec. 7 at Invicta FC 7.


Tecia Torres (4-0)
Fort Lauderdale, Fla.
Age: 24
Height: 5-foot-1
Twitter: @TeciaTorres
There may be no other fighter in women's MMA who has seen such a meteoric rise as Tecia Torres. The "Tiny Tornado" has spent her entire four-fight career inside the Invicta cage. She made her pro debut at Invicta FC 3 in October 2012 with a win over Kaiyana Rain and has gone on to defeat TUF castmates Paige VanZant, Rose Namajunas and Felice Herrig. Though all her wins have come on the scorecards, Torres always takes part in exciting fights. The American Top Team fighter's win over Herrig prompted a call-out from the champion, Esparza, and Torres was viewed as a top contender in Invicta before the UFC's announcement of the strawweight season of TUF. Torres may have just over a year of experience as a pro, but she has been training in karate since she was a child and possesses a black belt in that discipline. She holds a 16-4 kickboxing record and an undefeated seven-fight record as an amateur mixed martial artist. Torres also hold the rank of purple belt in Brazilian Jiu-Jitsu.


Felice Herrig (9-5)
Buffalo Grove, Ill.
Age: 29
Height: 5-foot-4
Twitter: @feliceherrig
Felice Herrig is known for capitalizing on her sex appeal in a way unlike hardly any other female mixed martial artist, and she could turn out to be one of the more colorful characters on TUF 20. The Team Curran fighter has a background in kickboxing and Muay Thai and has won titles as an amateur and pro kickboxer. However, she only has one victory via strikes on her MMA resume. Herrig made her pro debut in 2009 and lost her first two fights. She rebounded with three wins, including a split decision victory over TUF 18 finalist Jessica Rakoczy inside the Bellator cage, before dropping a decision to current Invicta flyweight champ Barb Honchak. Herrig has gone 6-2 since that loss, with her only defeats coming courtesy of TUF castmates Esparza and Torres. She has notched wins over Nicdali Rivera-Calanoc, Patricia Vidonic (twice), Simona Soukupova and Heather Clark. Herrig's only Invicta appearance came in her loss to Torres, but she has gone 3-0 under the Bellator banner.


Bec Hyatt (5-3)
Brisbane, Queensland, Australia
Age: 24
Height: 5-foot-6
Twitter: @RowdyBec
One aspect of TUF 20 that makes it unique from any past season of the reality series is the amount of popularity each individual fighter already possesses heading into the season. Among the more popular of the competitors is Australian Bec Hyatt. Hyatt made her pro debut in 2011 in a bantamweight bout, which she lost via head-kick knockout. She rebounded with four straight wins and was granted an opportunity to compete for Invicta's inaugural strawweight championship as a late replacement for TUF castmate Claudia Gadelha. Hyatt lost via unanimous decision against TUF castmate Carla Esparza. She bounced back with an impressive submission victory over Jasminka Cive, before dropping a decision to teenage phenom Mizuki Inoue in her most recent of three Invicta outings. The Australian fighter has three submission wins and one TKO victory.


Alex Chambers (4-1)
St. Ives, New South Wales, Australia
Age: 35
Height: 5-foot-3
Twitter: @alexchambersmma
The Australian contingent of fighters on TUF 20 also includes Alex Chambers, the oldest of the announced Invicta crossovers. The VT-1 Gym product has just five fights under her belt, but her only loss came via submission to teenage prospect Mizuki Inoue. "Astro Girl" has often found herself fighting against larger opponents, but she has picked up two TKO victories, a submission win and a unanimous decision victory. She has competed once under the Jewels banner (the loss to Inoue) and once in the Invicta cage, where she quickly submitted Jackson's MMA fighter Jodie Esquibel. Chambers, who holds a degree in physics, impressively finished Mika Nagano via TKO in just 42 seconds. Chambers has competed as an atomweight in the past.


Rose Namajunas (2-1)
Milwaukee, Wis.
Age: 21
Height: 5-foot-5
Twitter: @rosenamajunas
Rose Namajunas may only have three fights under her belt, but the Milwaukee native has already made her name known to women's MMA fans. One of the youngest of the announced cast members, the 21-year-old started training in taekwondo at age five and earned her black belt by the time she was nine years old. Once in high school, she started training in kickboxing under the tutelage of Duke Roufus and also wrestled during her senior year. "Thug" now trains at the Grudge Training Center in Colorado. Namajunas has spent her entire career in the Invicta cage, where she earned "Submission of the Night" honors in victories over Kathina Catron and TUF castmate Emily Kagan. She made her pro debut at Invicta FC 4 against Kagan, but it's the flying armbar submission of Catron at Invicta FC 5 that stands as one of the highlight-reel moments in Invicta history. Her lone loss came against TUF castmate Tecia Torres in a very close and entertaining fight at Invicta FC 6.


Emily Kagan (3-1)
Albuquerque, N.M.
Age: 32
Height: 5-foot-3
Twitter: @EmilyPKagan
Jackson's MMA will have a representative in the TUF house in the form of Emily Kagan, who might stand as one of the bigger underdogs of the cast. The 32-year-old went 5-2 as an amateur before making her pro debut in 2012. All three of Kagan's victories have come on the scorecards, including two via split verdicts. In her Invicta debut, she was the victim of a third-round rear-naked choke submission delivered by TUF castmate Rose Namajunas. Kagan returned at Invicta FC 6 to notch a split decision over Ashley Cummins. Kagan has a background in jiu-jitsu, but even her amateur career is littered with decision victories and no wins by submission (she did lose via submission once, though).


Juliana Carneiro Lima (6-1)
Belo Horizonte, Minas Gerais, Brazil
Age: 31
Height: 5-foot-6
Twitter: @Juuuuuhcarneiro
Juliana Carneiro Lima made her pro debut in 2010 and has won all but one of her seven fights. That loss came in her only appearance under the Invicta banner when she dropped a unanimous decision to Katja Kankaanpaa. "Ju Thai" started training in Muay Thai more than 10 years ago and fighting professionally in Muay Thai roughly five years ago. She holds nine wins in 10 total fights in that discipline. She trains at the renowned Gracie Barra camp under the tutelage of Vinicius "Draculino" Magalhaes, continues to refine her striking with Thai master and world champion Olimpio Cunha, and works on her wrestling skills with the Brazilian national team's coach. Lima has been to the scorecards in five of her fights, with the remaining two ending in TKO victories for the Brazilian.


Paige VanZant (3-1)
Sparks, Nev.
Age: 19
Height: 5-foot-4
Twitter: @PAIGEVANZANT
The biggest question surrounding Paige VanZant may be in how she alters the TUF house. In the past, all contestants have had to be 21 years of age or older, due to the alcohol that is readily available in the house. The part-time model and former cheerleader is just 19 years old. Could that turn out to be a problem? That's still to be seen. Inside the cage, she could present issues for her castmates. "12 Gauge" previously trained at the House of Ryu Gym in Las Vegas, but she now calls Team Alpha Male home. VanZant started training because her dad wanted her to take some classes with him. She actually transitioned to fighting after starting out as a ring girl. The teenager has one submission win and two decision victories in her four-fight pro career, which launched in June 2012. She has made one appearance under the Invicta banner, where she dropped a decision to TUF castmate Tecia Torres.

The Remaining Five Spots
With 11 fighters announced for The Ultimate Fighter 20, five spots remain open. Those five fighters will be determined through tryouts to be held by the UFC in 2014. Though the tryouts are at least a month away and no fighters have been confirmed as participants in the tryouts, there are certainly more than a few remaining strawweights that would make excellent additions to a championship tournament.

The most obvious choices are Katja Kankaanpaa and Mizuki Inoue.

Kankaanpaa is a grinding fighter with a background in karate and submission wrestling. She was undefeated prior to her Invicta FC 7 decision loss to TUF 20 cast member Joanne Calderwood. The Finnish fighter is a BJJ purple belt and has notched wins over the likes of TUF 20 cast member Juliana Carneiro Lima and veterans Mei Yamaguchi and Aisling Daly. Her standing as a potential contender in Invicta prior to her loss to Calderwood makes her an excellent choice for the reality show.

The 7-1 Inoue is a 19-year-old Japanese prodigy who made her pro debut in 2010 at the age of 16. All but one of her fights have taken place under the Jewels banner, where she won the 2010 Rough Stone Grand Prix and recently advanced to the finals of the Deep Jewels lightweight grand prix. Inoue was training in MMA by the time she was in sixth grade and made her amateur kickboxing debut at age 15. Despite a striking background, the young strawweight has five wins via submission and none by way of strikes. She has made one appearance under the Invicta banner, where she edged TUF cast member Bec Hyatt via decision.

Beyond Kankaanpaa and Inoue, there are several other intriguing international prospects. There's 39-year-old Yuka Tsuji, who is 24-3 as a pro and has been competing since 2001. There's Karolina Kowalkiewicz, a rising 24-year-old prospect from Poland who handed Simona Soukupova a unanimous decision loss under the KSW banner in September and is undefeated through four fights. There's 31-year-old judo black belt Ayaka Hamasaki, who lost a title eliminator in Invicta to TUF cast member Claudia Gadelha, but is 9-1 overall and stands as the Jewels champion at strawweight. There's 15-8 Lisa Ellis, a Bellator and Invicta veteran who was ranked among the top five in the division before she took time off to have a baby. And there's 21-year-old Herica Tiburcio, a 4-foot-11 Brazilian who is 7-2 with six submission wins.

Finally, there are the unlikely candidates who fight fans could only hope to see as part of the competition. Among these are Stephanie Eggink, Jessica Aguilar and Megumi Fujii.

The 39-year-old Fujii is a retired legend of the sport who last fought in October. It is possible that the 26-3 Japanese fighter and Bellator veteran could be coaxed out of retirement with the potential of a UFC run to end her career.

Eggink is 25 years old and holds a 4-1 record. She recently captured XFC gold with a submission win over Angela Magana, but it is likely that her status as XFC champ and her contract with the regional promotion could prevent her from joining the cast.

Aguilar finds herself in a similar situation. The American Top Team fighter has edged Fujii twice and has defeated Carla Esparza, but rather than heading to Invicta, she opted to sign with the World Series of Fighting in November. The Bellator veteran is 16-4 and ranks as the world's top strawweight, but she now finds herself in the WSOF as all of the other top strawweights in the world gravitate towards the UFC. Unless she and the WSOF part ways, she'll be one of the most glaring omissions from the TUF competition.
http://themmacorner.com/2013/12/13/u...te-fighter-20/
I see all of this going a few different ways, one of which is a few preliminary fights to get into the house still taking place. Another is the coaching styles with the first being the TUF 4 format of mentors with the fighters having more control. If that's not the case I can see the coaches being two contenders in the bantamweight division competing for a chance at Ronda's belt.
---
The Emoticon Guy
Currently Active Users Viewing This Thread: 1

(0 members and 1 guests)
Posting Rules

You may post new threads

You may post replies

You may not post attachments

You may not edit your posts

---

HTML code is Off

---