View Poll Results

: WHO IS GONNA WIN THE FIGHT BETWEEN ACE AND SILVA??

RICK FRANKLIN
21
72.41%
ANDERSON SILVA
8
27.59%
Voters: 29. You may not vote on this poll
Megaweight

Join Date: Apr 2006
Location: Everett, MA
Posts: 5,961
Anderson Silva Vs Rich Franklin
---
Here It Is The Champs Tuffest Fight Of His Reign As Champ..if He Wins This Hes Gonna Be Champ For Life...
---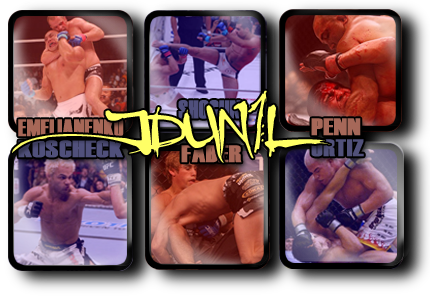 Mancrushes
1.Shogun
2.BJ
3.Fedor
4.Kos
5.GSP
Im in Porno's
I donno if its his toughest, i think Loiseou was supposed to be the toughest and might be better then Silvia imo.
---
What is it that is going to be on your mind when you're on your death bed? Will it be the tedious years of 9 to 5, or the memory of some great acheivement. Maybe a moment you stood in glory to the applause of millions.
-Evan Tanner
Silva beat Leban, so he must be better then Rich Franklin
Franklin will destroy Silva.
---
Last edited by Bonnar426; 08-11-2006 at

11:47 PM

.
Rich Franklin is going to win. He's the best in the world and one of the best ever middleweights right next to Jeremy Horn and Frank Shamrock. Hes better then all the PRIDE middleweights. Anderson Silva dominated Chris Leben in a minute but Franklin almost killed Quarry in 3 minutes. Quarry is better then Leben in my opinion.
not sure who RICK Franklin is, but I voted for him anyways
hahah Ace will win, carbon copy of the CROW fighgt
i'd say rich would win. but I think anderson has a better stand up...idk I haven't seen enough of either fighter
---
Mac Danzig and his bird feeder once visited the Virgin Islands. They are now The Islands.
Mac Danzig can kill two fighters with one bird feeder.
Superman owns a pair of Mac Danzig bird feeder pajamas.
yeah i dont know Rick Frankiln....but if hes half as good as Rich Franklin he got my vote. Anderson will be very tough though.

i think Nate Quarry is a lot better than ppl on this board are saying also.
MMA Fanatic
Join Date: Jul 2006
Posts: 15
Ace is tough and very well rounded, but Anderson is lethal with strikes, he walked through Leban, who has a sherman tank for a face, but i think i'll agree with Nate Ace has a questionable chin, but Rich is huge he walks around at like 215, well see
Rich Franklin- Harder punches better striker IMO.
Anderson Silva- Better ground and pound, kicks, and submissions.

I think Rich Franklin owns this fight in the stand up but Anderson on the ground. But Franklin rarely takes his fights to the ground. I would say Franklin beats Silva 2nd round TKO Strikes or KO Punch or Kick. Franklin has good kicks too if I'm not mistaken.
Franklin is the real deal. He is smart, strong, skilled, and huge! The guy walks around at 215 and cuts to 185 for his fights. He's a giant man. Silva won't stop him.
---
"Thank you ladies and gentlemen, you're a beautiful audience." -Elvis
Currently Active Users Viewing This Thread: 1

(0 members and 1 guests)
Posting Rules

You may post new threads

You may post replies

You may not post attachments

You may not edit your posts

---

HTML code is Off

---