Tito Ortiz vs Ken Shamrock- Oct. 10
---
Does anybody thing Shamrock has a chance of winning?
---

---
Last edited by Kameleon; 08-23-2006 at

01:36 AM

.
absolutely not, altho its wishful thinking
Not a chance! I wish they would let this Tito/Ken thing die already. Tito beat him twice.
any mma fighter with his expierence(sp?) has a shot, just in his case not a huge one.

I mean if he catches tito on a shoot it could end. Theres tons that could happen.
---
What is it that is going to be on your mind when you're on your death bed? Will it be the tedious years of 9 to 5, or the memory of some great acheivement. Maybe a moment you stood in glory to the applause of millions.
-Evan Tanner
Megaweight

Join Date: Apr 2006
Location: Everett, MA
Posts: 5,961
Out Of 100 Fights Ken Might Be Able To Win One Or Two..so I Guesss There Is A Very Slim Chance!
---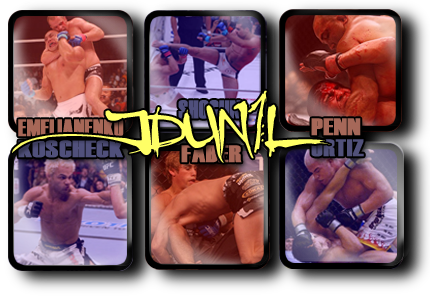 Mancrushes
1.Shogun
2.BJ
3.Fedor
4.Kos
5.GSP
Im in Porno's
MMA Fanatic
Join Date: Aug 2006
Posts: 3
Shamrocks done
---
Ken Shamrock is a tough guy but thats all he is a tough guy. Just watch him try and leg lock someone he looks like someones trying to explain physics to a 7 yr old. The point is back in the old days of ufc when no one knew anything the toughest guy won. Now the most skilled toughest guy wins. The sport evolved and hasn't just let it go Ken your embarrassing yourself.
I guess it is wishful thinking to have Ken Shamrock win, I would like for him to win so he can retire afterwards. Tito Ortiz is going to smash his face again.
---

This is so repetitive, theres going to be so much hype and its going to end in maybe 2 minutes if Ken gets lucky. Tito's going to kill him.
The UFC says this fight is for the fans, we don't want to see this fight. Give us something better. At least you don't have to pay $40 to watch the fight.
---

ken is gonna get whooped again. Atleast it is not a ppv this time. Watch herb dean be the ref haha
Currently Active Users Viewing This Thread: 1

(0 members and 1 guests)
Posting Rules

You may post new threads

You may post replies

You may not post attachments

You may not edit your posts

---

HTML code is Off

---