Flyweight
Join Date: Jun 2006
Posts: 222
Quote:
Originally Posted by gduff2
I'm surprised that I'm the first one to metion this. But Chuck didn't win so much as BABALU LOST. He gave his chin to Chuck. He made a rookie mistake and chased Chuck. Any competant striker could have taken out Babalu if he fought as bad as he did. If you recorded it you'll see what I mean. He wanted it too much and made a stupid mistake. Lousy performance. The bottom line is Babalu choked. And I like Babalu a lot
This loss should not take away from how good Babalu is, he is an excellent fighter and he has nothing to be ashamed of. However you want to look at it Chuck got the job done. Lets not forget that a big part of fighting is the mental state one is in. Babalu made a mistake (uncharactaristic of how good he is) and Chuck took advantage of it. Chuck did what a champion is supposed to do and he capitalized on his opponents mistake. I'm not sure why any of his opponents charge in punching when they fight him, don't they watch the reruns of Unleashed where there are highlights of Chuck knocking out his opponents who charge in?
i was so damn sure chuck would win i put all my points on it...i hope sobral stays in the ufc...he entertaning to watch
---
people say either the world will end at 2012 or the aliens will finnally come back to us.....


i hope not cuz im writing a sci fi novel
Quote:
Originally Posted by UFCFAN33
Good match chuck. it was funny when babalu was wrestling Big Johns leg haha
McCarthy mounted him with ease.
Megaweight

Join Date: Apr 2006
Location: Everett, MA
Posts: 5,961
very predictable fight, i had been sayin it for weeks babalu has no shot , chuck is a nightmare opponent fora a guy like babalu
---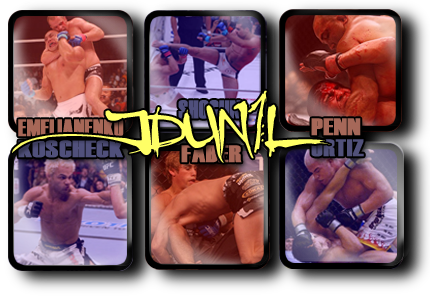 Mancrushes
1.Shogun
2.BJ
3.Fedor
4.Kos
5.GSP
Im in Porno's
Currently Active Users Viewing This Thread: 1

(0 members and 1 guests)
Posting Rules

You may post new threads

You may post replies

You may not post attachments

You may not edit your posts

---

HTML code is Off

---