Arona is a way better fighter then Babalu , Arona would definately give chuck a run for his money and maybe even beat him , that would be his worst possible matchup.
---
"I only want to be known as the best ever, is that too much to ask?" - BJ Penn
---
Last edited by Punishment 101; 08-28-2006 at

03:36 AM

.
Meh, I dislike Arona he is the most boring fighter I have ever seen next to Kevin Randleman.
I hope this fight happens would finally like to see Chuck work for his money
Chuck is that good thats why he makes opponents look average, criticised for winning why?
---
TEAM GROTTY 2013
Stefan Struve
Donald Cerrone
Glover Texiera
Cub Swanson
Kim Dong - Hyun.
MMA Fanatic
Join Date: Jul 2006
Posts: 4
I think it has been proven that ground fighter's like arona can do nothing against chuck. i dont like chuck at all but arona is an easy KO for him, have you seeing how he lets his chin exposed? chuck loves hitting chins. Shogun would definetely kill him, silva would hurt him bad in UFC rules but destroy him in Pride rules
Chuck is a bad matchup for Arona huh ? who has ever KO"D Arona standing ??? noone , and he has fought strikers equally as goood as chuck or better

Wanderlei couldnt ko
Rampage couldnt ko him standing
Shogun couldnt ko him standing
mezger couldnt ko him
Hendo couldnt ko him
ninja couldnt ko him
Fedor couldnt KO him

I think you guys got it backwards , Arona is the badmatchup for CHUCK< all 3 of Chucks losses have ended with him on the ground, ARONA is sooo freaking aggressiive and relentless on his takedowns that eventually he will get liddell to the ground < not to mention he is soooooo physically strong at 205lb it is incredible. Arona has taken down everyone from Fedor to Wandy , Chuck would be no different
---
"I only want to be known as the best ever, is that too much to ask?" - BJ Penn
MMA Fanatic
Join Date: Aug 2006
Posts: 4
Theres few who could beat chuck, Eventually in MMA you end up losing it happens look AA, randy, tito and etc. Anyone with good stand up game has chance even someone like vitor belfort could beat him, even after few good blows from chuck couldnt knock him out i know he lost decison but if vitor put his heart into it like he used to and not give up he could easly win. I think if randy came back and started training again i think he could beat chuck, randy like babulu let pressure get to them, after taking some shots they rushed him and left them selves open, they should stayed calm and not try and out stike him, i know it hard its natural reaction to swing for heaven if ur getting hit. Once randy got chuck to ground and into fence it would be over he would just dominate him like his first fight. I dont think tito will beat him he just doesnt inflick enough damage with his ground and pound i couldnt see him last 5 different stand ups and getting chuck to ground 5 times.. Silvia i think fight between him and chuck be good but i think chuck win caz silvia would rush him and leave him self open and take to many shots, chucks very good at selecting right shots.
Megaweight

Join Date: Apr 2006
Location: Everett, MA
Posts: 5,961
within the next year or 2, chuck will fight shogun and lose..probably by tko
---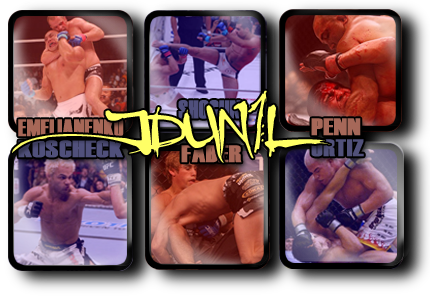 Mancrushes
1.Shogun
2.BJ
3.Fedor
4.Kos
5.GSP
Im in Porno's
Currently Active Users Viewing This Thread: 1

(0 members and 1 guests)
Posting Rules

You may post new threads

You may post replies

You may not post attachments

You may not edit your posts

---

HTML code is Off

---