MMA Fanatic
Join Date: Aug 2006
Posts: 5
I think this match could really be a dandy if Tito can fight his type of fight and control the pace and tempo.
MMA Fanatic
Join Date: Aug 2006
Location: G-TOWN TX
Posts: 59
Quote:
Originally Posted by KB Klash
I dont know. I'm pretty much always in the mood to see Tito get whooped by someone, especially by The Iceman.
noway yall just cant count tito out i think he would have won his fight with the iceman but tito got shanked in the eye by chuck.when they do fight its going to be a good fight so plez stop hating
MMA Fanatic
Join Date: Aug 2006
Posts: 4
Guys you cant really compare babulu tito and say that babulu would easy beat tito, for one babulu hasnt fought people that tito has rescently he been very lucky to avoid the top fighters eg: tito, forrest, randy, vitor and etc. Really chuck been his only true test at big time, except if i can recall he fought shogun** not 100% on this. Tito good fighter but i do see chuck winning but i am expecting alot better fight then first one. People just got stop trying to trade with chuck thinking they can out strike him and rush him they need stay calm and focus and take few jabs and not rush him leaving themselves open like babulu,randy,vitor (even tho he wasnt hurt that bad, ahh where old vitor belfort gone... ) But dont underestimate tito that guy trains his ass off, you got remember this is mixed martial arts anything can happen. Look AA everyone though he was invisable, very much like chuck having great accuracy and heavy hands. Actually that be great fight!
hahah bro will you stfu already , you have nothing intelligent to say you've proven it time and time again, alll you ever do is talk shit ! ! ! You're a ****ing 12 yyr old kid who feels safe talking shit behind a computer screeen, its ****ing clear as day. now go talk shitto someone else cus your really a waste of my time. I would make you my ***** , just like the man in you're av is Tito's ***** HAhAHA kaksmoker
---
"I only want to be known as the best ever, is that too much to ask?" - BJ Penn
---
Last edited by Punishment 101; 08-29-2006 at

01:13 PM

.
Quote:
Originally Posted by ConorM
yea buddy? idk man it seems like ur they one makin threats over the internet. dont try to be a tough guy over the net, no tough guys here..just puss.ies typin over there computers makin threats...oh yea ud make me your bi.tch? i doubt that man. its funny whenever u make a stupid comment about tito beating on chuck and i shoot u down u start cryin like a baby and talkin sh.it intstead of counteracting wut i had to say u ***.
haha thas because alll you ever do is talk shit you lil kid .. why dont you actually try and have a ****ing decent conversation ? whats the MATER WITH U? are you an angry child r soemthing ? DOES your mother play with your balls every nigt before bed ?
Alll u ever do is talk shit , oh you and tito you and tito blah bla bla your a repeditive piece of shit come up with something new man .... seriously
and as for me stomping you , tere is no doubt in my mind i would dummy your ass you sound like a 12 yr ld kid whos angry with life , no doubt bro no doubt id send you to a hospital in critical condition
---
"I only want to be known as the best ever, is that too much to ask?" - BJ Penn
there you go budddy. self control

i dont think and i didnt say the 1st time was a fluke , but it was pretty clear that Liddellls thumb LEAD to the barrage of punches that ended the fight.. plain and simple
---
"I only want to be known as the best ever, is that too much to ask?" - BJ Penn
Should be a great fight if Tito comes in ready with lots of controlled anger, standing up the fight will end up like last time. if Tito plays it smart and go in to clinch and work for the takedown he can get it down and keep it there. i was thinking about this the other night that you really dont ever see Chuck working in the clinch, he always try to cirkle out and continue punching. when he fought Mezger in Pride he lost the first round pretty big and it seemed like alot of it had to do with the clinching, he never found his rytm because of it even though nothing happened from that position. if Tito can get in there and take his time Chuck can be in some serious trouble but who knows... its MMA right.
---
Last edited by Evil; 08-29-2006 at

02:44 PM

.
Quote:
Originally Posted by Evil
...SNIP ... its MMA right.
Exactly.
Megaweight

Join Date: Apr 2006
Location: Everett, MA
Posts: 5,961
This Fight Could Go In So Many Different Directions..im Not Sure What Will Happen..it Could Be Just Like Last Time..or Tito Could Use His Stregnth And Get Into The Clinch, And Beat Chuck Up On The Inside And Take Him Down...not Sure Yet..we'll See How Tito Looks Against Ken
---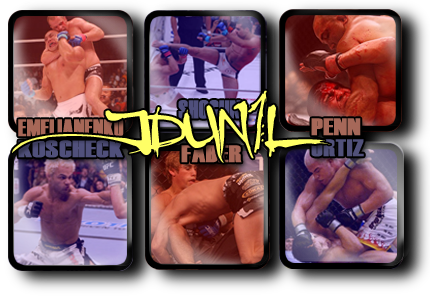 Mancrushes
1.Shogun
2.BJ
3.Fedor
4.Kos
5.GSP
Im in Porno's
Users Awaiting Email Confirmation
Join Date: Jul 2006
Location: Ohio
Posts: 808
I agree it coudl go in many directions, but to say oh he got a thumb to the eye last time and that is why he lost is ignorant. You could blame so many things like when he barely beat forrest and looked like hell, tito says oh this and this is hurt blah blah. Great fighter, but an excuse maker when he looks like crap. He can blame it on whatever he wants. If he loses again against chuck, or even against ken......not saying he will, but if he does, he will have some good excuse why, whether it is a poke to the eye, or kick to the nuts.
Currently Active Users Viewing This Thread: 1

(0 members and 1 guests)
Posting Rules

You may post new threads

You may post replies

You may not post attachments

You may not edit your posts

---

HTML code is Off

---