Silva Vs. Franklin. It's On Baby!!!!!!!
---
This is gonna be the best damn fight since Bonnar vs Forrest I !!!!!! Rich is my favorite fighter right now, but I honestly have NO clue who's gonna have their arm raised after THIS one. When you honestly have no idea who's gonna win, that's what makes for an exciting fight.
---
Let's Bang!
Megaweight

Join Date: Apr 2006
Location: Everett, MA
Posts: 5,961
i like franklin in a ground battle believe it or not..i dont think he wants to stand there and strike with a guy like silva...rich has great strikes to but his ground game is good too..take silva out of his element and maul his skinny ass on the ground!
---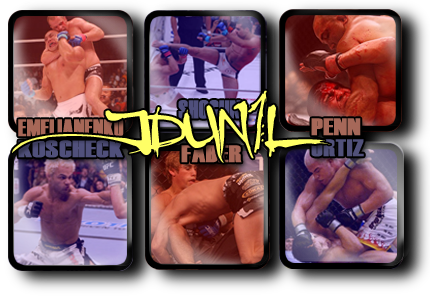 Mancrushes
1.Shogun
2.BJ
3.Fedor
4.Kos
5.GSP
Im in Porno's
Agreed.

This is a damn exciting fight.

Either

A) Silva KO's Rich within 2 rds....if he hasn't by the 3rd...Rich has him figured out and....

B) Rich wins by a decisive UD.

I'm backing Rich but Silva has long and dangerous strikes. Rich likes to bang abit, he may think he's backed out of danger and wham! a high kick or a hook to the head.
This fight can go 3 ways , 1 Franklin subs Silva. 2. Silva KO's Rich 3. JUDGES DECISION
its a tough call < Rich Franklin dished out alll that he could against David Louiseau and wasnt able to finish him , even on the ground Loiseau gave up his back a couple times and Rich wasnt able to submit him
Silva is a killer on his feeet , Rich has proven in the past that he can be dropped/rocked by fighters who arent even primary strikers (evan tanner) Silva is world class striker , i thinnk it wil be a close fight through rds 1-3 but i think at soemtime in that 15 mins Silva will catch Franklin and finish up. new champion
---
"I only want to be known as the best ever, is that too much to ask?" - BJ Penn
---
Last edited by Punishment 101; 08-28-2006 at

06:41 PM

.
Silvas a great fighter, but I wouldnt go as far as saying this is one of the best fights ever. Sure Silva has a good chance of winning but so does every other number one contender. To me this is no more intriguing than Chuck/Babalu
MMA Fanatic
Join Date: Aug 2006
Posts: 3
Did you forget that Rich messed up his hand in the second round against David Loiseau. It is hard to pull off submissions when you have a broken hand. I am pretty sure that he messed up his ankle in that fight as well. I say Rich will win this fight by a UD. Nothing against Silva, but anyone that can win a fight with a broken hand through three rounds will be hard to beat.
Currently Active Users Viewing This Thread: 1

(0 members and 1 guests)
Posting Rules

You may post new threads

You may post replies

You may not post attachments

You may not edit your posts

---

HTML code is Off

---