I Rest My Case!
---
You know, Shamrock did have a damn good point, no matter what your opinion of the Tito Shamrock II fight stoppage. The fight right before Shamrock's, the ref let Yves lose like, a pint of blood, the Shamrock takes like 3 elbows and they call his fight. I mean, we all knew this so I'm not saying anything new here, but it was a damn good point and I had never thought of it that way before.
---
Let's Bang!
I eat babies
Join Date: Jul 2006
Location: Troy, Ohio
Posts: 7,647
Yes that is a good point. That what I kept screaming at the TV when I watched it live.
Did Ken try to do anything to improve his position ? or did he just lie there and eat 5-6 elbows to the skull . If iT went any longer like TITO said < he would have just landed 5-10 more elbows and the fight would have beeen stoPped rEgardless of who was reffing... this is just another execuse for Ken shamrock to have 1 last fight with Tito , make some nice $$$ and retire. Hopefuly after this 3rd fight Ken doesnt end up with some permanent brain damage or anything
---
"I only want to be known as the best ever, is that too much to ask?" - BJ Penn
Megaweight

Join Date: Apr 2006
Location: Everett, MA
Posts: 5,961
i understand why herb dean stopped it, but i wish he let it go for at least three more shots...
---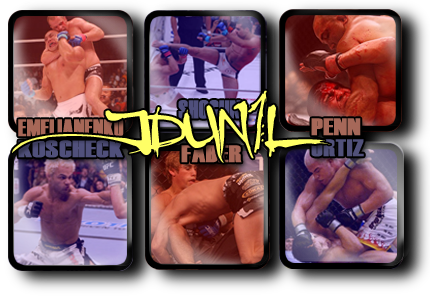 Mancrushes
1.Shogun
2.BJ
3.Fedor
4.Kos
5.GSP
Im in Porno's
Currently Active Users Viewing This Thread: 1

(0 members and 1 guests)
Posting Rules

You may post new threads

You may post replies

You may not post attachments

You may not edit your posts

---

HTML code is Off

---