Why Tito....
---
I see alot of Tito fans here on this forum. I am just wondering "Why."
I just dont care for him. But he is that kind of person...you either love him or hate him. I have not ever seen such a performance from him that merits his attitude, but if attitude is all that it takes to make the fan go crazy.....then i assume thats why the WWE/WWF/WCW do so well.
Just my opinion, will welcome any positive things about Tito......
Well as far as his cardio, yes it is tops. I won't deny him that. But its his trash talk the I dislike...its like he wants to make UFC even more of a soap opera the Dana does! And I stopped watching wrestling for that reason years ago lol
MMA Fanatic
Join Date: Aug 2006
Location: Connecticut
Posts: 42
i admire his hard work and techniques, but he just isn't my kind of fighter. he is however well roundedand athletic.I do not hate him by any means, nore do i love him.
---
"I wanted you to see what real courage is, instead of getting the idea that courage is a man with a gun in his hand. It's when you know you're licked before you begin but you begin anyway and you see it through no matter what."-HARPER LEE
Megaweight

Join Date: Apr 2006
Location: Everett, MA
Posts: 5,961
im a big tito fan..i really like what he did with all the young guys on ultimate fighter, it seemed like he genuinely wanted to help and seemed like a nice guy..yea hes a punk at times, but thats his image thats why he gets paid the big bucks..its his job to sell the fights..and noone in the ufc has a more vicious ground and pound
---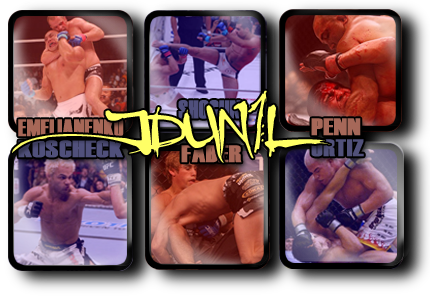 Mancrushes
1.Shogun
2.BJ
3.Fedor
4.Kos
5.GSP
Im in Porno's
Quote:
Originally Posted by jdun11
and noone in the ufc has a more vicious ground and pound
Hughes
Quote:
Originally Posted by MMA freak
Matt Hughes has a way better ground and pound then Tito Ortiz. You meant no light heavyweight in the UFC has a more vicious ground and pound then Tito Ortiz.
I would say Randy Couture, but since he retired I "guess" I'll let that comment slide.... BUT HE STILL MADE TITO CRY
LMAO!!!!!
Flyweight
Join Date: Jul 2006
Posts: 318
I never really liked him personally although I do recognize him as a good fighter. His funny guy routine at UFC62 was awful, someone needs to tell him, and Forrest Griffin too while you are at it, they don't come across as charming and they need to stop trying to be comedians as they aren't funny.

In the ring I find Tito a bit boring, I prefer watching guys that can stand up and knock people out.
How can you cheer for someone who got spanked. Not figureativly, but actually spanked, by randy. I just hate him because of the shirts he waers after fights. I think there should be more respect shown in the sport. Randy doesn't wear i just spanked tito, and chuck doesn't waer i knocked your ass out. There is no need for that.
I too dislike tito but he's the only competition chucky got in the ufc..
---
Freedom of speech, just watch what you say=sherdog
Bantamweight
Join Date: Aug 2006
Location: Sacramento
Posts: 540
I think Titos a pritty good fighter but he is a amazing coach. Some of the TUF coaches where good but none compared to Tito in my opinion. Its funny that TUF3 had both the worst and the best coach.
Currently Active Users Viewing This Thread: 1

(0 members and 1 guests)
Posting Rules

You may post new threads

You may post replies

You may not post attachments

You may not edit your posts

---

HTML code is Off

---