Am I the only one that liked UFC 75???
---
I gotta say, After it's all done I thought this was a great show.

I'm sure that the Bisping fight has soured a lot of people, but that's the way things work sometimes.

Over all I though it was a great, GREAT fight card and it was FREE!!!

Anyone else think it was a great card?
---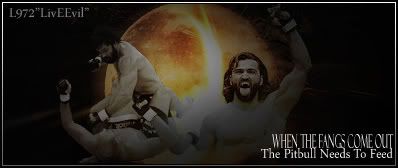 International Stalker
Join Date: Nov 2006
Location: San Diego
Posts: 5,203
I liked it. I am dissapointed Cro cop lost and hammil was robbed.
---
Credit to ThaMuffinMan
I loved it!
---
Founding Rockateer of the Wilson Gouveia Rocketship!
Sig by Diesel
I loved it. Rampage vs. Hendo was amazing to me, personally. Despite the unnecessary booing.
MMA Fanatic
Join Date: Aug 2007
Posts: 48
It was Great! a bunch of excellent fights. and exciting outcomes.
It was definitely a good card, but this "OMG I hate the UFC and Dana White" attitude is really starting to piss me off.
MMA Fanatic
Join Date: Sep 2007
Posts: 3
Hamill won, that was obvious!
---
I am glad it was free; that is for sure. I thought it was a good night until the judges stated that Bisping won - what a bunch of crap!!

I didn't even want to watch the main fight I was online trying to send an email to Dana!
I liked it but I really wish they gave people the option to order it on ppv. I understand some people dont have the money to shell out when they have 2-3 ppv in a short span like they have since 74 but I cant stand an hour of commercials. At least the last fight was commercial free.
---
it was a hell of a *free* ppv
---
Rep Me...I Will Rep You Back!
It was good but they loved to boo. When born in the usa came on I cringed because of were they are and also that song cannot get you pumped.
Currently Active Users Viewing This Thread: 1

(0 members and 1 guests)
Posting Rules

You may post new threads

You may post replies

You may not post attachments

You may not edit your posts

---

HTML code is Off

---