I was never a Matt Hamill fan. He earned my respect last night. I believe he still has a long way to go, but if he could work on improving those shortcomings he could have a bright future ahead. He showed heart and good sportsmanship despite getting the shaft.
Megaweight
Join Date: Nov 2006
Location: Kansas City, Missouri
Posts: 5,148
Great thread BP. That decision was outrageous and I feel really bad for Hammill. And in a way, I feel bad for Bisping too...he's never gonna gain credibility after this because everyone thinks the UFC is protecting him. Its a lose lose for everyone involved.
Good fight Hammill...keep your head up.
---
I've see a Lot of MMA fights & I've Never been as Shocked as I Was by the bisbing victory. I Know it's a dirty word but the 2 that come to mind besides the judges being BLIND, are these 2. Rigged & Fixed..

I Hope & Pray the MMA never goes the way of boxing but after watching Matt Hamill WIN & Take it to bisbing for 2 & 2/4 rounds last night & pretty much dominate that fight & at the end he lesses it???? Yeah I get a Dirty & Uncomfortable feeling about future MMA fights & the sports possible future...

Someone in the UFC Needs to address the judges thinking on this one because It DOES'NT Add up to a bisbing victory, No Way Whatsoever....

OH Yeah. The garbage bisbing talked after the fight was Classless & has now made me dislike this guy, Hell one just needs to look at his face BEFORE the decision was announced to see that he KNEW He Lost & Even funnier was the 2 seconds of What the hell I Won??? look after they said his name. Yeah I'm saying bisbing KNEW He Lost last night, did anyone else catch this??

ST
---
Last edited by ShockeyTime; 09-09-2007 at

02:35 PM

.
If you're going to show this thread to the UFC, you should include the poll on who thought Bisping won. I think about 91% of the people who had answered it when I looked at it last time thought the victory should have gone to Hamill.
If they will be emailed, here it is:
---
I wasn't to keen on Matt seeing him on TUF. I could tell he had little experience getting punched, getting used to that is a big step for any fighter.

Then he comes out against Bisping and has improved his weak area to the point where he is beating Bisping in the standup. Bisiping is a good fighter and pretty good striker, so this was a major surprise. Props number 1.

Hammil then dominates in wrestling as expected, but he is so good at it, that is Bsiping is literally running away from Hammil's takedowns. Props number 2.

Bisping possibly won the 3rd round, but only because Hammil was gassed, or Hammil would have won it by TKO, and Hammil didn't quit. Props number 3.

Hammil was robbed in that decision, and I really wonder who paid those judges.

With some better conditioning and more experience Hammil is going to go real far, and I think he really has the potential to win the belt.

Bisping Hammil 2- let's do it outside of England. No way can Hammil lose.

(Oh, I am American, but don't play pro-American songs in foreign countries- they are rightfully proud of their own, and this is about fighter vs fighter, not countries.)
MMA Fanatic
Join Date: Jul 2006
Posts: 55
Sorry people, although I have gained respect for Matt I don't believe the decision was as far off as most seem to think. I honestly believed they were going to call it a draw. I thought Hamill won the 1st round with the 2nd and 3rd being real close and depending on what your looking to score based on they could have went either way. I have seen alot worse decision before. What Mike said in the ring was wrong but I won't judge him on it based on his comments in the locker room after that, he gace Matt credit and in some ways acknowledged that he felt it could have went the other way to. The fact so many people are getting on his case over the decision is wrong, he doesn't have a say in it.
MMA Fanatic
Join Date: Jul 2007
Posts: 30
If this thread is getting shown to MIchael Bisping and Matt Hamil, I want my thread shown as well. Its only fair
LIE or DIE
Join Date: Nov 2006
Location: Winnipeg
Posts: 1,931
This was one of the moments I've been most shocked since becoming an MMA fan. I gave all three rounds to Hamill and left the room to grab something to eat assuming that Hamill would win, then I hear my buddies laughing there asses off and I come back to seeing Bisping riding the cage. It didn't make any sence to me to be honestly..

But this could be an amazing thing for Matt Hamill actually, and a horrible thing for Bisping. Hamill is going to gain so much support just from his post fight interview. Everybody had to feel bad for the guy, everything he has worked through in his life and to get shit on when he performs up to where he needed to. It was a horrible feeling and I felt bad for everyone involved in the situation. Hamill just looked devastated and bummed the eff out.

He'll be back. He proved that he can hang with the big names and if he works on his conditioning and more on his ground game (submission wise) he will be a serious threat at 205. His strength and wrestling have come to be among the elite top 5 IMO.
---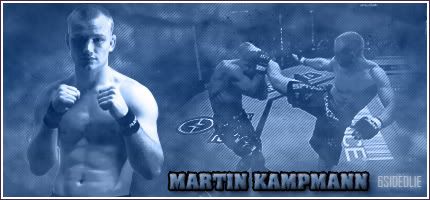 TEAM LORD:
1. Antonio Rodrigo Nogueira
2. Nate Marquardt
3. Goran Reljic
4. Amir Saddolah
RANKING: TBA
TOTAL POINTS: +TBA
Quote:
Originally Posted by Couchwarrior
If you're going to show this thread to the UFC, you should include the poll on who thought Bisping won. I think about 91% of the people who had answered it when I looked at it last time thought the victory should have gone to Hamill.
>
This post is a bit confusing. Somehow I get the feeling you meant to put bisbings name at the end instead of Hamills..
If not. I to Agree that hamill WAS the Winner & Believe Many others do too..
ST
Homicidal Maniac

Join Date: Apr 2007
Location: Houston, Texas
Posts: 6,193
---
Over! 2,000,000 Views!
Currently Active Users Viewing This Thread: 1

(0 members and 1 guests)
Posting Rules

You may post new threads

You may post replies

You may not post attachments

You may not edit your posts

---

HTML code is Off

---