Megaweight

Join Date: Apr 2006
Location: Everett, MA
Posts: 5,961
Did this happen to anyone else??
---
I was watching the Alexander/Sakara fight with my cousins and they were showing each fighter and Alexander looks crazy. All shredded and built lookin all mean and nasty. My cousin is like this dude is crazy, he is gonna kill this other guy. Im like no way dude, Sakara is a terrible matchup for Alexander. My cousin said " but this dude killed Jardine, he is a monster". So this is where I chime in like the know it all MMA guru and explain to him that Sakara has great hands and will obliterate Alexander in the first round. Of course i was terribly wrong and looked like a complete JACKASS
---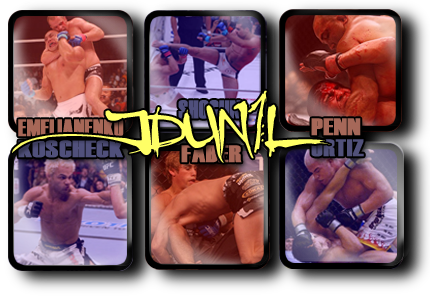 Mancrushes
1.Shogun
2.BJ
3.Fedor
4.Kos
5.GSP
Im in Porno's
---
Last edited by jdun11; 09-09-2007 at

10:03 PM

.
I didn't know who to pick, but my friends who just watch MMA with me picked Houston cause he was black Lol. In fact every black guy won.
MMA Fanatic
Join Date: Nov 2006
Posts: 72
Thats just your fault for underestimating HA again. This guy is a beast! I picked him to win, because not many guys can stand THAT kind of flurry right off the bat. Most guys can take a punch now and then, but they get to recover, this guy doesnt let up. Example=Jardine, HA stayed on him until he was out. If he continues to fight like this, I say he is in line for a title shot in 1 to 2 more fights. Love him or hate him, this guy is BAD!
I had a feeling that Alexander would destroy Sakara. The dude proves he belongs in the ufc! I can't wait to see who they match him up with next.
Bantamweight
Join Date: Dec 2006
Posts: 642
Hopefully we'll get to see Houston Alexander and Rampage display some 'black on black crime'
When I was watching it, I was with friends who were like "Sakara is going to destroy Houston, Houston only won against Jardine because of luck, etc.etc." I said, "Well well see in the first minute who was right," and of course I was right and shoved in thier faces and got real excited and pumped.
lol i was getting ready to shove the hamill fight in my friends face, then...well you know...
I had that gut fealing about the judging right before they announced the winner of the bisping/hammil fight and I was right
I was pissed, but then I saw how Hammil acted and was soooo impressed with him, that I lost all respect for Bisping, and gained soooooo much for hammil.
houston is just a beast when he goes out there, the outcome didn't surprise me at all. not many fighters come out like wounded tiger right off the get go, but he can.
Amatuer
Join Date: Jan 2007
Location: Santa Rosa, NorCal
Posts: 163
im ALWAYS tempted to pick fights by looking at it on paper. houston just has sumthing u dont see much, no matter what threat u pose to him he'll come right in and get rid of that threat by punching u in the face. its deffinately interesting to see him fight

i kind of want to say wrestlers and technical fighters arent gonna stop him because he doesnt take time to feel out his opponent. only guy i see him having serious trouble with is chuck. if he comes in swinging on chuck, chuck will swing just as hard while running backwards like hes comfortable doing. wait, i want to see that fight!
---
"Excuses are like buttholes, everybody's got one." - Rampage
Currently Active Users Viewing This Thread: 1

(0 members and 1 guests)
Posting Rules

You may post new threads

You may post replies

You may not post attachments

You may not edit your posts

---

HTML code is Off

---