Whether Chuck fights Wanderlei or Shogun next. Hes gonna lose and lose badly.
Hell no.

I want the winner of wanderlei v. Liddell to get the shot, besides I feel liddell would beat shogun in a fight, in my mind he has the best style to beat shogun of all the 205ers.
---
If a law is unjust, a man is not only right to disobey it, he is obligated to do so. ~ Thomas Jefferson
Sig by D.P.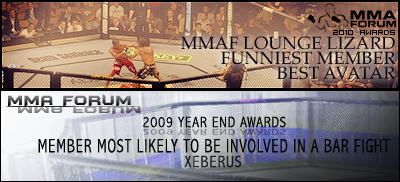 Quote:
Originally Posted by mohod1982
so if forest wins does he get a title shot?if your answer is no then the same goes for mr shogun he needs to get in line...
Of course he gets a title shot. He was the newest face in the division winning fights before the Pride deal. He has earned a fight at this level. For the second time since the Tito fight was a contender fight as well.
If Forrest wins, he deserves a shot for the belt. Just like Gonzaga got one
i need to see more of chuck against top 10 competition...he's really only fought overeem, rampage, and couture...
Currently Active Users Viewing This Thread: 1

(0 members and 1 guests)
Posting Rules

You may post new threads

You may post replies

You may not post attachments

You may not edit your posts

---

HTML code is Off

---