Quote:
Originally Posted by kds13
Yeah I never noticed Anderson Silva as being that old. Dude looks like he can fight at a world class level for another 10 years.
I find it hard to believe Koscheck is pushing 30
Quote:
Originally Posted by osooneru
I hope the styles don't blend so much that we lose that Kickboxer vs Wrestler feel. I don't know about anyone else, but what initially drew me to the sport wasn't the bare knuckles and blood, but the test of disciplines. I loved seeing a Sumo wrestler fighting a black belt in Karate.
I agree 100%
That's what drew me into UFC 1, I not only wanted to know what style was the best, but also how the fights would look. After watching the first 3 UFC's, I was convinced that BJJ was THE BEST. Of course MMA has come a long way since then, but back then I was like 13-14 and my jaw dropped everytime I saw Royce fight.
Banned
Join Date: Sep 2007
Posts: 369
rampage-29
shogun-25
nick diaz-22
gsp-25


the HW division is what needs some young up and comers. everyone is old in that division, cept vera.
-I came|I saw|I failed-
Join Date: Mar 2007
Location: The plazzVan
Posts: 9,734
True, But it kind of seems like the ages go down as you ascend in weight class.

HW-Pretty old guys
LHW- getting old (well except some)
MW- starting to reach 30s
WW- Middle 20s to early 30s
LW- Early to middle 20s
Banned
Join Date: Apr 2007
Location: Montclair, NJ
Posts: 11,605
HW - They are getting pretty old. Nogueira is only 31 but has taken a lot of damage. Cro Cop seems ready to retire, Couture is old, Sylvia doesn't really look healthy anymore, Arlovski looks to have 2-4 more years, Gonzaga and Werdum both haven't taken much damage in their careers but neither has proven they are a top flight guy.

LHW Shogun and Rampage are both young and their is a lot of young talent in the LHW divison along with Wanderlei, Arona and Nogueira (if they sign) all being under 32.

MW - Really is all of these guys retiring a bad thing it's not like anyone outside of Anderson is very good. the divison is mostly in their early 30's and have about 3-5 years left.

WW - Loads of talent under 30 Hughes is the on;y one getting close to the end and thats just because he's been fighting so long.

LW - Lots of young potential but outside of BJ and Sherk their is no good fighters in that divison right now.
LIE or DIE
Join Date: Nov 2006
Location: Winnipeg
Posts: 1,931
How does Arlovski only have 2-4 years left? The guy is 28 and still can progress if he gets his mind into the right frame. He may not even have reached his prime yet.
---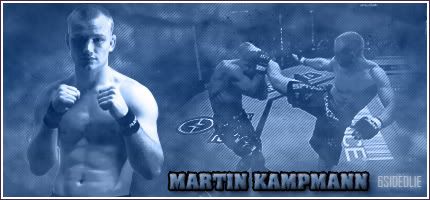 TEAM LORD:
1. Antonio Rodrigo Nogueira
2. Nate Marquardt
3. Goran Reljic
4. Amir Saddolah
RANKING: TBA
TOTAL POINTS: +TBA
Banned
Join Date: Apr 2007
Location: Montclair, NJ
Posts: 11,605
Quote:
Originally Posted by 6sidedlie
How does Arlovski only have 2-4 years left? The guy is 28 and still can progress if he gets his mind into the right frame. He may not even have reached his prime yet.
He it seems like he has slowed down lately and just my opinion but he doesn't seem like he is going to fight that much longer. The guy hasn't looked right in the cage in a long time. He played pattycake with Werdum beat Cruz only because he kicked him in the face and Had a borefest with Sylvia. Maybe I'm jumping the gun since I still feel he is going to be able to come back and be a top notch fighter but it looks to me like Arlovski will be done fighting by 30-33.
i wouldnt speculate how long a fighter will fight because truely anything can happen i mean a guy might get inspired to fight for as long as he can like couture...

as for the other stuff, i think that its fair to say once a fighter reaches the early 30s he knows that he can only keep it up either two ways #1 train harder for every year which requires incredible strength of mind more then anything or #2 they just know that they will fizzle out eventually even if they train the same way.

Ive even heard of muscle studies being done that say past your prime (lets say early 20s, and ya everyone is different) your muscles could look the same but the actual strength in the muscle declines proportionally to your age so that an 80year old (although unlikely)could be huge but wouldnt have any strength compared to the 20 year old who is the same size.. makes sense...

based on that mid 30s and most guys are done i think.

ps/ thats why guys like shamrock who looked HUGE in his last fight against ortiz got overpowered so easy
Quote:
Originally Posted by Philivey2k8
Face it, these guy aren't getting any younger. Most of them might have 3-4 years left, but I don't think it's enough time to bring in the next good breed.

The WW division's got a solid future, but not so much with the other divisions.
Rutten said he was strongest in his 30's. Think its a coincidence that these guys are all still so competitive in their 30's? 30's are the new 20's.
---
Everybody good, plenty of slaves for my robot colony?
Flyweight
Join Date: Apr 2007
Location: London
Posts: 213
I think the amount of years that the current top fighters have left will be enough time for the up and comers to develop. Chuck and Tito back in their first UFC matches looked nowhere near the finished article that they both reached a couple of years later, so I think there's enough time for other talent to develop whilst the current title contenders fight out the remainder of their years. If only Vitor could've progressed like they did from his first match *sigh*
Currently Active Users Viewing This Thread: 1

(0 members and 1 guests)
Posting Rules

You may post new threads

You may post replies

You may not post attachments

You may not edit your posts

---

HTML code is Off

---